Mount Whitney is the highest peak in the contiguous United States and is one of the most sought-after hikes in the country. Located in the Sierra Nevada mountain range and Inyo National Forest in California, the rugged peak is a challenging undertaking that requires a decent amount of planning and preparation to successfully summit. 
There are a variety of different routes up the mountain, but most people tackle the more popular Mount Whitney Trail which can be done in one long day. Otherwise, there are longer backpacking trails and mountaineering routes that also incorporate this lofty peak. 
For many keen hikers and climbers, making it to the top of Mount Whitney at 14, 505 feet is a bucket-list-worthy experience.
This guide will provide all the information that you'll need to successfully summit Mount Whitney. 
What you need to know about hiking Mount Whitney
Basic facts about Mount Whitney
Highest point: 14, 505 feet

Mount Whitney Trail length: 21 miles roundtrip

Duration: 12-16 hours depending on personal fitness

Difficulty: Very hard

Elevation gain: 6, 800 feet

Main trailhead: Whitney Portal Trailhead

Permit required: Yes, more on this below

Dogs allowed: No

Guided hikes: You do not need a guide to hike Mt Whitney

Success rate: Only around 1/3 of people who attempt Mount Whitney reach the summit
Preparation
When is the best time to climb Mount Whitney?
The main season for hiking Mount Whitney is from May until November. However, the most ideal months are from July until the end of September. These months have the most pleasant weather and it's also the best time to avoid storms and snowfall on the trail.
If you plan on hiking the trail in one day, most people begin their climb in the early morning around 3 am. This gives you enough time to make it up to the summit by noon and back to the car by the evening. The weather around the summit can be more precarious in the afternoon, meaning most people try to be on their way down by noon.
How long does it take to climb Mount Whitney?
The duration of a climb up Mount Whitney depends on the route chosen. 
The two popular routes, the Mount Whitney Trail and the Mountaineer's Route, generally take people around 12-16 hours to complete. This generally depends on your fitness level and how well you cope with the sudden change in altitude on the climb. You can choose to do either of these trails in one long day or opt for a more leisurely overnight hike by camping on the trail.
Mount Whitney is also incorporated into a couple of longer backpacking trips, which are far less trafficked than the day hike options. The High Sierra Trail begins on the west side of Sequoia National Park and takes at least six days in total. The other option is the John Muir Trail which starts from Yosemite National Park and finishes at Mount Whitney and takes about a month in total.
Lottery and permits
The official National Park Service estimates that around 84, 000 people want to climb Mount Whitney each year. This makes it one of the most popular peaks in the United States. This is why there is a permit and lottery system in place to regulate how many people are on the mountain at the same time.
There is a limit of 100-day hikers and 60 backpackers or overnight hikers per day from May 1st to November 1st. This is one of the main challenges to planning a hike up to Mount Whitney and requires you to be organized months in advance.
To receive a permit, you need to enter the lottery on the recreation.gov website.
Lottery opens February 1st 

Select one preferred date with up to 15 alternative dates for your hike (either as a solo hiker or with up to a group of 15 people)

Pay the $6 application fee for the initial lottery

Lottery closes on March 15th 

Dates announced March 24th 

If you win a date on the lottery, pay the $15 reservation fee to claim it

Unclaimed permits released on May 1st until sold 
If you win a permit, you'll receive an email with confirmation which needs to be presented to the Eastern Sierra Visitor Center in Lone Pine before you begin your hike. If you're hiking in a group, the nominated group leader needs to be the one who checks into the Visitor Center. 
In the offseason from November 2nd to April 30th permits are issued at the Visitor Center with no limits on the number of people. However, if you plan on hiking Mount Whitney during this winter period, you should have plenty of winter hiking and mountaineering experience. 
How to get to the trailhead
The main trailhead is on Whitney Portal Road which runs west from Lone Pine. It's just a few hours' drive from some major cities such as Los Angeles and Las Vegas. 
Lone Pine is a great place to stay the night if you need. There are a few hotels, campgrounds and Airbnbs available. From Lone Pine, the trailhead is just 13 miles down Whitney Portal Road. 
The trailhead has ample parking space with different car parks for day use and overnight hikers. If you want to camp near the trailhead in order to get an early start for your day hike up to Mount Whitney, you can try the busy Whitney Portal Campground right at the trailhead. It is from around $26 per night with reservations required through recreation.gov. 
If you prefer to fly into the area, the closest airport is at Mammoth Lakes which is nearly 100 miles away. There is no direct bus network that runs from Mammoth Lakes to Lone Pine. The best option is to hire a car to reach the trailhead. 
Packing list for Mount Whitney
When it comes to packing for Mount Whitney, it's very important to be adequately prepared for a long challenging hike. 
If you're planning on completing it as a day hike, you will need to think about carrying all the daypack essentials that you should take on any hike. 
Particularly important pieces of gear for Mount Whitney include:
A good headlamp for the early morning starts before sunrise and for hiking in the dark on the way back. 

Carry four-season clothing with you. The weather can be quite unpredictable and volatile on Mount Whitney, so you never know when you'll need extra layers or some

winter gear

such as a down jacket.

Microspikes or crampons and trekking poles can come in handy on sections that have snow. If you know you'll be encountering heavy snow then an ice axe might also be useful. Depending on which time of year you decide to hike, there is snow on the trail almost all year round.

Carry an emergency beacon or satellite phone in case of an accident or emergency. 

A

good, comfortable day pack

is important because you will need to carry it for over 12 hours if you plan on doing the summit in one day.

Pack plenty of food with you. The long challenging trail and higher elevation of the peak means that you'll require a lot of energy to get through this hike. You should concentrate on packing high energy, lightweight food.
Navigation for hiking Mt Whitney
On the popular Mount Whitney Trail, the path is well defined and signposted for much of the way to the top. However, on the more demanding mountaineer's route, there are sections with no defined route and having experience with navigation and route finding is a must. 
No matter which route you decide to take you should always carry a GPS, a map and a compass with you in case the way is not clear. 
Safety while climbing Mount Whitney
The main reason that people don't complete the hike is usually from being underprepared or not training enough for the distance and elevation. It is a serious hike that should be taken seriously by fit hikers.

Acclimatization is an important part of hiking Mount Whitney. The effects of altitude sickness and reduced oxygen can prevent you from summiting and it's important to listen to your body if you feel dizzy, nauseous or have a severe headache. Spending the night before your hike around the trailhead or at Lone Pine can help you acclimatize. It will also help if you decide to break the hike into an overnight trip and camp along the trail rather than attempting the entire trail in one day.

Drinking plenty of water is essential, especially to ease the symptoms of high altitude. You should be aiming for over 4-5 liters on such a hike as this. 

Storms can happen on the mountain at any time of the year. Lightning can be dangerous at the upper parts of the route and there are signs warning about the danger of potential lightning. Keep your eyes to the sky and horizon and be prepared to turn around if the weather suddenly changes.

Snow can be found on the trail almost the entire year with a few exceptions in August and September. Check the latest trail conditions with a ranger or at the Visitor Center in Lone Pine before you head out to know what you should expect.

Th

ere are bears around the trailhead area but not on the upper parts of the trail. You should be aware of

how to stay safe around bears

in case you encounter one. There are bear boxes provided at the Whitney Portal Campground to put your food in overnight.
Hiking Mount Whitney
Various trails and mountaineering routes
A brief description of the various trails and mountaineering route to the Mount Whitney summit.
Mount Whitney Trail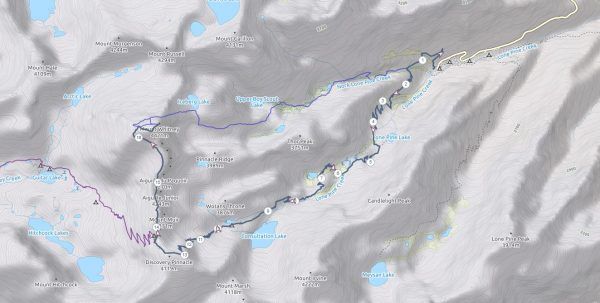 This is by far the most popular trail up Mount Whitney. The complete return hike is 21 miles with over 6, 500 feet in elevation gain. It can be done as either a day hike or an overnight backpacking trip.
The trail begins at the main Mount Whitney Trailhead on Whitney Portal Road. 
The trail starts heading uphill almost straight away from the car park. You'll pass Lone Pine Lake on your left around three miles into the hike. From there, you'll enter the official permit zone as you reach Outpost Camp. 
You'll then pass both Mirror Lake and Consultation Lake as you approach the treeline. Trail Camp is at the 6-mile mark and the last spot to fill up your water supply. From here, the trail turns into a tougher climb so most people take a rest and make sure they're still feeling up to it before proceeding from here.
There are over 95 switchbacks that you need to tackle after Trail Camp. This is considered the toughest part of the trail before it finally starts to flatten out at Trail Crest. Once you reach the junction with the John Muir Trail, you'll know that you're only two miles from the summit.
Once you reach the top, you need to return the same way back down.
Mountaineer's Route
This is a Class 3 technical route up to the summit. It's the most popular of the mountaineering routes and requires some climbing experience. Permits are still required for this route and are issued the same way as the Mount Whitney Trail through the lottery.
The Mountaineer's Route begins at the main trailhead at Whitney Portal. After just half a mile following the Mount Whitney Trail, mountaineers need to turn off just before the North Fork of the Lone Pine Creek and follow this route from there.
Iceberg Lake is the last water source on this route and a popular camping spot if you prefer to break the route into an overnight climb. From there the climbing becomes much more demanding and requires plenty of mountaineering experience as you reach the peak. 
High Sierra Trail
This is a beautiful week-long backpacking trip in the Sequoia National Park. The trail is 72 miles one way from Crescent Meadow and ending at Whitney Portal trailhead. Permits for this trail are different from the Mount Whitney permits and can be arranged at the Visitor Center in Lodgepole Village.
John Muir Trail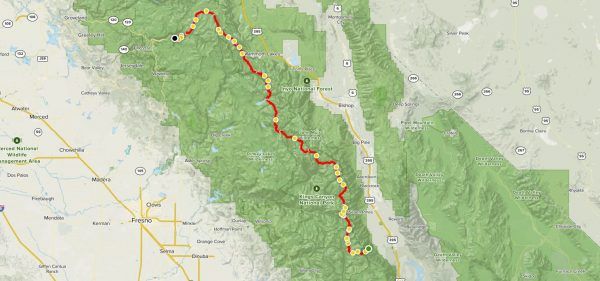 Another alternative for Mount Whitney is the John Muir Trail which starts in Yosemite National Park and travels 211 miles to Mount Whitney. It takes about a month to complete. The permit for this trail is different to the regular Mount Whitney permit and needs to be arranged in advance through a lottery system for Yosemite National Park. 
Water sources
There are plenty of natural water sources along the lower parts of the trails on Mount Whitney from lakes and streams. The last source is at Trail Camp at 12, 000 feet, so you should fill up here before continuing onto the summit. It's recommended to carry around 3 liters from Trail Camp up to the summit.
You should carry a water filter with you so that you can filter the freshwater before drinking it. 
Trail camps 
There are a few camping options on the trails and mountaineering routes if you plan on making it an overnight trip. They operate on a first-come basis with no reservations required. You must carry all your waste out with you, as there are no toilet facilities at the campgrounds. You are given a WAG bag at the Visitor Center when you pick up your permit.
The main campgrounds on the Mount Whitney Trail are:
Trail Camp: This campsite is the most popular option and located around 6 miles up the trail. It's a rocky and exposed spot above the treeline so it can be windy and cold overnight. This is also where you'll find the last guaranteed water source before the summit.
Outpost Camp: This spot is just under 4 miles along the trail and another popular spot. It's in a nice sheltered location amongst trees and near a running stream.
Consultation Lake: This campground is near Trail Camp and a nice alternative. It requires a slight detour off the main trail to reach it but it's far more secluded than the other sites.
Lone Pine Lake: Just under 3 miles into the trail, this spot is not as popular but makes for a quieter experience.
For the mountaineer's route the camping options are:
Lower Boy Scout Lake: At 10, 300 feet this is the first and lowest campsite on this route. It's far less popular as people prefer to camp closer to the summit. 
Upper Boy Scout Lake: At 11, 300 feet, this is the most popular campsite on this route because it's at a perfect altitude for acclimatizing for the summit.
Iceberg Lake: This high camp spot is at 12, 600 feet and is a beautiful spot to camp. Some people try to reach here on the first day to camp the night, but problems with altitude are more common here than lower down at Upper Boy Scout Lake.
For the John Muir Trail or High Sierra Trail:
Guitar Lake: Most hikers on this trail approaching from the other side of Mount Whitney usually spend their last night near Guitar Lake before summiting Mount Whitney and finishing.
Summit
The summit of Mount Whitney is marked by a stone hut with a register that you should sign to celebrate your successful summit. The peak is characterized by a huge rocky flattened top so there's plenty of space to take photos and enjoy the panoramic views.
It's recommended to reach the summit before noon, as the frequency of storms and bad weather increases in the afternoon.
Conclusion
Mount Whitney is considered one of the most incredible hikes in the United States. As the highest point of the lower 48 states, it's a challenging climb that only around 1/3 of people successfully complete. However, with the right information, preparation and training, hiking to the top of Mount Whitney is certainly an achievable feat, no matter which route you decide to take.
Related Posts