While you might not immediately think of Los Angeles as being an outdoors destination, the huge metropolis has plenty of hiking trails within reach of the city center. Whether you're looking for an easy stroll to iconic structures like the Griffith Observatory or more difficult trails up to mountain peaks offering panoramic views, Los Angeles hikes will surprise you.
In this guide, we've put together the best Los Angeles hikes to tick off during your time in the California city.
What you need to know about Los Angeles hikes
In summer, bushfires can threaten some of the natural areas around Los Angeles. Keep an eye out for forest closures and make sure you stay alert on extremely hot days.
After heavy rain, some canyons and rivers can flood, especially on hikes such as the Bridge to Nowhere. You should always seek out the latest trail conditions before attempting any trail after severe weather.
Most Los Angeles hikes are free with no permits required; however, some areas of the San Gabriel Mountains require a Forest Adventure Pass. This pass is $5 per day or $30 per year.

Venomous snakes like rattlesnakes can be seen on the trails around Los Angeles, especially on hot days. Watch the trail ahead carefully and give any animals plenty of room.

While most of these hikes can be accessed from the city pretty easily, there are plenty of campgrounds in San Gabriel Mountains and Angeles National Forest, if you want to stay close to the trails. You can find more about the different campgrounds here.
Los Angeles easy hikes
Griffith Park
The most well-known park area in Los Angeles, Griffith Park covers over 4200 acres of parkland in the eastern Santa Monica Mountain Range. It's one of the largest urban wilderness areas in the US and is home to some of the most popular Los Angeles hikes. It's just a 10-minute drive north of Downtown LA, making it very easy to reach from the city.
Here are the best walks to do in Griffith Park:
Griffith Observatory West Trail Loop
Start/finish: Fern Dell Picnic Area 34.11462149965768, -118.30707380790288 
Difficulty: Easy
Distance: 2.6 miles
Estimated time: 1-1.5 hours
Trail Map:  Download
This fairly easy walk is one of the most well-known in the Los Angeles area. It takes you along the iconic observatory where you can enjoy views of the Hollywood sign and LA Basin. 
It's slightly uphill to begin with and then downhill on the way back, but it's not overly difficult and there are plenty of chances to stop and take in the view along the way.
Bronson Caves
Start/finish: Canyon Drive, 34.12347452521554, -118.3146839193115
Difficulty: Easy
Distance: Less than a mile
Estimated time: 30 minutes
Trail Map:  Download
The Bronson Caves are a unique landscape of rock formations that have been used in countless Hollywood films. It's actually a 50-foot tunnel from an old quarry that was called Brush Canyon back in the early 1900s. The opening of the cave is famous for being the mouth of the Batcave from the 1960s TV series. You can park at the picnic area and just walk to the cave easily enough.
Brush Canyon Trail
Start/finish: Canyon Drive, 34.12347452521554, -118.3146839193115
Difficulty: Easy
Distance: 2.2 miles
Estimated time: 1 hour
Trail Map:  Download
A quieter trail in Griffith Park, Brush Canyon Trail is 2 miles long and takes you through Mount Hollywood and past an old quarry. It offers great views of the city and the iconic Hollywood sign. Just after 0.75 miles, you'll crossover the popular Mulholland Trail and you can turn right until you reach Mount Hollywood Drive. Return the same way.
Glendale Peak Trail
Start/finish: Glendale Peak Trailhead 34.12185077574525, -118.29676911259244

Difficulty: Easy-moderate 

Distance: 3.6 miles

Estimated time: 1.5 hours

Trail Map:  Download
This manageable hike up to Glendale Peak is located in Griffith Park. It begins at the same trailhead as the longer Mount Hollywood hike but is a far less trafficked trail leading up to a stunning view at 1190-feet high. 
The hike uses the Riverside Trail which takes a gradual course along the ridge. You'll be able to see nice views of the Griffith Observatory and down towards the city. You need to keep an eye out for the short but rugged trail to the peak for panoramic views.
Runyon Canyon Park Trail
Start/finish: Runyon Canyon Entrance 34.1053994904589, -118.3509393696111
Difficulty: Easy
Distance: 2.7 miles
Estimated time: 1.5 hour
Trail Map:  Download
This popular park in the Hollywood Hills is a great place to head for incredible city views and some potential celebrity spotting. It can be very busy, but it's become a must do while in Los Angeles. 
The Runyon Canyon loop trail is quite easy but it still provides a worthwhile view of the Hollywood Sign from the top of the loop trail which is known as Cloud's Rest. It should take you just over an hour, depending on how many times you stop for photos.
Vasquez Rocks Trail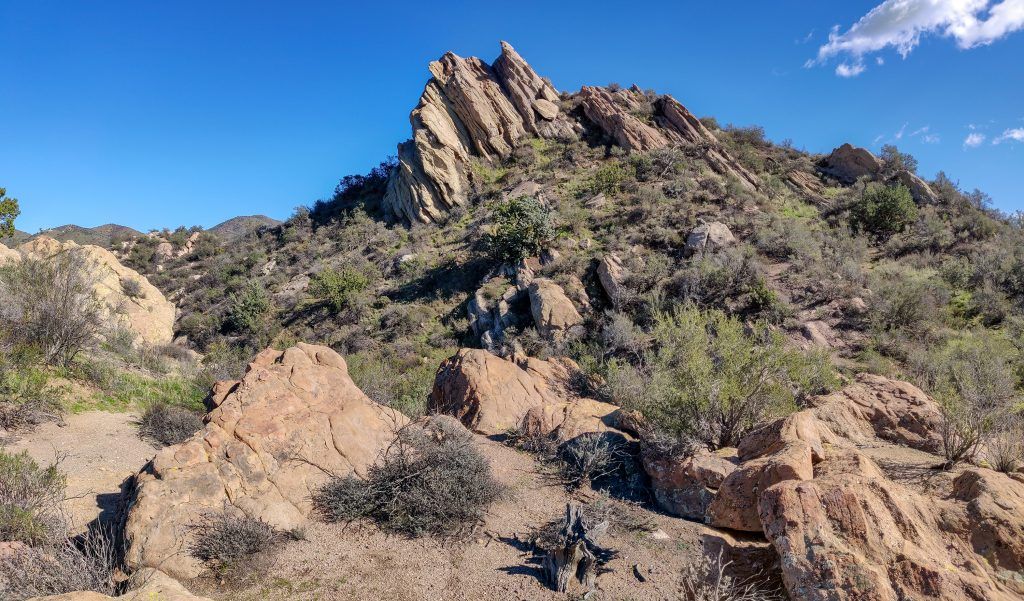 Start/finish: Vasquez Rocks Natural Area Park 34.48855733625693, -118.32139833502238
Difficulty: Easy
Distance: 3.7 miles
Estimated time: 1.5 hours
Trail Map:  Download
Vasquez Rocks Natural Area Park is an incredible desert landscape with interesting rock formations. Within just a short drive north from Los Angeles past Santa Clarita, it makes for a really unique place to go hiking. 
While you can make your own walk here, there is a popular 3.7 mile loop which uses part of the Pacific Crest Trail (PCT) and then connects with Foot Trail to form a nice and relatively easy hike. 
You might recognize some of the rocky landscape from Hollywood films and TV shows like Star Trek and Mission Impossible.
Elysian Park West Loop Trail
Start/finish: Elysian Park Drive 34.08211831061551, -118.24973476007096

Difficulty: Easy

Distance: 2.3 mile loop

Estimated time: 1 hour

Trail Map:  Download
As one of the closest hiking trails to Downtown Los Angeles, Elysian Park is a great place to head for a morning stroll or trail run. The park is one of the largest in the city but it's very underrated, so you'll likely see few others here.
The loop trail is not overly difficult and should only take around an hour for most people. However, the park is quite elevated, giving you superb views over the valley and Downtown area when the sky is clear.
Los Angeles hikes with waterfalls
Switzer Falls Trail
Start/finish: Switzer Picnic Area 34.265999349237156, -118.14465568049721
Difficulty: Moderate
Distance: 3.6 miles return
Estimated time: 2 hours
Trail Map:  Download
This is the most popular Los Angeles waterfall hike. The rugged trail takes you into a gorge of the San Gabriel Mountains all the way to a 50-foot waterfall. The falls can be reached by the Gabrielino Trail which starts off as being relatively flat.
After about a mile, it climbs up the side of the canyon before you have to stay left at the junction and continue along Bear Canyon. This trail then descends to the creek before heading upstream where you'll find small pools to enjoy cooling off in before you need to head back.
Moderate Los Angeles hikes
Cahuenga Peak via Wisdom Tree Trail
Start/finish: Wonder View Drive 34.13221618888813, -118.33785876628038
Difficulty: Moderate
Distance: 3.9 miles
Estimated time: 2.36 hours
Trail Map:  Download
Cahuenga Peak hike is a short but challenging workout just outside of Griffith Park. It's a steep out and back trail from the end of Wonder View Drive, first to Wisdom Tree and then onto Cahuenga Peak which offers incredible views. 
Wisdom Tree is a pine tree sitting on Burbank Peak which is a popular spot for panoramic city views. However, it's worth continuing to Cahuenga Peak for an even higher view and longer walk.
Bridge to Nowhere
Start/finish: End of Camp Bonita Road 34.23724098663675, -117.76487133261512
Difficulty: Moderate
Distance: 9.5 mile return
Estimated time: 4 hours
Trail Map:  Download
For something fun and different around Los Angeles, the hike to the Bridge to Nowhere is an incredible opportunity to scramble amongst the San Gabriel Mountains. The trail follows the San Gabriel River through a gorge for 5 miles to the historic bridge which was built in 1936 and then abandoned after flooding destroyed the connecting roads.
The hike is pretty fun, especially because you have to cross the stream multiple times along the way. This makes it perfect as a summer hike, but make sure you bring shoes you don't mind getting wet as you have to wade through water.
Betty B. Dearing Mountain Trail
Start/finish: Wilacre Park 34.13324063161567, -118.39182710963323
Difficulty: Moderate
Distance: 5 miles out-and-back
Estimated time: 2 hours
Trail Map:  Download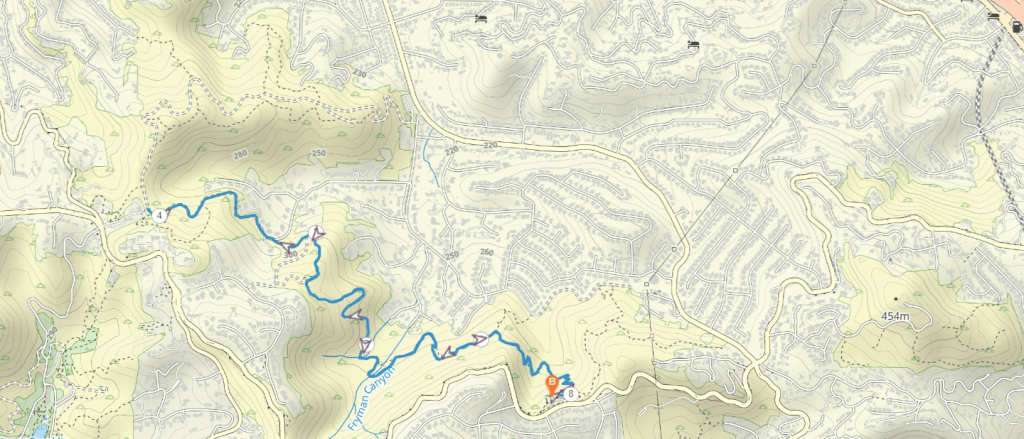 A popular trail in the San Fernando Valley, the Betty B Dearing Trail gives you the opportunity to see beautiful views in Fryman Canyon. While the trail begins quite steeply, you'll be relieved to know that it levels out and is relatively moderate for most of the hike.
It heads west from the trailhead and then down through Coldwater Canyon Park before coming out at Iredell Street. From there, you'll have to walk back to the parking lot along the quiet residential street. This trail is dog friendly too, which makes it a nice option if you are traveling with your pet.
Mandeville Canyon Trail
Start/finish: Westridge Trailhead 34.08557817932508, -118.50915140387896
Difficulty: Moderate
Distance: 7.1 miles
Estimated time: 3 hours
Trail Map:  Download
For something a little more off the beaten track, Mandeville Canyon is a north-south running canyon in the Santa Monica Mountains. This is a really underrated hike which takes you from the bottom of the canyon up to San Vicente Mountain at 1960 feet. 
The ridgelines on either side of the canyon have trails so you can do a nice loop, up one ridge and down the other. It's generally recommended to ascend via the Westridge and come down Canyonback Ridge, which is a clockwise direction. You'll then have to walk a bit on the road to get back to your car at the end. It's a great hike for a half day excursion.
Challenging Los Angeles hikes
Mount Baldy
Start/finish: Manker Flats Trailhead 34.266274332002304, -117.62674377266832 
Difficulty: Hard
Distance: 11-mile loop
Estimated time: 7-8 hours
Trail Map:  Download
Mount Baldy or otherwise known as Mount San Antonio, is the highest point in LA County putting it at the top of any keen hiker's bucket list. Standing at 10, 000 feet the mountain sits in San Gabriel Mountains and is characterized by the treeless summit. 
While there are a few variations to get to the top, this 11-mile loop is a popular choice. The trailheads along the ridgeline of Devil's Backbone to the summit and then descends along the Baldy Bowl Trail. This is a serious hike with decent elevation gain which should only be completed by fit people in good weather conditions.
Echo Mountain via Sam Merrill Trail
Start/finish: Sam Merrill Trailhead, Altadena 34.2040410221487, -118.12865325712166 
Difficulty: Hard
Distance: 5.4 miles
Estimated time: 3 hours
Trail Map:  Download
Often considered as one of the best hikes in California, a walk-up Echo Mountain is a must for keen hikers in Los Angeles. The 5.5 mile return hike is popular but equally challenging, gaining 1460 feet over the course of the trail. 
It conveniently starts in Altadena just north of Pasadena, so it's easy to reach within minutes. Following an old railway route, it climbs up to the top of the mountain to stunning panoramic views. For those looking for an even longer hike, you can add on Inspiration Point for an extended version.
Malibu hikes
You can't write about LA hikes without mentioning the Malibu area. The stunning coastal city west of LA, includes the Santa Monica Mountains running along Southern California's Pacific Ocean. This means that it's home to some great hikes in the area.
If you're looking for any Los Angeles beach hikes, then Malibu is where you'll find them. However, it's not all about the beach there, with beautiful canyons and waterfalls to explore as well. Some of the most popular Malibu hikes include Solstice Canyon, Escondido Canyon, Los Liones Trail and Temescal Canyon. If you want to read more about these hikes and more, check out our guide to the best hikes around Malibu with incredible ocean views.
Conclusion
Los Angeles is an underrated hiking destination. While it's not immediately thought of as an outdoors-type city, there are some incredible hikes to enjoy just a few minutes from downtown. With both the rugged San Gabriel Mountains and urban parks, you can enjoy a variety of terrain and difficulty levels on hikes around Los Angeles.
Related Posts