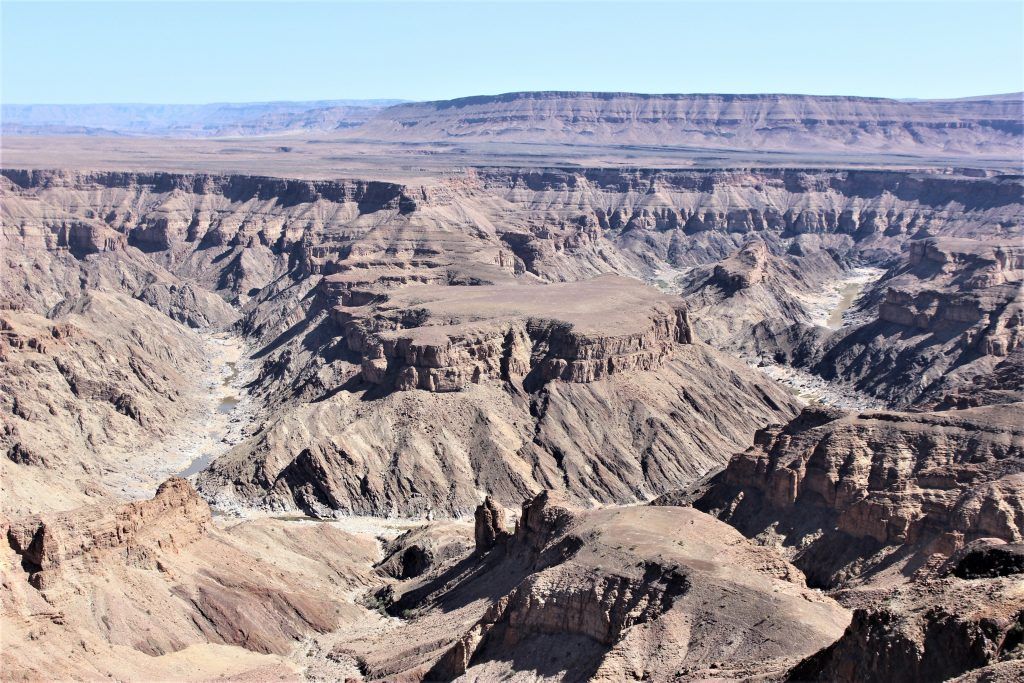 In my recent research for the trails and expeditions to go on I have heard of a canyon embedded with magic, ancient legends and rewards so great that only a few every year enjoy it. The place is old, and I mean very old. It is called Fish River Canyon in Namibia. The route, the trail, and the rocks that you will walk on are at least as old as 1.8 billion years. Thus, researching and finding key information is difficult. 
The ancient tomes are few that survived, mostly there are stories told by the locals that have been passed on from generation to generation. Some of it reaching even the corners of the new world.   
The best way to explore this canyon is on the Fish River Canyon hiking trail. This incredible hike is 85km long and is one of the most beautiful in the world. I have prepared this itinerarius (itinerary) for me and potential future adventurers who would like to explore this mystical place.
Throughout this scroll, you shall find a budget estimation for the exploration of Fish River Canyon in 2021, possible contacts to arrange safe camping spots and lodgings, possible caravans for transportation, what to take and the route map that you will be able to easily copy. And hopefully, at the end of the trip, you will find that legendary tooth of the snake. 
Fish River Canyon Legend
According to the indigenous Nama people, the story on how the valley was created goes like this. Once upon a time, a giant snake delved in southern Namibia. Every so often it devoured the people's sheep and goats and so finally they decided to kill the snake. Armed with spears and accompanied by their dogs the men set out for the hunt. They encircled the snake, keeping it at bay with fiery torches, shooting arrows at it and thrusting spears into its body. Even though it was a giant snake it stood no chance against their superior numbers. In its death throes, the snake tossed and turned, tearing deep furrows into the ground creating the Legendary Namibian Fish River Canyon. 
About the Fish River Canyon hike
The canyon is 800 kilometers long and the second largest in the world after the Grand Canyon. The canyon is closed to hikers during the hot summer months and is only open during May to September. 
The total distance of the Fish River Canyon hike is 85 km and it usually takes between 5-6 days to complete. Only people with a hiking permit are allowed to enter the canyon and you must book this well in advance. The hike must be booked through Namibia Wildlife Resort (NWR) – https://www.nwr.com.na/, at least a month before.
Only a limited amount of people are allowed on the trail at any given time, with a group minimum of three. There are no facilities along the route so you must be fully sufficient and carry all of your required gear with you.
Fish River Canyon hike prices
There are some costs involved in the Fish River Canyon hike outside getting to the location. These are some of the essential costs required to appease the locals. 
To hike the canyon: NAD 330 per person or

US$25

Park entrance fee: NAD 80 per person or

US$6 for foreigners

 

Shuttle Ai Ais – Hobas: NAD 270 per person or

US$20
Getting to the Fish River Canyon hiking trail
The easiest way and the best way of reaching the canyon if you arrive to Cape Town or coming from any point from Namibia is by renting a local carriage and driving yourself to the point. I have added a Fish River Canyon map here to show where it is. Just to ensure you do not get lost searching for this hidden canyon.  
You can stay the night before and the night after your hike at Hobas or Ai-Ais, both places offer camping and parking for your vehicle. The Hobas campsite and accommodation at Ai-Ais Hot Springs Spa must be booked in advance through Namibia Wildlife Resort.
There is a shuttle bus from Ai-Ais to Hobas in the morning, and you don't need to book this in advance with space for up to 11 people. 
Hiking essentials for Fish River Canyon
From what I gather it is at least 5 days of hiking, with no villages on the way throughout the whole Fish River Canyon trail. Meaning that the lighter you pack the easier it will be for you to finish this endeavor. Of course, you can try and hire a caravan but in my opinion, it is not needed.
The key point here is to carry just enough food with as little residual waste left. Meaning – try not to take any tin food since you will have to carry it all the way. 
You won't need more than 2 sets of shirts and pants. Since you will have an option to wash it in the river every day.
Key points being mentioned here is a list of all Fish River Canyon hike essentials:
A warm sleeping bag: the nights tend to get cold.

Strong, reliable footwear: that you have hiked in before and are well broken in.

A satellite phone: there is no cellular signal and exits from the hike are at the start or at the end. 

A Slingsby Fish River Canyon Map

A camping stove: for cooking your own meals.

Matches/Lighter

A medium-sized camping pot

A trekking pole

A First Aid Kit 

A warm jacket/fleece top

Two water bottles (750 ml each, at a minimum) or a hydration bladder

Water purification filter or drops or tablets

Sun hat

Sunscreen

Quick-dry towel

Tent if you don't want scorpions and spiders crawling on you.

Headlamp with spare batteries

GPS handheld device/watch (for at least one member of the party)

Digital camera/phone for photos

Power Bank (for charging phones/watches)
The Fish River Canyon hiking route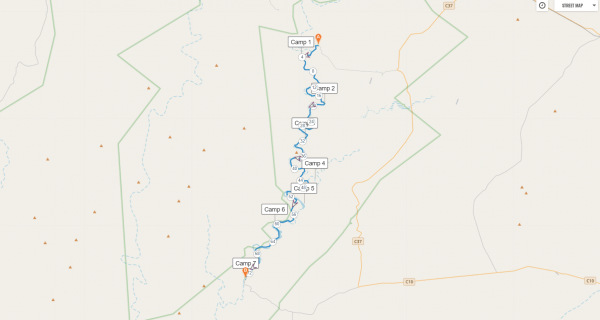 The trail is packed with challenges and plenty of cosmic beauty as I am told. If you're wondering whether you should do a Fish River Canyon guided hike, the trail is not that hard to follow which means you can easily do it independently. If you at any of the points, feel lost you can just follow the river, as far as I understand. It will be longer but this way you won't stray from the water and at some point, you will find the village. 
It took me a while to compile the stories of many gossips and old texts in this itinerary. The fang should be somewhere along the way, as I am told if you are meant to find it, you will.
Camp 1 The descent 
The starting point of the trail is just south from the Hobas campsite. It takes around one or two hours to descend down into the canyon and is the toughest part of the whole trek for many people. It is best to start the trail either early in the morning or later in the evening to avoid going during the hottest period of the day. At the bottom, you'll reach the river which is more or less what you will be following for the next few days. 
You can continue walking for as long as you have energy or camp anywhere on the nice sandy bank of the river. 
Camp 2 Hot Springs
It is suggested to hike 13km here and enjoy the startlingly dramatic scenery the upper canyon provides. Along the way, you will see giant boulders, shaded rock pools that are great for a lunch break or a swim. The best place to sleep is near the Palm Springs sulfur pools, for a potential hot bath in the evening. 
Camp 3 Three Sisters
This is a fairly easy day. Possible to walk over 16km if you feel like crisscrossing the gravel riverbed (for which trekking sandals are essential) and wading through reed-fringed pools. If you're lucky you might even see some wildlife near these pools such as tiny klipspringer antelope, hyrax and even the rare Hartmann's mountain zebra. 
Along the route look for strange rock sculptures such as mini 'Table Mountain' and the Three Sister rock towers, which turn a lurid orange in the setting sun and act as a good spot for making camp. 
Camp 4 Von Trotha's grave
It is a day for strange geological formations. Backtrack slightly from the Three Sisters and take the well-worn track uphill on the left-hand side of the river while hiking back up the canyon. 
From here, the hike will take around 20km through interesting and strange flora and fauna. You'll spot the spiky desert-adapted quiver tree, Namibia's national tree, and if you're lucky, glimpses of Namibia's wild horses believed to be left by the German colonists. One such colonist was Second Lieutenant Thilo von Trotha, who was killed in 1905 during a confrontation between German soldiers and the local Nama people, and whose burial is near the campsite. 
Camp 5 & 6 The Straight To Ai-Ais
This is the last stretch of 30km. In my opinion, it is best to separate this hike into two days or otherwise it's one long day. The route, along the alluvial river plain of Fish River is flat and easy going all the way to Ai-Ais where you will find hot-springs awaiting you.
Additional Fish River Canyon hike tips and key information
To hike the Fish River Canyon, a medical certificate of fitness from a doctor is required valid within 40 days, and you also need to complete NWR's indemnity form before commencing the trail.

A minimum of 3 people are required to book the hike per group.

The trail is open from May 1 to September 15 each year and closed for the hot summer months.

The Fish River Canyon hike includes up to 8 hours of walking per day, so you must be capable of undertaking such a trek.

Poisonous snakes and scorpions are a possibility on the trail and mosquitoes and midges are definite.

You should treat all water before drinking and have clean water with you all the time.

You can purchase a map at Ai-Ais or Hobas before you begin the hike.

You must carry all rubbish out with you. When you poo, either burn the paper or carry it with you.
Download Trail GPX Map
www.plotaroute.com/route/980718