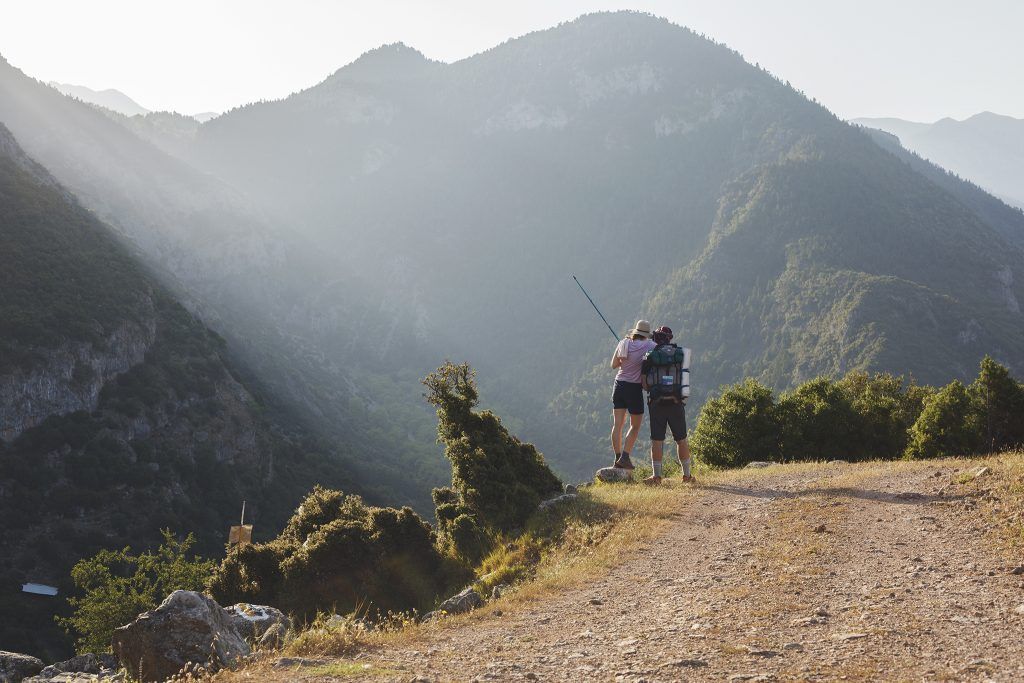 It is a beautiful hike, through long-forgotten ancient villages scattered between the mountains of the peninsula of Peloponnese. Trailing through some of the most spectacular sights the Peloponnese peninsula can offer. Long forgotten realms of the gods, the places were some of the most well-known stories around the world have started, all the way through the ancient times to self-discovery of now. Luckily for you, I shall reveal the whole plan I have created to walk the E4 Peloponnese Trail or The Pindos Way as some might call. Half of it is tested and everything after Dara village is assumptions made from reading ancient tomes and analyzing maps I was able to find. Since we were not able to finish it all. You can read the recap of the first 5 days here.  It is a long-distance walk thus plan accordingly.
Key Data
Duration – 14 days.
Difficulty – Hard/Moderate. It depends on the month you are hiking in. With summer being the most difficult because of the heat and scarcity of water.
Distance – 270 Km.
Weather – Hot.
Gear – Tent + food for 7 days is needed. Summer gear.
Camping – Yes and no. It is possible to book accommodation beforehand. Otherwise for the frugal traveler camping is required.
Attention – No open fires are allowed in the region. It is to dry and raging fires are easy to start.
Trail Map – Download here.
Safety
The Peloponnese trail is safe in my opinion. Nor have I heard or read any bad stories. Furthermore, most of the time you will have cell coverage and you are never too far away from a village. Once in a while, you might meet an aggressive shepherd dog. Thus it is advisable to walk a large roundabout or wait for a shepherd to appear.
Getting to the start of the hike
The easiest way is to take a bus from Athens to Diakofto. You will have to change it a few times but it is not hard especially when the drivers are friendly and are more than willing to explain to you where to wait for the next bus.
There is also a good option before you start your E4 trail if you need to shop for food and gas is to travel by train. From Athens airport to Corinth and then change to a bus. However, keep in mind the bus station is a long-distance walk across the city from the train station.
Leaving from the end of the hike
Officially the E4 Peloponnese trail ends in Kardamyli. There is a bus leaving 3 times a day. Once you get there, ask at any hotel from where and what time the bus leaves to Kalamata. From there you can take another bus to Athens.
Important Notice
In this entree, you will find the first 100 km marked with our camping spots, drinking water spots and also places were you can acquire supplies. In the next 170 km, you shall find potential camping spots and potential water sources. However, those are untested locations. Assumptions made based on detail research involving topographic maps, guidebooks. You can download the map right here.
One other thing. This is not an original E4 Peloponnese trail it is slightly modified by Tim Salmon and Michael Cullen. It involves a bit more elevation and a more spectacular trail compared to the original one.
The Route Part 1
Here is a link to the map of the E4 Peloponnese trail route which I suggest downloading. In addition to it, I would suggest getting a guide book The Peloponnese and Pindos Way, which explains how to get from one stage to another in case your electronics are lost or run out of juice.
Stage 1 Of E4 Peloponnese Trail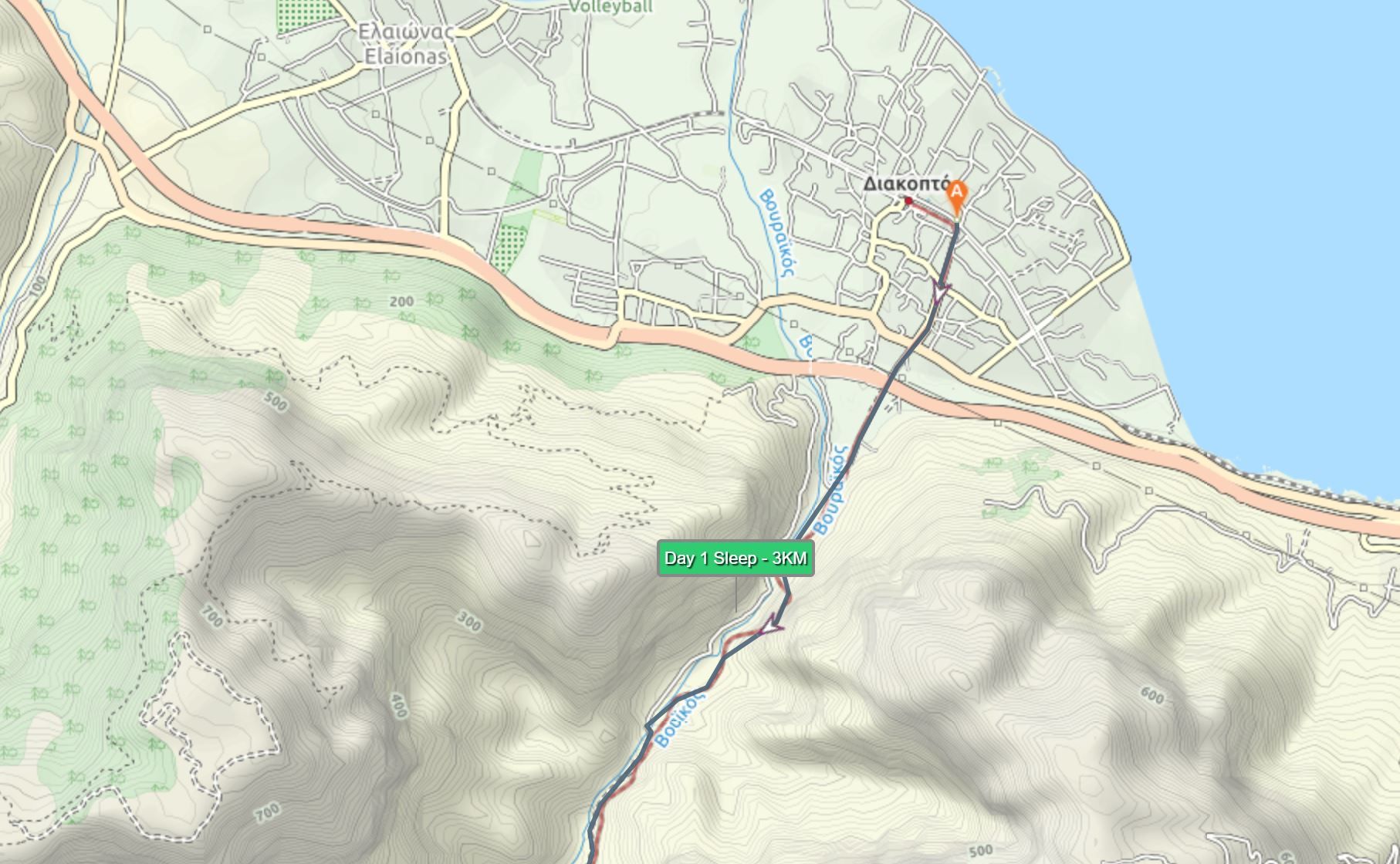 From Diakofto railway station, follow the tracks heading South. Pass the highway and continue going forward. For about 1km you will be walking on a road until it turns right and you continue your trail on the train tracks. Walk from the train station for around 3km before you reach a meadow. A perfect spot to camp at.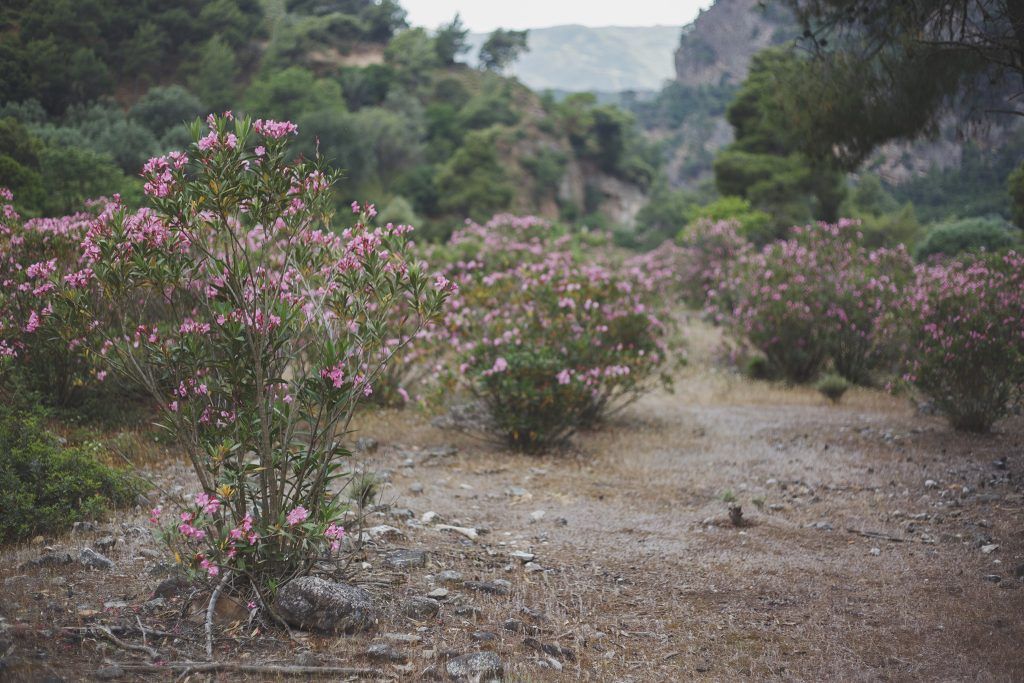 Key point. Take a picture of the train graphic. So you would know when the train will come from behind and when from the front so you wouldn't be in a tunnel when it arrives. Also, the water in the river is not drinkable. Ensure that you filter it before boiling it.
Total Distance – 2.8km
Water Points – Diakofto
Stage 2 Of E4 Peloponnese Trail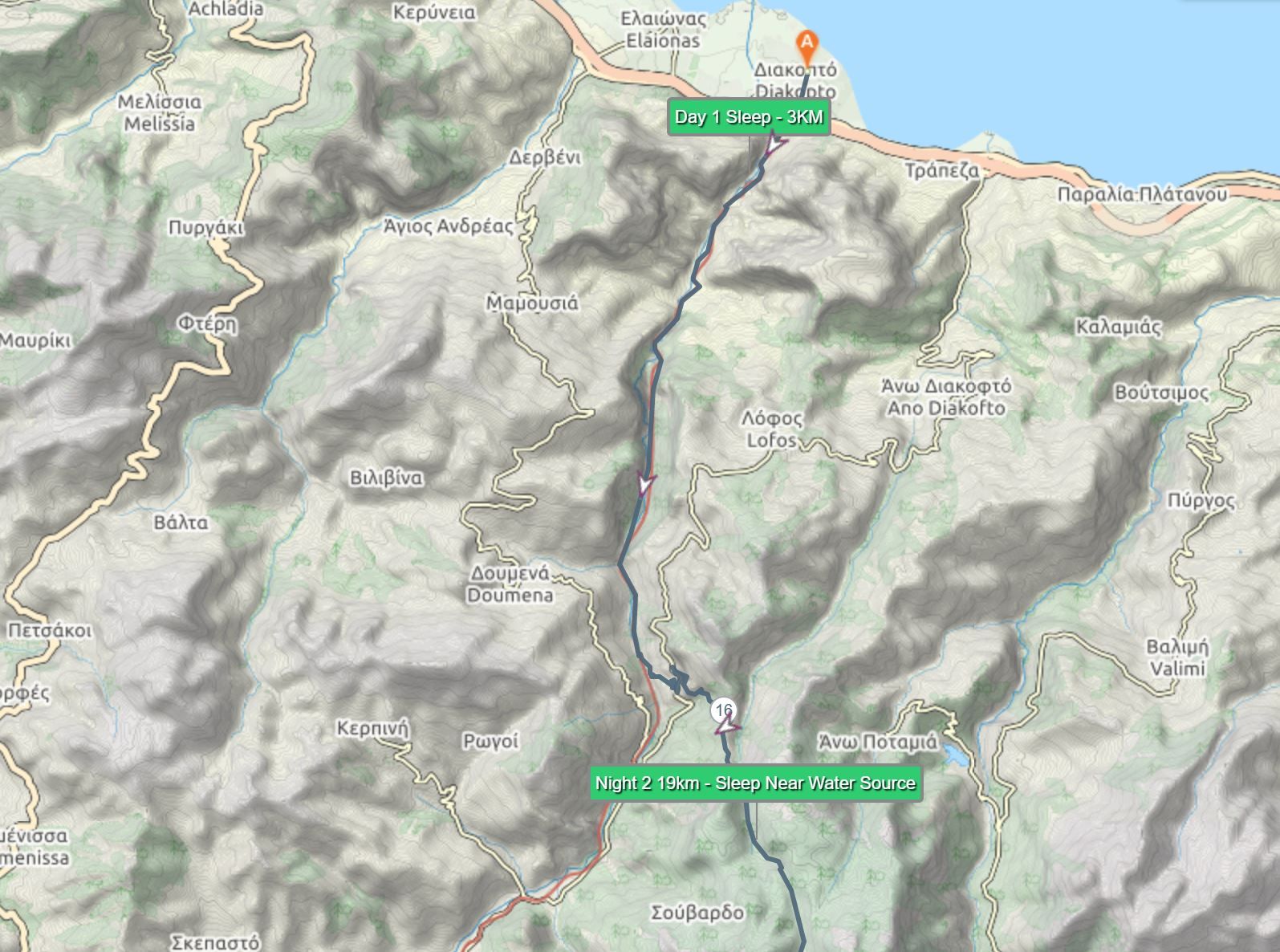 It is a fairly easy day for the hike. Most of the day will be following the rails until you reach the station of Zakhlorou. You will notice it because it will be the only one along the way that will have cafes. Once you reach it once you pass the second cafe turn left and soon you will see a sign for Mega Spilio Monastery. To reach it will be steep 1h climb. At the top of it, you will find a restaurant and a monastery. In front of the monastery turn right and walk until you find a cemetery pass it and look for a blue on white and yellow on white way-marks. A few steps later you will see a road splitting. I would suggest taking the right route it is a much easier climb at the end of the day. Until you reach the top of the pass with lots of interlinked water troughs.
From there keep on climbing up (it is the tricky part) so scout a bit until you will find a waymark and also route down. Once you get down here you will find a small stream look here for clearing and a place to camp.
Total Distance – 18KM
Water Points – Zakhlorou station, Mega Spilio Monastery, Camping Spot.
Stage 3 Of E4 Peloponnese Trail
From your camp continue on on the trail following the stream and the old cement conduit and the pipes you see along the way. Most of the hike will be on the left side until you reach the rocky part that starts climbing up. From here follow poorly marked way-points and cross to the right and continue accent. And hike until you reach a dirt road which will lead to a large meadow. Here you can stop to rest near the hunter's lodge. From the lodge do not take the right road but go back 5 steps and take a left one going for a while straight and later turns right up the mountain. Continue on it until you reach the asphalt road.
Hike 30 m on an asphalt road before you reach a sign on the right going down to Arronia Village II. Once you reach it is slightly tricky route. You will have to hike for a while on a highway before you reach a Shrine Ayios Nikolaos on your right. From it take the first left (a dirt road) leading to Ano Lousi. Here you will find a place to refresh and further down the road a tavern to get some paid refreshments. Now with your back to the doors of the tavern go straight and ignore the main road and find a route leading to the cemetery on the hill that you can see clearly from the tavern. This will be a faster way to reach Kato Lousi.
At the square with springs and plain trees turn sharp left along a concrete lane which curves right and climbs into the southern part of the village. Leave the village by a chapel and big bushy oak tree, descending gravely jeep track in the direction of the half fir clad summits.
As you will see upfront of you awaits a semi-flat ground of bushes. In a perfect world, you would need to go straight through it keeping the mountains on your left and the asphalt road on your right. There are also very scarce markings of the trail and it is easy to get lost.
It is best that you would have a GPS turned and follow its route through the bushes to the shepherds' house. The house has dogs running wild thus walk around them. And look for an arrow directing you to a path to the river. At the end, you will reach a river and a perfect spot for a camp.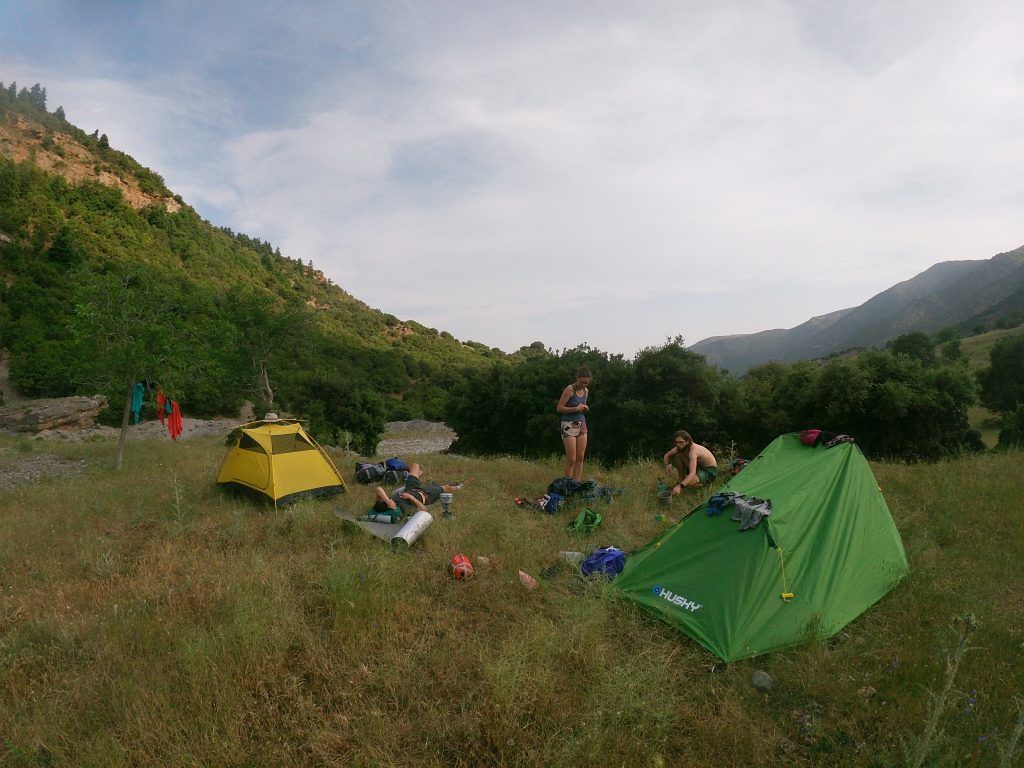 Key Info – 500M up the river there is a waterfall if you feel like having a nice shower.
Total Distance – 19KM
Water sources – Ano Lousi, Kato Lousoi, Camping Spot
Stage 4 Of E4 Peloponnese Trail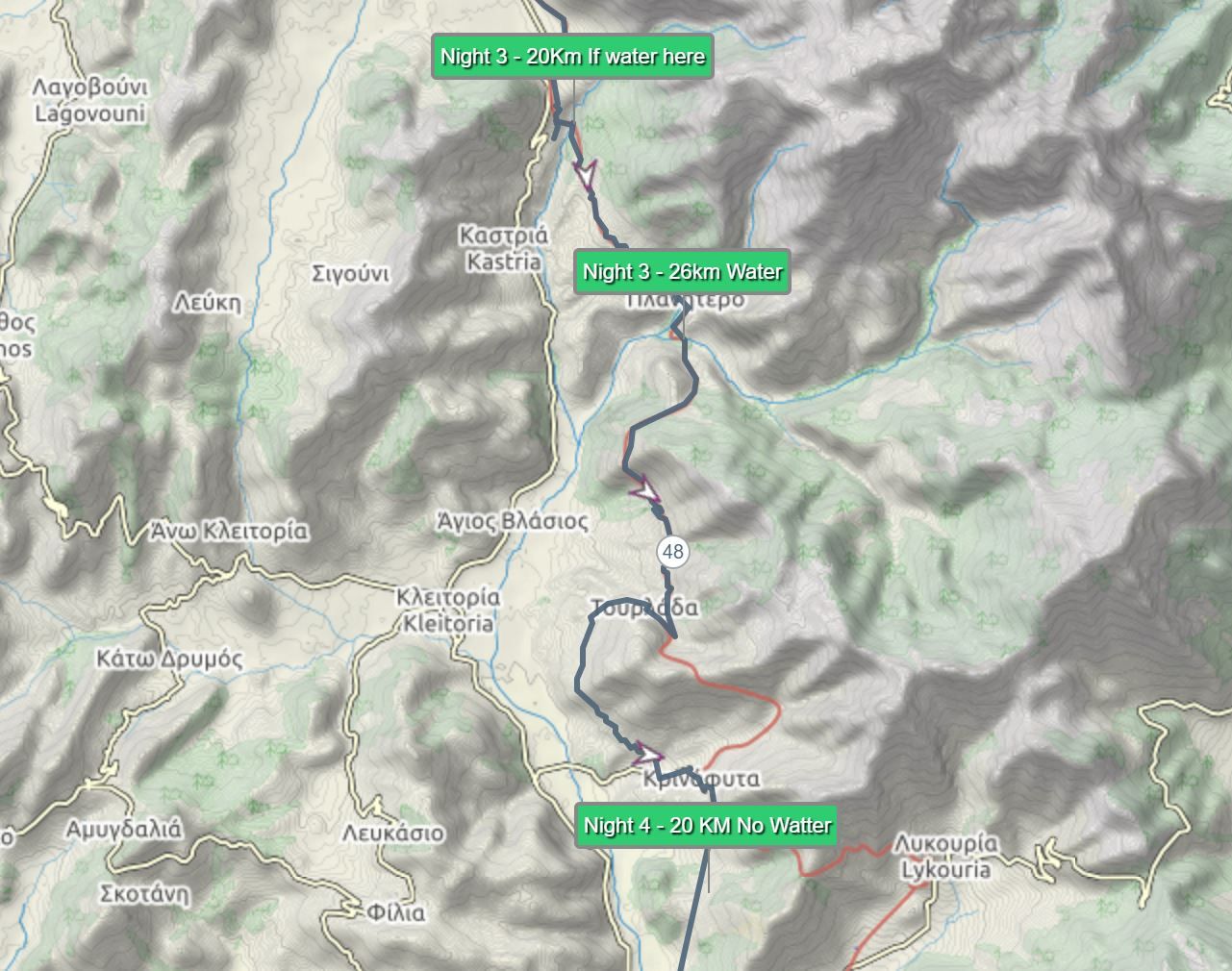 A tedious day. Tho fairly easy to follow. Cross the river and keep on climbing the hill until you reach a temple Ayia Varvara. From the temple keep right for 50m and look for jeep tracks on the left to follow that will lead you straight to Planitero. You will know that you have reached Planitero when you enter a large square with the health center, spring and old kids slides. From here you can turn right going down faster and fairly easier road but much less beautiful or keep left and go through the center.
Both ways will lead you to Aroanios springs. From there cross a river on a wooden bridge and keep left crossing the park. The markings are spares here.
Once you see a dirt road bear right. Now here keep your eyes open on the left for a small poorly marked trail. Otherwise, you will go up the mountain that leads nowhere. From here follow the trail that is not very clear leading to an Arbounas village. Where you will have 2 places to refill the water.
Keep on going on the main road to the top of Arbounas village to reach the abandoned playground. Here turn left and uphill looking for way-marks. The jeep track soon turns into a goat trail to follow for you that leads to Ayios Nikolaos.
From here it is fairly easy. Cross the village of Ayios Nikolaos and follow the dirt road leading to Tourladha. There is a nice sleeping spot near the spring along the way if you feel exhausted already. Once you reach Tourladha keep going for 1.5km on the main asphalt road until you reach a bend on the right with a house and concrete spring and a dirt road going South. Follow this dirt road until you reach an asphalt road right below Krinofita village. Follow the road to the village and up to the highest houses. If you can't find the route ask the people around. Once you reach a second chapel turn left down a route that is not marked (check the map for a clearer explanation or the book). Here follow it until you reach the ruins and a shepherds house. Sometimes he is in and sometimes not. And the water here might be or not depending on the weather. Don't stay there too long there are plenty of Shepard dogs around and the spring water won't be good since the sheep herd is above it. Drink it only if you have filter tablets and can boil it.
Climb up the hill (follow the most well-trodden route) and look for the ruins. This is where we camped a good place but no water. Thus bring your own.
Water Sources – Planitero, Arbounas, Ayios Nikolaos, In between Ayios and Tourladha, Tourladha, 1.5km from Tourladha, Krinofita.
Total Distance – 20 KM
Stage 5 Of E4 Peloponnese Trail
Short day but complicated. The route is not very clear and hard to explain. Just incase have a fully charged battery and use the GPS to navigate or use a map and compass and a guide book – "Trekking Greece. The Peloponnese and Pindos Way". But I will try to explain the best I can.
Behind the southernmost of the three ruins and a blue temple, pick up a jeep track wiggling gently and then more steeply down.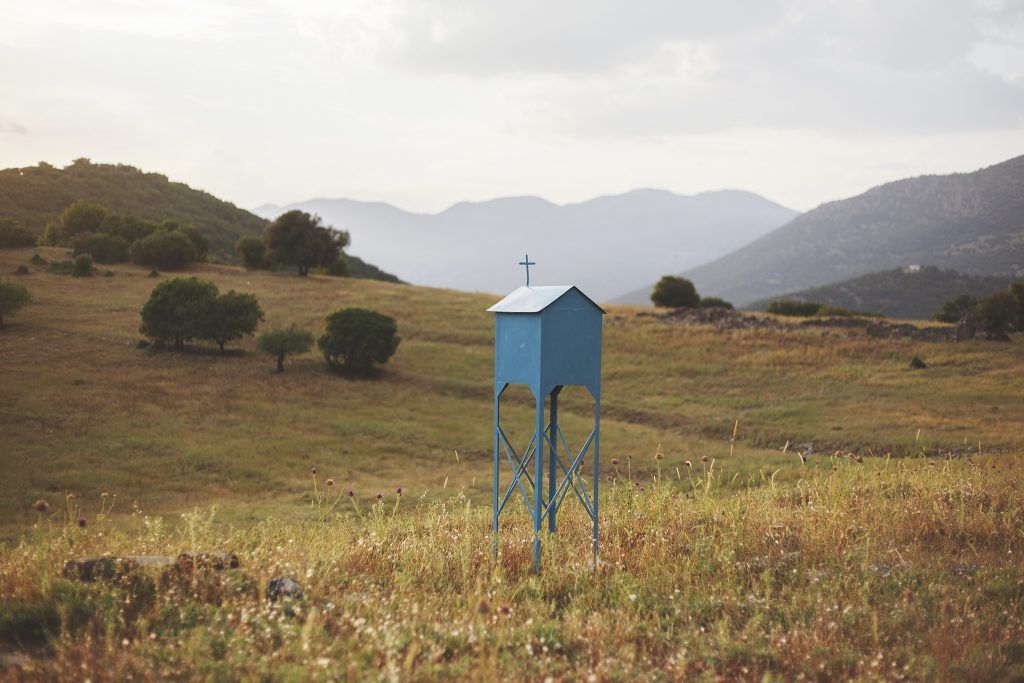 After 15 min you shall pass beneath a stone hut and then where the track turns right continue straight on a tiny jeep track past an oak tree and seasonal pond. From here the trail ends. Keep on going straight and ignore the red dots. After a while, you should reach a ruined house and on your right or straight ahead depending on where you get off you will see an asphalt road.
On your right being on asphalt road should be two maybe three shepherd buildings. Now near it, if you are lucky on the left will be a small trail leading to the meadow. For us, the entrance to the meadow was hidden behind a pile of shit.
Keep going through the meadow and if there is a trail follow it. Otherwise, you will need to scout the bushes near the river. Since behind them, there is a hidden metal bridge that you need to cross. If lucky you might see some turtles.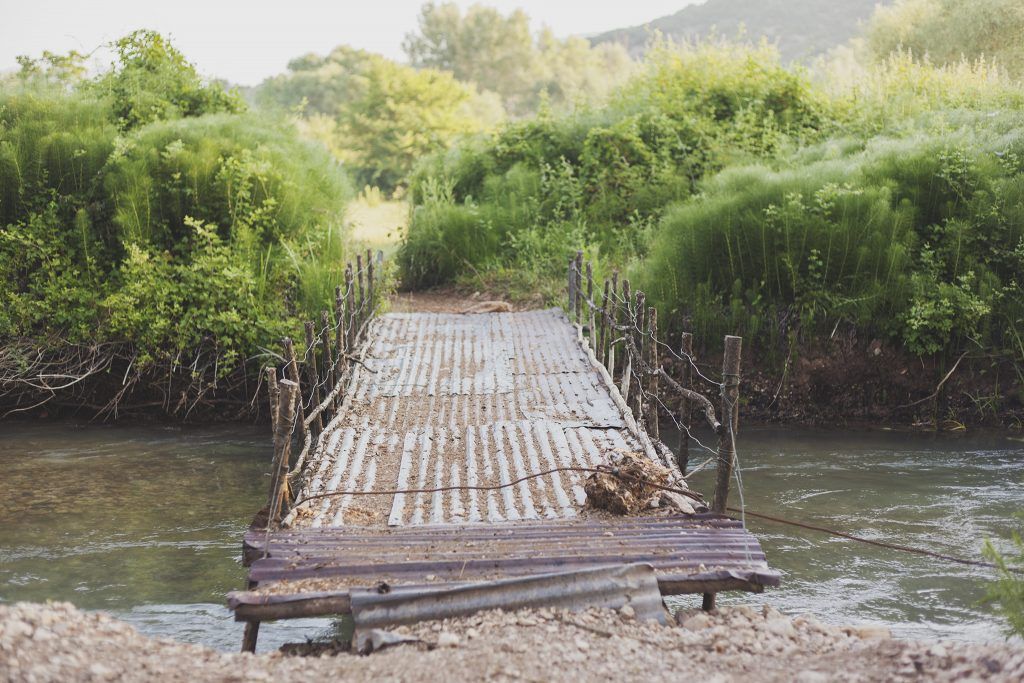 From here it becomes difficult to explain how to find the route since there are no clear markings again. Once you cross the river follow for a 150m a dirt road until you hit a large opened place on your right. Turn sharply right and cross it. There won't be a trail. Thus it would be best to scout the way a bit.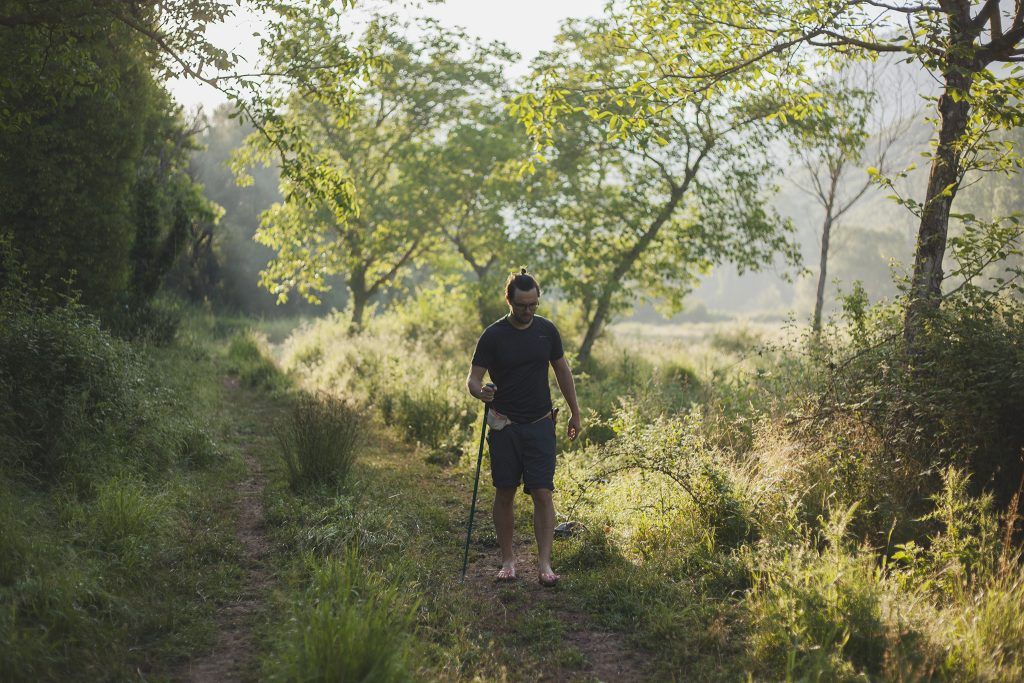 Until you reach a dirt road going left. Until you reach a clear sign for E4. Also here you will have to cross a small bush forest and markings are scarce again. Sometimes it is plastic hanging sometimes signs. So keep your eyes peeled looking for the trail (stop and scout for a trail up the mountain if needed).
Once you find the trail up, it is an easy climb to the Pangrati village. From there follow the main road up past the playground and the now-closed hostel. After a couple of minutes fork right. At the hairpin bend keep straight taking the uppermost of the two tracks and climb steadily South West on a good path leading to Dhara. If lucky you can get a taxi (cost 30 Eur) and get to the next stage on the same day or sleep here in an Inn. The price is around 60 Eur.
Water Sources – Right after the metal bridge (boil the river water), Pangrati, Dhara.
Total Distance – 14km
Resupply point – Small store operating from 8-10 AM and 18-21 PM. Basic goods, spaghetti, cans etc.
The Route Part 2
From here on I am not able to give you clear directions. Rather a way-points and estimations where the water sources should be, potential camping spots, distance estimates and trail map to follow. It is because we never finished the trail from here.
Stage 6 Of E4 Peloponnese Trail
Here you have an option. To skip the next stage and take a bus from Vytina to Tripoli. Or hike one more day and do the same the next day. If you decide to hike this stage you will have to climb to 1.6 km pass and a light hike down the mountain to Kardan. From which at 8 am the bus leaves to Tripoli the next day.
Water sources – Vytina, Kardaran. Probably won't be any water source along the way.
Total Distance – 19 KM
Stage 7 Of E4 Peloponnese Trail
Tripoli. A great place to refill your food supplies. There won't be any other store for the next 5 days. Do not waste much time here since you will need to get a taxi to cross a city all the way to Psyli Vrysi. Since you will still have 20 km to walk before reaching the next sleeping spot in Ayoc Pertrac. The only spot with water or so it seems after Tripoli. If you find a water spot with water before the Ayoc I suggest enjoying a shorter hike.
Water Sources – Tripoli, Ayoc Pertrac
Total distance – 20 KM (not included the km walked in Tripoli)
Stage 8 Of E4 Peloponnese Trail
Another day that most probably won't have water sources along the hike. For those that would like to take a peak for the hike there would be possibility to hike Megali Tourla Peak at 1935m.
Water Sources – Ayios Petros, Malevis Covent, Ai Lias, Arnomousga refuge, Vamvakou
Total distance – 24km
Stage 9 Of E4 Peloponnese Trail
An easy hike mostly trekking downhill alongside the of the river. So water should be not an issue (Don't forget to boil it and filter it) if it is not clear color). The end of the hike is a highway. If you come early enough you might be lucky to catch a bus going to Sparta or hitchhike if lucky. If not camp nearby and try your luck next day. Otherwise a 20 km hike on a highway awaits you.
Water Source – All along the way.
Total Distance – 15km
Stage 10 Of E4 Peloponnese Trail
Rest and resupply day for the next 3 days. Today you hike only as much as you like to shop and explore the city of Mystras. As for camping there are 2 spots. One nearby Sparta (http://www.campingpaleologio.com/?p=1) and one right before Mystras (http://www.castleview.gr/ ).
Water Source – Everywhere
Total Distance – Up To You
Stage 11  Of E4 Peloponnese Trail
Is a day of steady climb all the way to 1550m where you will find a Taigetos Mountain Refuge. It is 19km from Mystros to the refuge and mostly going up the mountain.  My suggestion if you are able to find a nice camping spot on the way near the water source (after the first 10km) I would suggest camp out there. Since the refuge will be expensive and needs to be pre-booked. Otherwise, you will need to trek and search for a water source along the way or carry enough water for 2 days. There should be water at Taigetos Mountain Refuges. Best to call and inquire. The phone – 2731022574 mob – 6974454079 if they are open.
Water Sources – Anavriti, Taigetos Mountain Refuge
Total Distance – 23Km
Stage 12 Of E4 Peloponnese Trail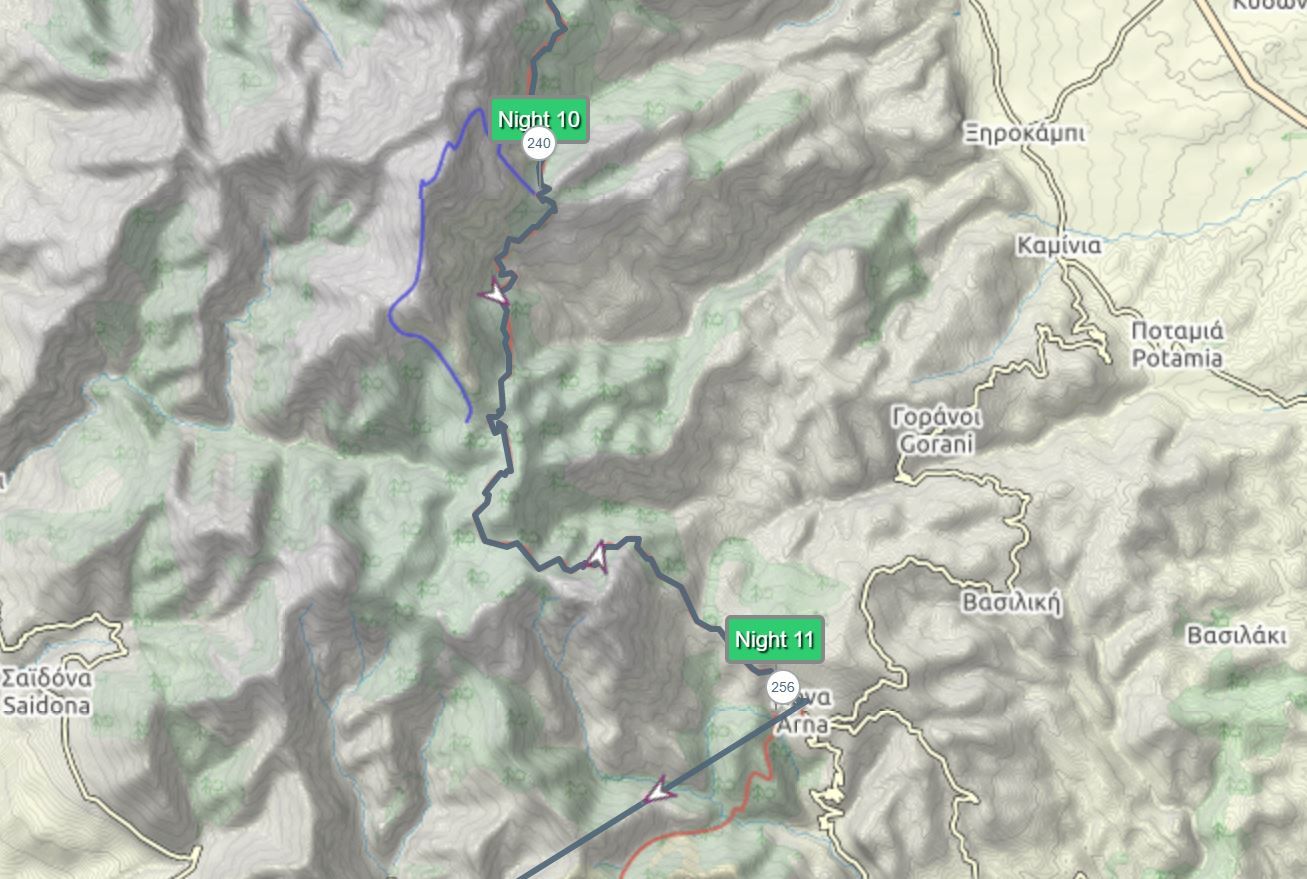 A tough day. Through the pine forests to Arna village.
Water sources – Ayios Dhimitros, Spartia, Arna, Pendavili
Total Distance – 15km
Stage 13 Of E4 Peloponnese Trail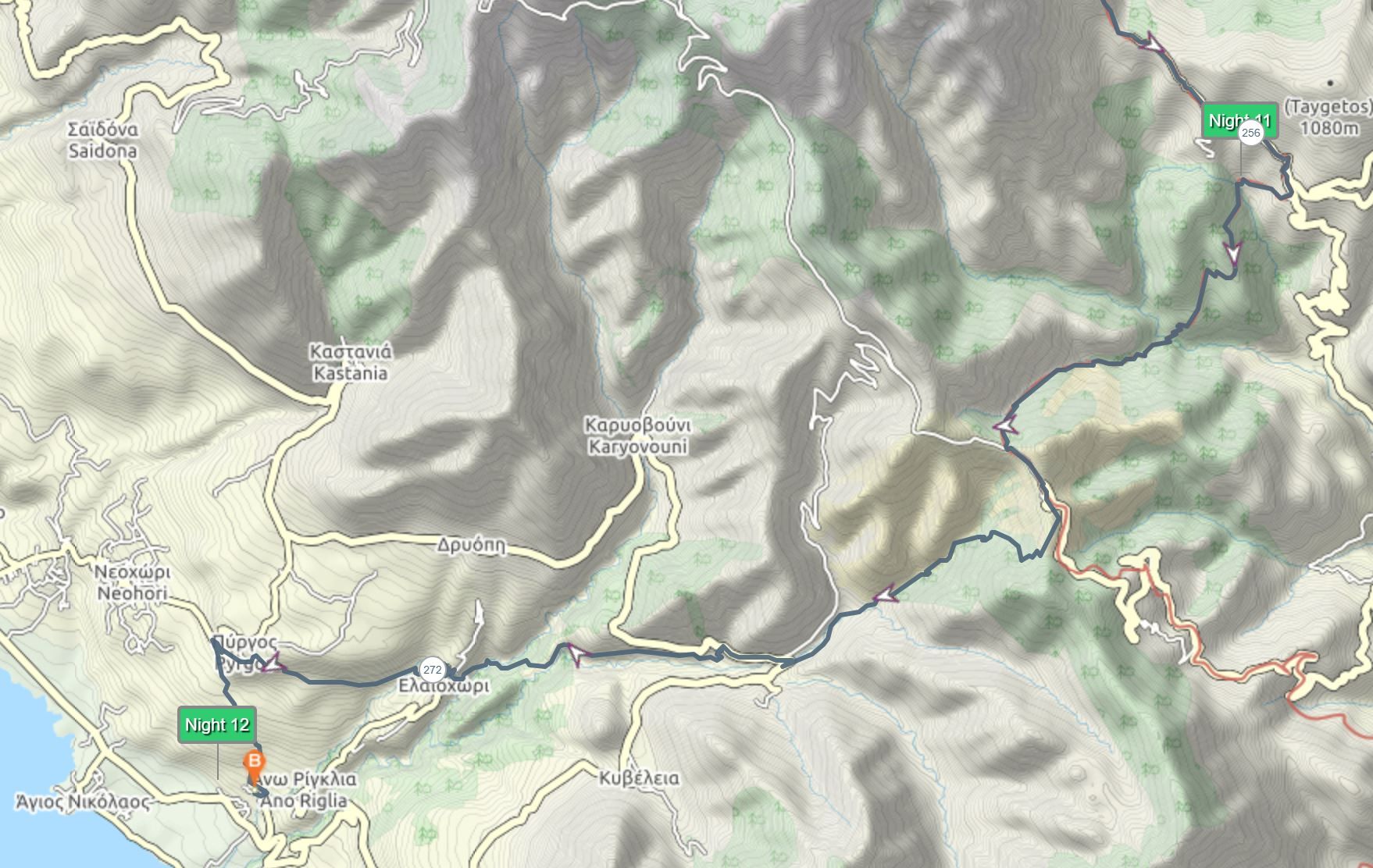 Is a steady hike down towards the city of Agios Nikolas or Agios Dimitros. Here you should be able to find a night were to sleep quite easily in one of the hotels/ guest hoses.
Water Sources – Panayia Yiatrissa ,Milia, Kato Khora
Total distance – 19km
Advice
This is not an extensive guide. But more of a suggestion for the travelers so they could adapt it the way they want it. It was built for campers and not for the people who would like to stay in the hotels or guest houses. But if you would like to do that, every village has a guest house the key point here is to pre-order them before reaching these villages. But the cost of this trip will go exponentially higher. From 200-300 euros for 2 weeks to around 50 euros extra per night.