The Karwendel Hohenweg region is a stunningly beautiful part of the world, located in the Austrian Alps. The region is known for its dramatic landscapes, with towering mountains, deep valleys, and pristine alpine lakes. The region is also home to a number of small villages and towns, each with its own unique character. Visitors to the region can enjoy a wide range of activities, from hiking and mountain biking in the summer to skiing and snowboarding in the winter. There is something for everyone in the Karwendel Hohenweg region.
General info about the trail
Starting point  –

Reith bei Seefeld

Finishing point –

Scharnitz

Mountain chain –

Karwendel Mountains

Length – 42  mi

Duration – 6 day(s). For fit people 4 to 5 days

Elevation uphill – 14,682 ft

Vertical feet's downhill – 15,206 ft

Camping – not permitted heavy fines

Average mi per day – 7 mi

Total cost – 262 $ (we cooked lunch & breakfast ourselves)  

Gear weight – 10 kg

Difficulty – Difficult/Medium

Additional info – Accessible using

public transport

Additional info 2 – no stores along the trail 

Water – only accessible at the huts

Trail map – Download Now
Best time to visit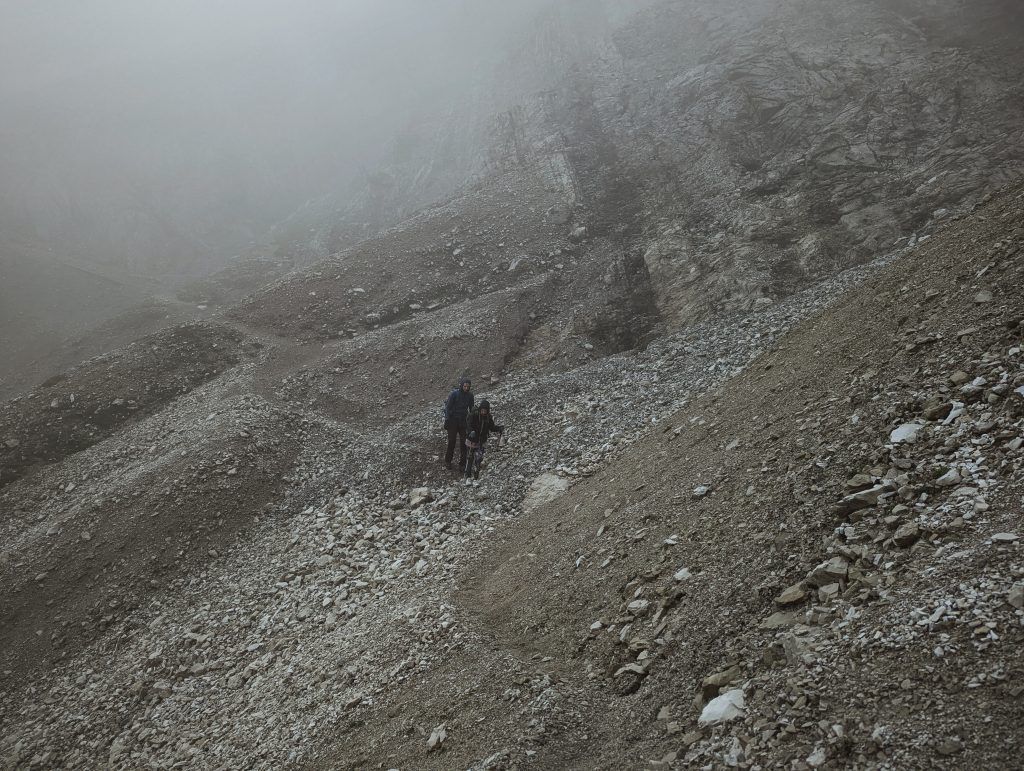 The hiking season for the Karwendel High Trail is from July to September. I would say depending on the weather, and if the huts are still open, it might be possible to hike the trail all the way till the 1st week of October. The relatively short season is due to weather conditions that limit access to the trails. July tends to be the wettest month of the season statistical possibility that you will get to see some rain is 50% of the time.
How to get to / leave the trail
The trail is easily accessible from Innsbruck the capital of the Tyrol, which has 130.000 inhabitants. It is located at the heart of the Alps at an altitude of 579 m above sea level and encircled by majestic mountain peaks.
Getting to the start of the trail from Innsbruck
The start of trail starts at Reith bei Seefeld. Which is accessible by a local train that leaves Innsbruck daily from Innsbruck Westbf, Innsbruck Hötting or Innsbruck Hauptbahnhof train stations. It takes only 40min to reach the start of the trail.
Leaving the trail to Innsbruck
The trail ends at Scharnitz. The train to Innsbruck also leaves from the city train station Scharnitz Bahnhof.
Getting to Innsbruck
​By air
The airport of Innsbruck is situated just 10 minutes from the city center and has excellent coach and taxi connections. The airport handles regional flights around the Alps as well as international traffic to European destinations.
By rail
Innsbruck's central railway station is located at Südtiroler Platz, within easy walking distance to the city center.
Trains come to Innsbruck from many European cities. 
Innsbruck

– Vienna: 4 hours

Innsbruck

–

Munich

: 2 hours

Innsbruck

– Bolzano: 2 hours​

Innsbruck

– Verona – Venice: 5 hours

Innsbruck

– Verona – Bologna: 5 hours

Innsbruck

– Frankfort: 5,5 hours

Innsbruck

– Zurich: 4 hours
You can get off the train and continue directly by foot, bus, tramway, or taxi into the city center.
You can buy your tickets via  https://www.thetrainline.com/.
By road
Innsbruck is connected to major European motorways arriving from Germany, Italy, Switzerland, and Hungary. This means that Innsbruck can be reached by car within a few hours of driving from any city in Europe.​
By coach
A very inexpensive option to travel to Austria is with MeinFernbus. MeinFernbus is Germany's leading long-distance coach provider and is a straightforward option for low-budget travelling. ​
Route Network:
Munich

–

Innsbruck

  –

2h

Frankfurt-

Innsbruck

– 9h

Vienna-

Innsbruck

– 9h

Zurich –

Innsbruck

– 8h
Night route network:
Torino (Turin) –

Innsbruck

-12h

Rome –

Innsbruck

– 17h
Trail Accommodation
There are no official campsites on the main route. Meaning you have only 2 options here.
Stay in Rifugios or refuges

Wild camp (bivouac)
If you choose to wild, camp know this. It is illegal, and if you get caught, you will be heavily fined anywhere from $500 and up. 
If you decide to stay in the huts, to ensure that you secure your accommodation of choice, book as early as you can. Many trekkers start booking in springtime for stays in summer.
Another great tip when writing emails is to write in German with Google translate. There is a rumor going around that these emails are answered faster.
As for where to stay during this 6-day itinerary and cost, please check below. 
Day 1
Nördlinger Hütte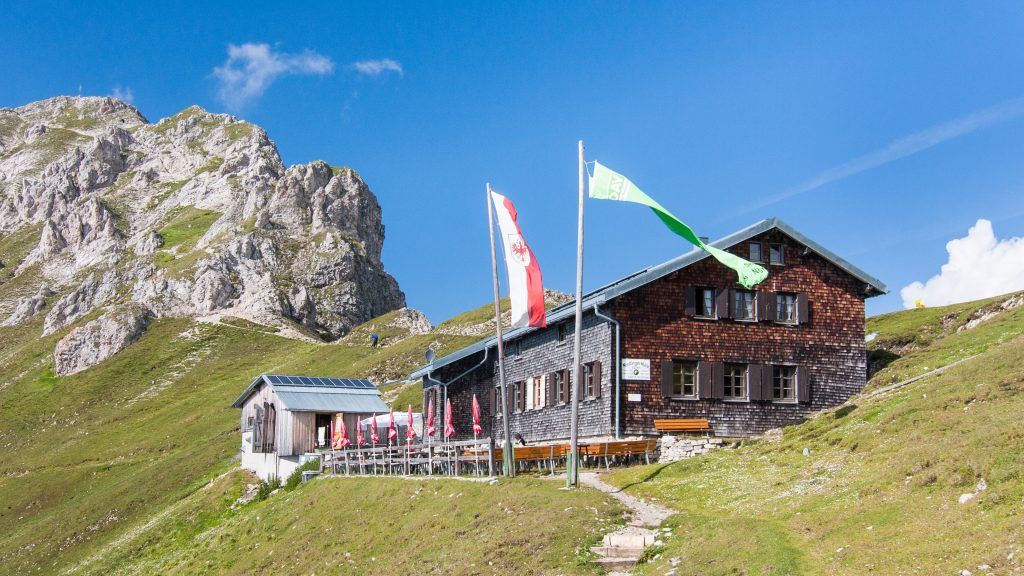 Phone – +43 664 9142262
Email – wirt@noerdlingerhuette.at
Website – www.noerdlingerhuette.at
Price – Around $26 for a bed
What to know – no hot water!
Day 2
Solsteinhaus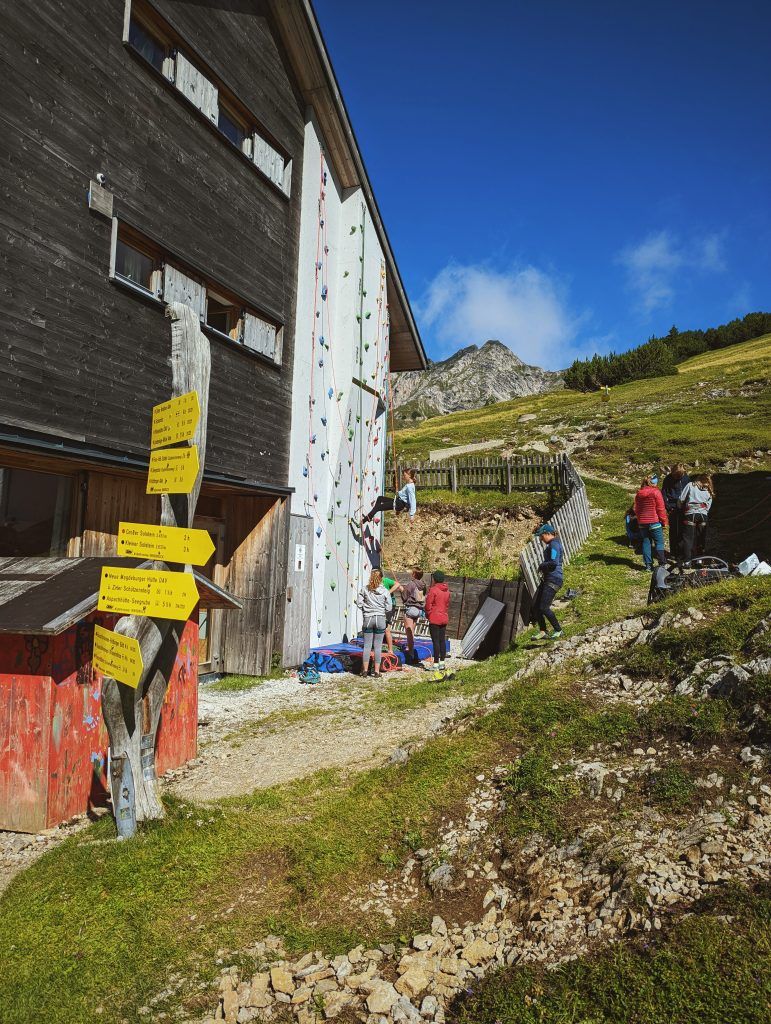 Phone –  +43 664 3336531
Email –  robert@fankhauser.at
Website – https://solsteinhaus.at/
Price – Around $29 for a bed 
What to know – $1 per minute for hot water!
Day 3
Pfeishütte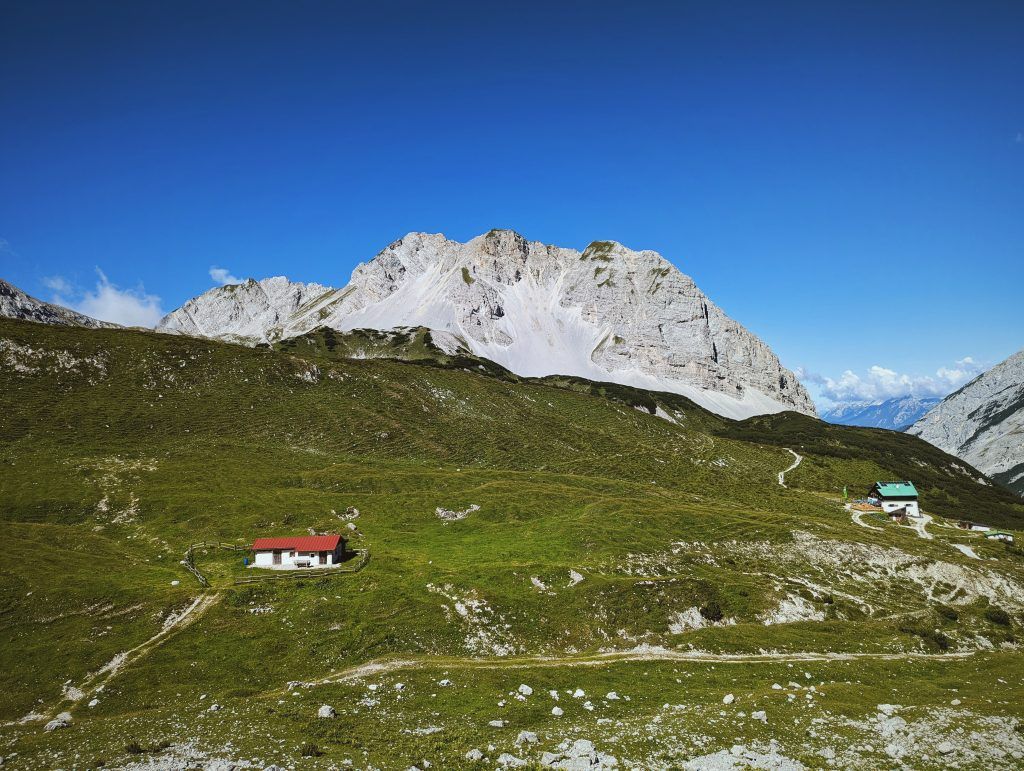 Phone – +43.720.316596
Email – info@pfeishuette.at
Website – https://www.alpenverein.at/pfeishuette/
Price – Around $29 for a bed 
What to know – $1 per minute for hot water!
Day 4
Bettelwurfhütte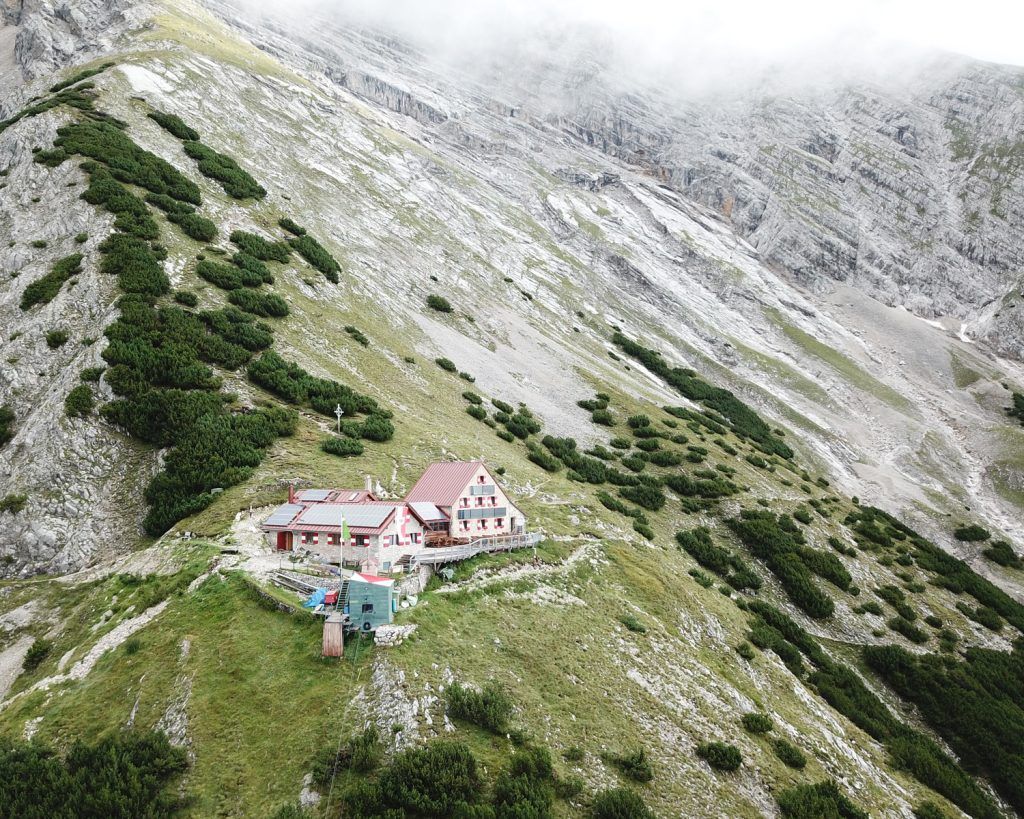 Phone –  +43/5223/53353
Email – info@bettelwurfhuette.at
Website – https://bettelwurfhuette.at/
Price – Around $29 for a bed 
What to know – $1 per minute for hot water!
Day 5
Hallerangerhaus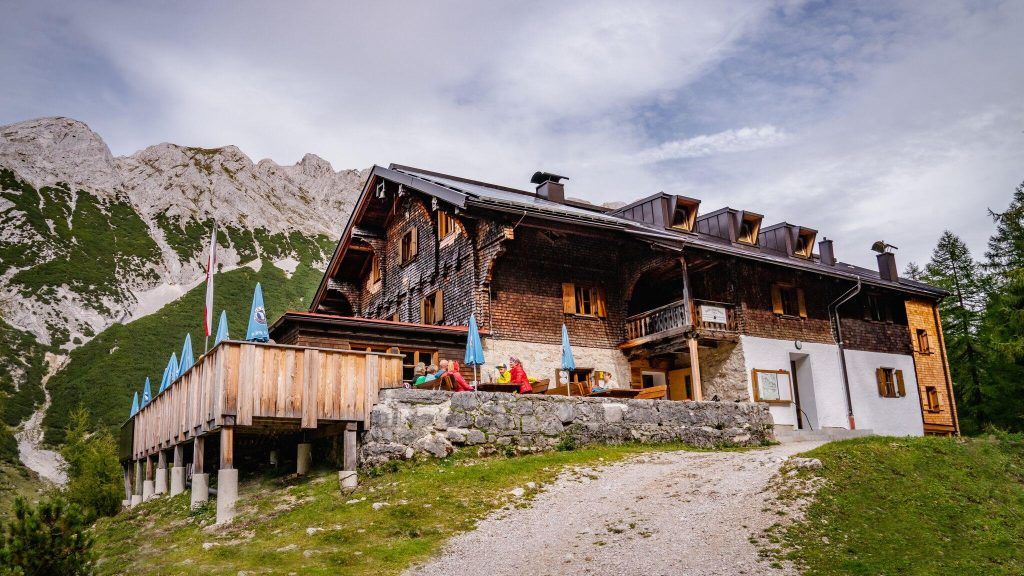 Phone – 0043 664 8937583
Email – info@hallerangerhaus.at
Website – https://www.hallerangerhaus.at/
Price – $21-$27 per night
What to know – $1 per minute for hot water!
Trail Stages
Stage 1: Reith bei Seefeld – Nördlinger Hütte
Ascent: 37772 vertical feet, duration: 3 – 4 hours, distance: 4 miles
Getting to the start of the trail – when you leave the train on the only road take a right turn and hike it for a few minutes until you reach a church. From there take the only road going left, and you are on the main trail to reach Nordlinger Hutte.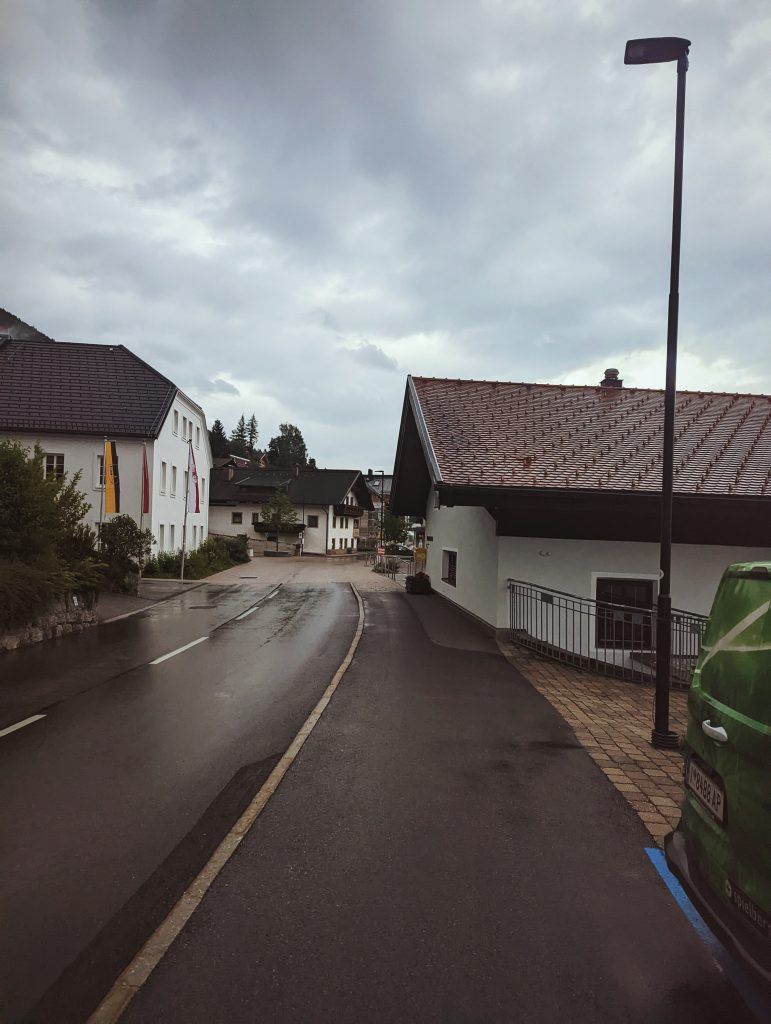 About the trail – The trek begins with a short easy hike that later turns into a switchback steep climb up to the Schartlehnerhaus (6089ft) hut. Which is non-operational but is still a perfect place for your lunch break. 
The second half of the trail, I would like to say is much easier, but then again to each hiker, it might feel differently. 
Traverse the Latschenrücken along the "Schoaßgrat" ridge, first along a series of switchbacks and then a somewhat straighter trail to the Nördlinger Hütte hut (7345ft).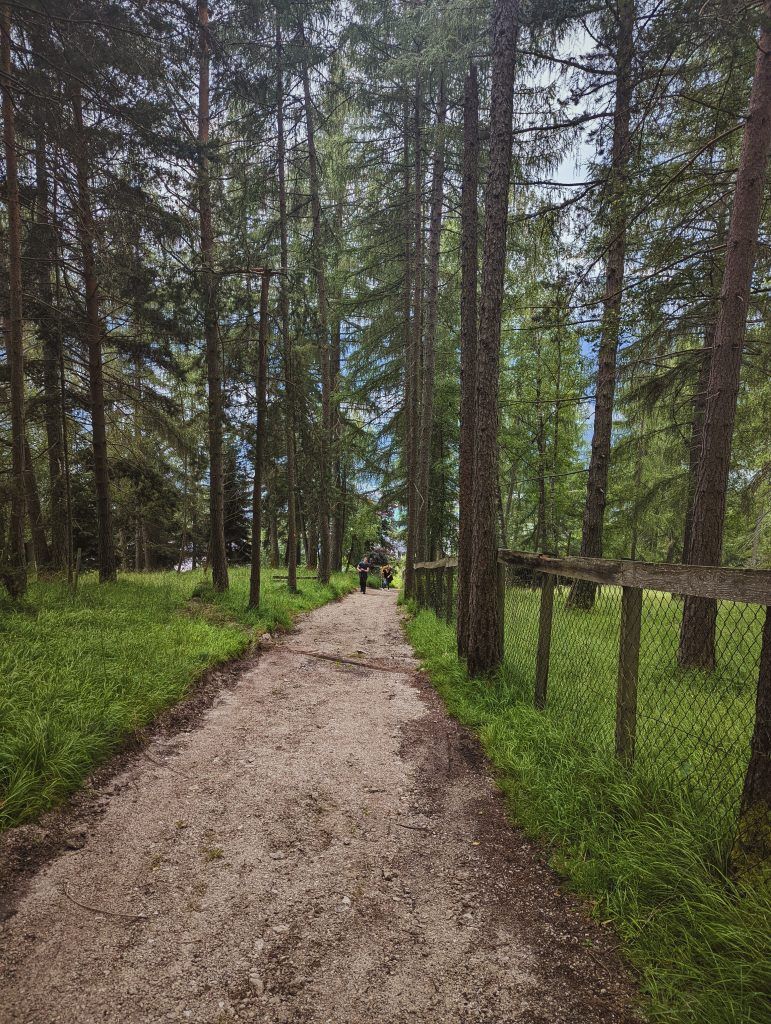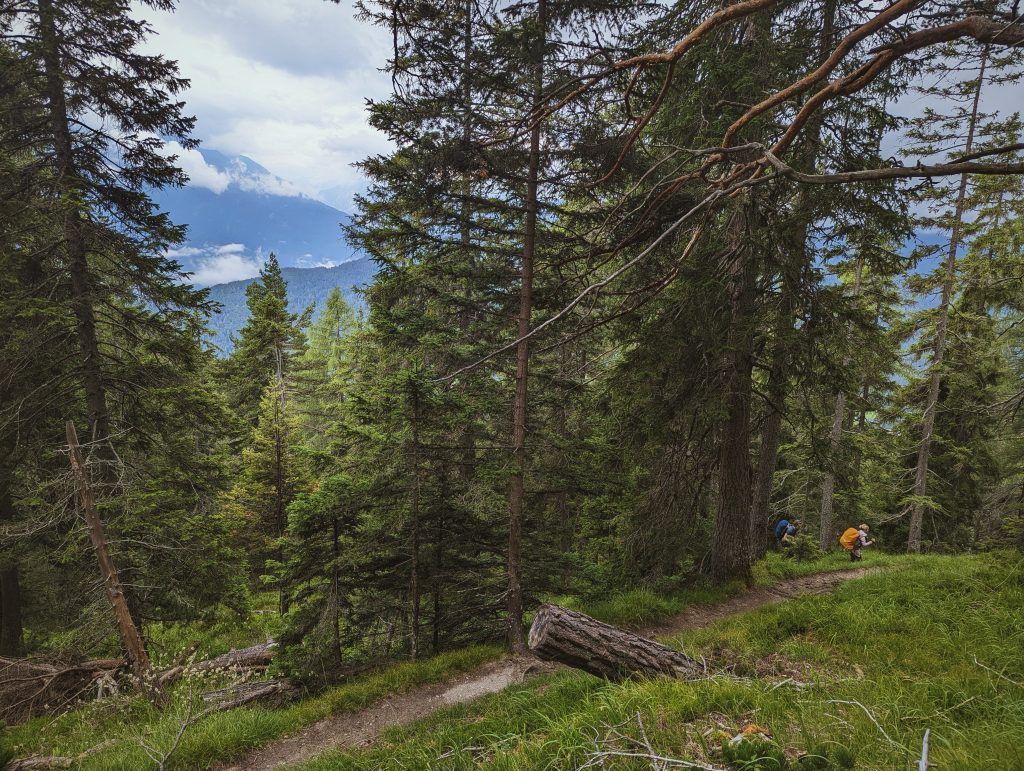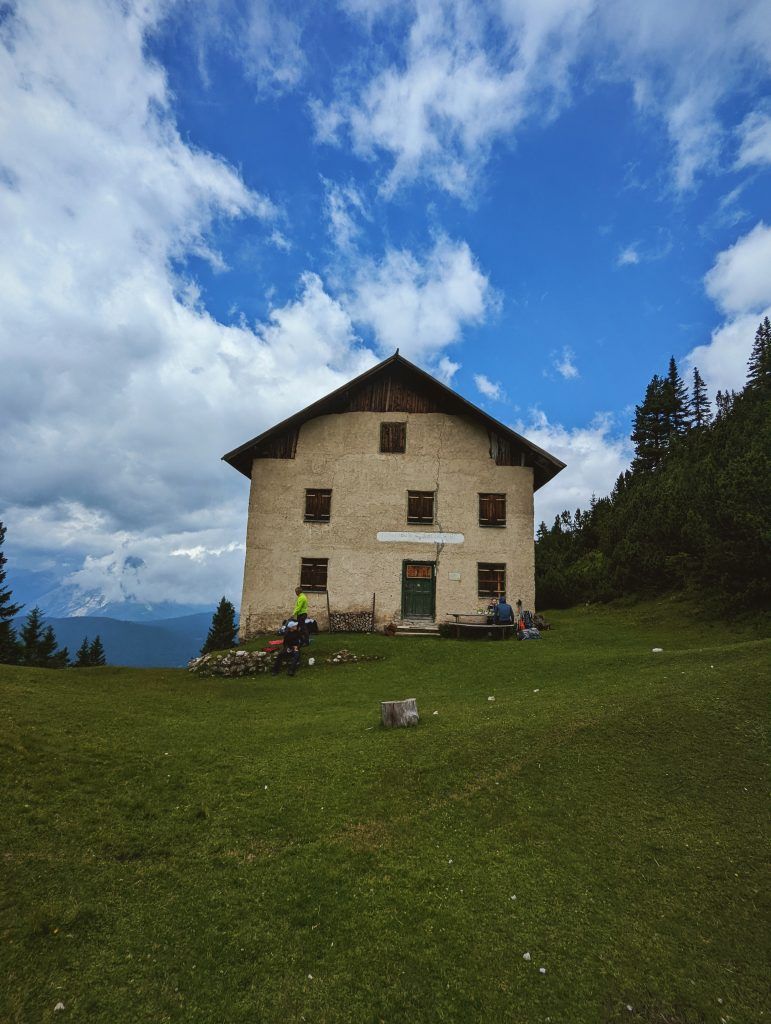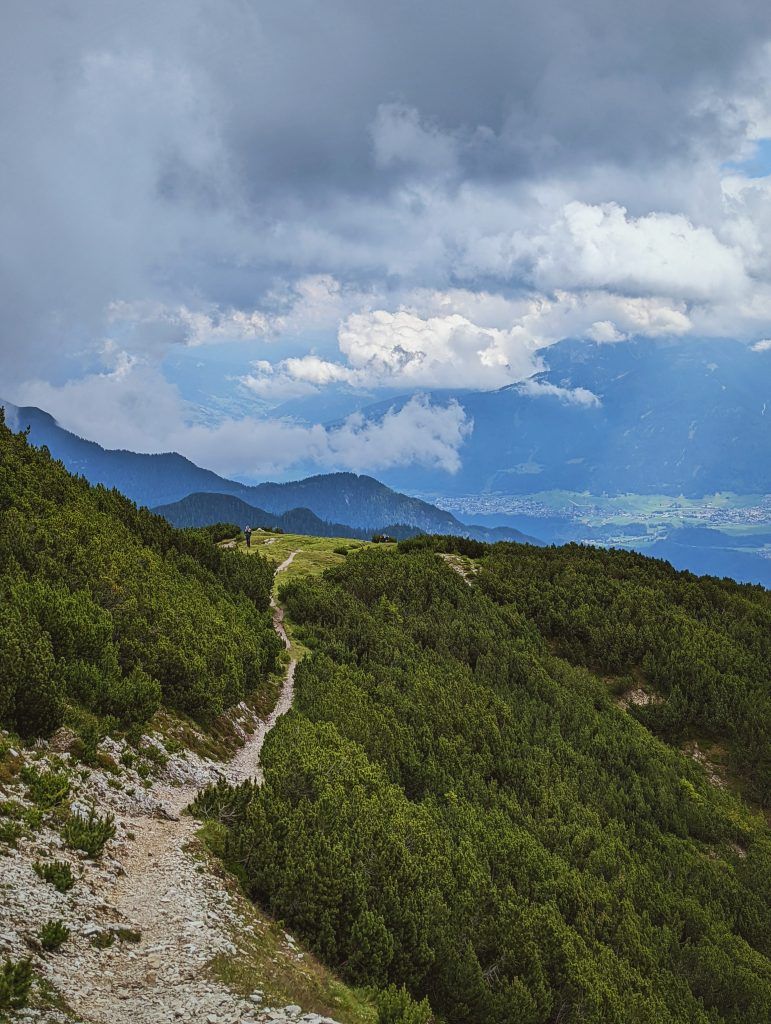 Exit points –  If for any reason you need to leave the trail you can either climb down the way you came. Or from the  Nördlinger Hütte follow the Kuntersteig trail (10) until you reach Härmelekopfbahn lift (around 1 mile) which will take you to Rosshütte hut (5744ft) and from there take a Bergbahnen Rosshütte cable car to Seefeld. And you are back in the civilization.
Tip – If this is not your first rodeo and you are pressed on time you can hike all the way to stage 2 in one day. The second part besides 1 steep climb is an easy walk. 
Stage 2: Nördlinger Hütte – Solsteinhaus
Ascent: 1148 vertical  feet, duration: 4 hours, distance: 4.1 miles
About the trail – The trail starts behind the hut straight down at the foot of the Reither Spitze mountain. Until you reach Ursprungssattel pass. Here you take a left turn on a lightly winding road down towards Breiter Sattel pass. From there you take a right turn onto trail 74 to the Eppzirler Scharte pass (6896ft). 
After climbing the winding path to the Eppzirler Scharte (6896ft) it is time to head downhill once again the road from here will lead you directly to the hut. Around 30 min to an hour before you reach it.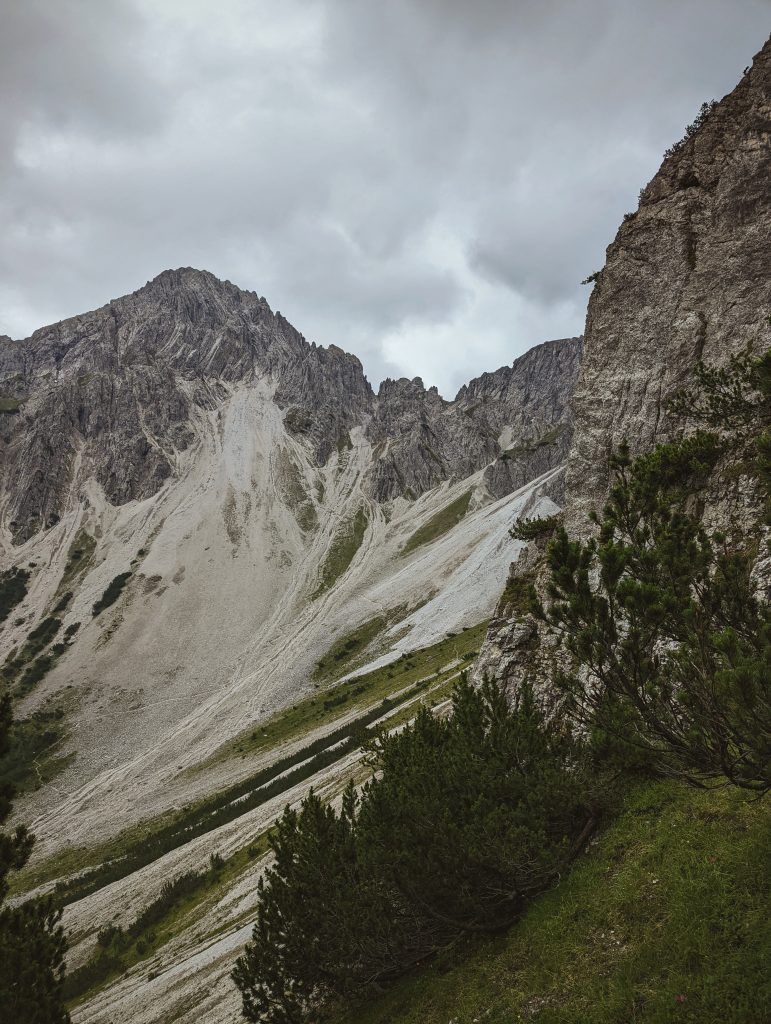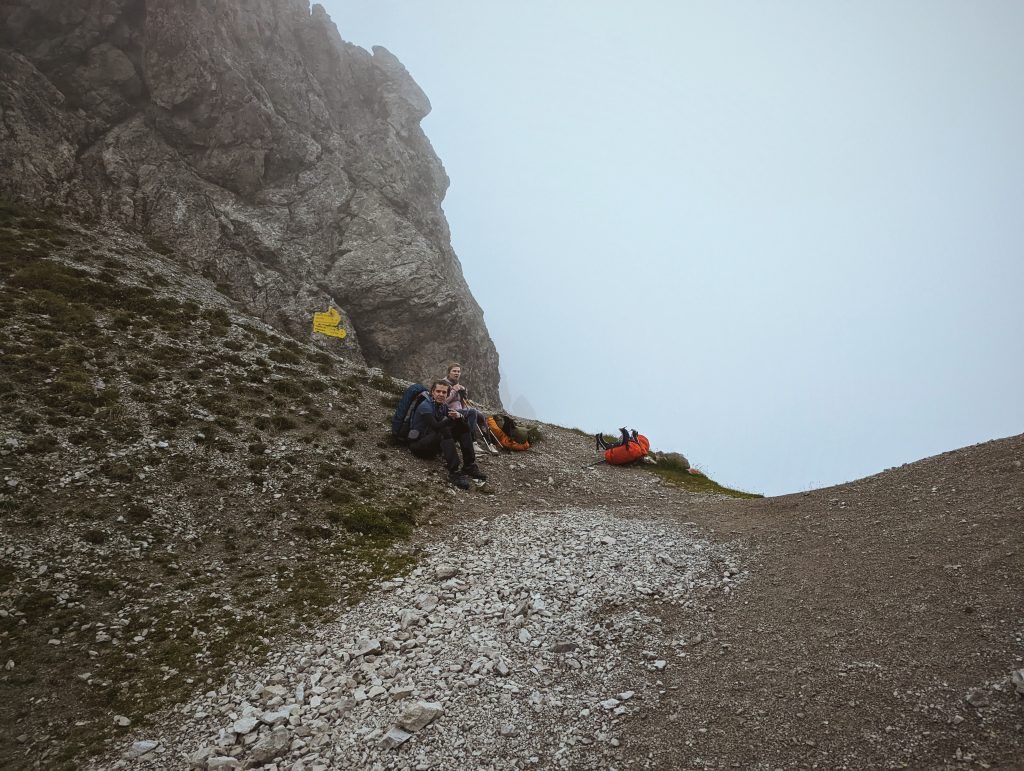 Exit points – When you reach Breiter Sattel or just before you start climbing the Eppzirler Scharte pass (6896ft). You can continue climbing down into the valley there you will see Eppzirler Alm hut. Where you might be able to call for a taxi to get you down the mountain or at least take an easy flat hike down towards Giebebach train station. Around 4 miles.
Stage 3: Solsteinhaus – Pfeishütte 
Ascent: 4274 vertical feet, duration: 8 hours, distance: 10.2 miles
The longest and hardest stage of the Karwendel High Trail leads along two well-known trails, the "Gipfelstürmerweg" and the "Goetheweg", to the Pfeishütte hut. 
The first bit of the trail when leaving Solsteinhaus, is an easy trail leading downhill towards the Moslalm. At the point where it branches off to "Wilder Iss". Continue in an easterly direction, past a hunting lodge, and then ascend a series of switchbacks as far as the "Hippen". After a short descent (with a fixed steel rope as well as handholds and footholds anchored into the rock) it is time to head uphill once again to the Frau Hitt Sattel. From the ridge there is a steep descent to the Schmidhubersteig trail, which leads to the Seegrube restaurant at the top of the cable car (6253ft). From there, follow trail 216 up to the Hafelekarhaus (7444ft). A few feets below the summit of the Hafelekarspitze mountain lies the Goetheweg trail (219), which takes hikers to the Pfeishütte hut. The first section of this mostly flat trail offers fine views of Innsbruck and the Inn Valley as it takes hikers over the Gleirschjöchl ridge to the Mühlkarscharte. Here the trail switches over to the northern side of the Nordkette mountain chain, where hikers can look forward to majestic views of the remote Karwendel Mountains. A series of switchback corners then leads to the Mandlscharte (7591ft) and from there down to the Pfeishütte.
Since we did the variation the text above is borrowed from tyrol.com website.
Variation: If by any chance you feel tired after the first and second day, or there were unforeseen circumstances. And would like an easy hike with beer and snacks every 3 hours or so than at the Wilde Isse where you turn left pass the hunting hut and up the mountain turn right. Cross the river and reach the first hut. Stop get some beer, eat a cake and continue on towards hut number 2. Stop here get some lunch drink a beer and continue towards Pfeishutte. Almost the whole day will be hiking on flat easy ground with the last 30 min of the trail will be a steep 459ft or so climb to reach Pfeishutte.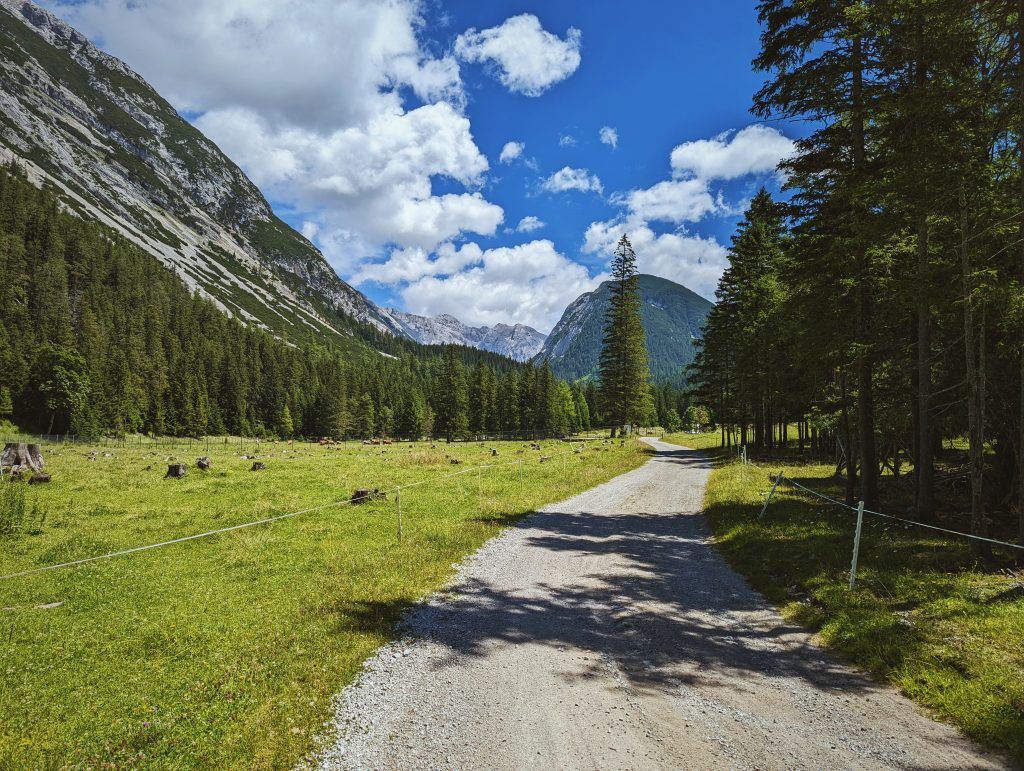 Exit points – Either take a climb down from Solsteinhaus towards Hochzirl train station or if you would like a bit longer hike but not across mountains you can always hike to hut number 1. Sleepover there if they have space and continue the hike the next day to Sharnitz
Stage 4: Pfeishütte – Bettelwurfhütte
Ascent: 1640 vertical feet, duration: 4.30 hours, distance: 5.5 miles
This stage leads up over the Stempeljoch (7267ft) ridge and along the Wilde-Bande-Steig trail to the Bettelwurfhütte hut. 
It is an easy hike. The most difficult parts I would say are when you reach Stempeljoch (7267ft) ridge. From here there is a steep downhill section through loose stones and gravel (beware of patches of snow in early summer). While the rest is an easy hike on the mountain ridge until you reach the Bettelwurfhütte.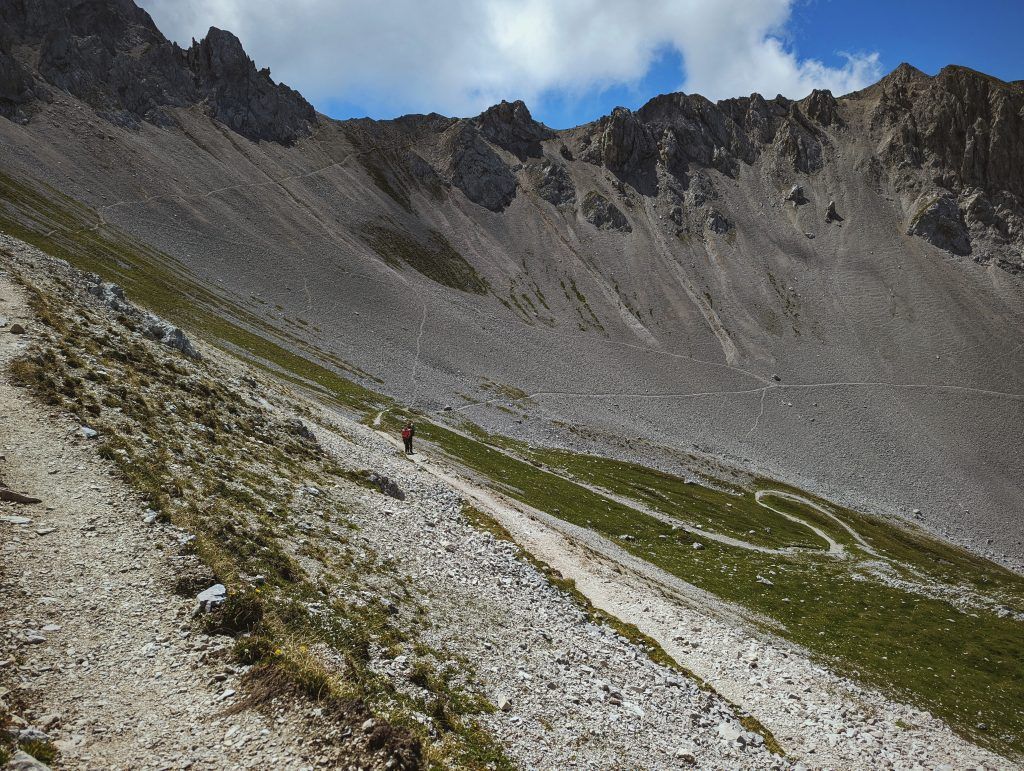 Exit Points – No real exit points besides turning back and going into the valley from Pfeishutte.
Stage 5: Bettelwurfhütte – Hallerangerhaus
Ascent: 300 vertical feet, duration: 3 hours, length: 5.8 miles
This stage leads along paths used for centuries to transport goods over the Lafatscher Joch ridge to the Hallerangerhaus. Leaving from the Bettelwurfhütte, known as the "eagle's nest of the Karwendel Mountains", take trail 222 back to the Lafatscher Joch (6827ft). From there head north along trail 223. This section is part of the popular Eagle Walk long-distance hiking trail traversing Tirol from east to west. Between the Lafatscher, Rosskopf and Speckkarspitze mountains the trail descends to the Hallerangerhaus hut (5800ft).

Stage 6: Hallerangerhaus – Scharnitz
Ascent: 262 vertical feet, duration: 5 hours, distance: 11.2 miles
The sixth and final stage of the Karwendel High Trail leads down through the Hinterautal Valley to Scharnitz.  It is an easy albeit long valley hike. Passing the source of the mighty Isar, where three mountain streams converge to form the river which eventually traverses the city of Munich.
Trail variation – There is an option of hiring a bike from the Hallerangerhaus hut in order to ride rather than walk the relatively long section from the Kastenalm to Scharnitz.
Conclusion
It is fun at parts challenging but mostly mediocre/easy trail if you are not a beginner, and this is not your first time in the mountains. However, it offers fantastic views of the Tyrol mountains and best of all easily accessible in terms of public transportation. Without a need to change 15 buses and 20 trains to reach or leave the trail.
Related posts