I have heard about this hike when I was rummaging through the scrolls focused on the country called Georgia. It said that this region has never been conquered and only recently it has been exposed to our timeline. Thus I have decided to pool in all the information I have gathered while reading the scrolls and from my personal experience in the region.
Thus here is a straightforward guide to Hiking in Georgia from Mestia to Ushguli the highest permanent living village in Europe. If you are interested in my recap of the trail you can check it here.
Key Data
Distance – 56 Km

Duration – 4 days. It is possible to do in 2 days if you enjoy more of an exercise rather than a hike. It is also possible to make it longer if you would like to deviate a little bit.

Difficulty – Easy/Moderate. On average you will walk 15km a day. With moderate elevations. It is an easy hike especially if you consider to sleep in guesthouses. Thus you do not need to carry a heavy backpack.

Weather – Mixed. You can expect nice weather in the morning and rain after lunch. And more or less you can expect rains daily.

Trail route – Mestia to Ushguli or Ushguli to Mestia. But the view and the hike is nicer going from Mestia to Ushguli.

 Location – Svanetia region, Georgia
Cost
Like most things in Georgia for westerners, it won't be too expensive. Unless you decide otherwise.
Cost to the trail  – Taxi max 300 Lari from Kutaisi.  Bus with a layover in Zugdidi 30 Lari.
Cost out of the trail – Around 36 Lari with Layover in Mestia and Zugdidi.
Hiking Cost – We took around 500 Lari for the hike. There are no ATM outside Kutaisi.
Accommodation in Kutaisi – A night can be anywhere from 30 Lari and up.
Accommodation in Mestia – A night can be anywhere from 30 Lari and up.
Accommodation in Ushguli – A night can be anywhere from 30 Lari and up.
Accommodation along the way – A night around 10-20 Lari. Some include dinner and breakfast some not. But for breakfast and dinner, it should cost no more than 15 Lari.
The overall budget for 10 days  –  300 Eur. Including all hotels food and souvenirs. Excluding flight!
Accommodation
For the few who enjoy hiking and having a full experience, camping is legal everywhere. For most, you can rest in the guesthouses. And at this moment (2019) they are not expensive. Around 5 – 15 euro per night with dinner and breakfast. If you hike during the low season than there is no need to book accommodation beforehand. If you are going during high season Mid June end of August. It is advisable to do it beforehand. Your hotel in Mestia can do it for you. Otherwise most of the guesthouses you can book on Booking.com.
Safety
The hike is safe in my opinion. Nor have I heard or read any bad stories. Furthermore, most of the time you will have cell coverage and you are never too far away from a village. You won´t see any bears or wolves. As for solo women hikers. As anywhere, basic prevention tactics. Do not go to strangers' homes, do not drink with strangers, try and sleep in official guesthouses. Not that I heard anything bad happening but it is better to be safe than sorry.
Getting to the start of the hike
I can only share the story of getting to Mestia from Kutaisi ex capital of Georgia. If you have a small group of 5 people. I would advise getting a taxi straight from the airport. It is around 5-8h ride and will cost ~ 300 Lari. This will be the fastest and most comfortable way of getting to the hike.
On the other hand, if you have time and would like to save some money. Your best options are the direct minibusses (the price is 25 GEL) departing from the station behind McDonalds in Kutaisi. 
Leaving from the end of the hike 
Here you will have to take one minibus from Ushguli to Mestia and then a minibus leaving from the central street in Mestia to Kutaisi. And a change over in a city Zugdidi total price around ~50 Lari per person.
Gear
That's the easy part. If you are planning to stay in a guesthouse than all you need is the same things you do for the day hikes. The key advice is to check the average temperatures for the month you go. Septembers tend to be a bit cold in the evening around 0. That means a rain jacket or raincoat, some warmer clothes (fleece, long sleeve shirt, pants) for chilly evenings, extra socks, underwear, a T-shirt and sleeping clothes. You will also have to carry a few liters of water, some snacks, sunscreen and so on. All of this should comfortably fit into 30-40 liters large backpack.
The Route
Get a map from one of the travel stores in Mestia to ensure you do not get lost and download a GPX map to your phone.  It is not a hard trail to follow. If you do not see any village in half a day. That means you are lost. 
Day 1: From Mestia to Zhabeshi – ~15 KM

Day 2: From Zhabeshi to Adishi – ~10 KM

Day 3: From Adishi to Khalde – ~15 KM

Day 4: From Khalde to Ushguli – ~16 KM
Day 1: Mestia – Zhabeshi
It is probably one of the most complicated parts of the hike. Since it requires getting out of the Mestia town. However, do not worry I will add a map for you to download. The hike starts at Mestia's main square. From there take the route that leads to the bridge across the river and turn left. From here the trail will be marked passing Hotel Tetnuldi on the way. After some time you will see some ruins (unfinished hotel) however before you reach them you need to make a sharp turn right and climb up a steep hill which in a few minutes turn in to a mildly elevated trail. Until you reach a meadow with another pointer towards a short but very steep trail through the forest. Here, turn right and walk another 300 meters until you see a huge meadow on your left. I would suggest turning left across the trail in the meadow to go through a trial that is rarely walked and if you feel adventures hiking to a 3000m peak/pass. Otherwise, continue on going this trail until you reach the first village Zhamushi.
If you feel like following a more traditional route just follow the dirt road going right instead of turning into the meadows. Following the dirt road, you will pass from village to village on the lower part of the slope. Until you reach Zhamushi village.
I would suggest continue going on this side of the river and cross only a second bridge that will lead to Zhabeshi village. The route is nice this way.
Where to stay
There are plenty of guesthouses here and most of them you can find on booking.com.  Sadly I do not remember the name of the guesthouse I stayed at. 
Possibility
Stay a day longer and explore nearby valleys. If the weather is good and an ice bridge is in place it is possible to reach a glacier. If not there is a monastery on the mountain with a beautiful view and one other route that I am not sure what's there.
Day 2: Zhabeshi – Adishi
To continue your hike just follow a very large stream that passes through the village until you reach the highest and the last house of the village. Follow the path which passes the house and tower in western direction, cross the belt of trees and reach a junction. Here, you will find a pointer – the classic trail to Adishi continues to the left. Along the way, you will see 3 small streams of a (Borjomi water).
From here it is a simple route easy to follow with well enough marked ant trodden route. After around two hours of climbing through the dense, low forest you will reach the cable car line belonging to Tetnuldi skiing resort. From here simply follow the skiing route or the arrows to reach a 2500m high pass and a bar. Lucky for those if open. From here you have two options take an easier and more popular route hiking down the mountain and following the well-trodden route that leads to Adishi or take the high route. I will leave a map on how to get there. But since I haven't gone there I can't say for sure about the route and how difficult it is.
Where to stay
This is by far the best village. It is the most isolated village on the hike. Meaning it is rustic. But that is the charm of it. You can read my description of this village here.
Tarzan & Nino – Pleasant guesthouse ran by a friendly older couple – this is where I stayed during my Adishi visit. While the beds weren't too comfortable, the food was good – if you don't expect luxury, you should like this place. Contact: (+995) 790 870794.
Day 3: Adishi – Khalde 
Getting out of the village is easy. If by chance you slept in the lower part of the village just climb back up as high as possible until you reach the last trail and continue right. Fairly easy hike going lightly down the slope towards the river. Here you can take a horse to cross it. Cost around 50 Gel and 20 Gel if you ask your guesthouse to arrange it. Or if you would like to save some money and water is low cross it at the point lower down the river where the stream is light. However, it is always good to ask around the village about the water level. Since sometimes the only way to cross the river is with the help of the horse. The tricky part is finding a trail on the other side of the river. The best way to do it is to find a trail in the bushes and keep left. Once you have found it is fairly easy to stay on track since it goes only up. Once you reach the top of the pass. Leave your bags and walk along the ridge north-east towards the glacier. Here it will be your highest peak you will reach through the hike – 2800m.
From the Chkhunderi pass, the trail heads straight down into the opposite valley. Down in the valley, you will find a couple of huts which can provide shelter in case of rain. Turn right, the trail which follows the river and is mostly downhill and quite obvious. From here the first village you see with 2 working taverns is the village of Khalde.
There is option 2 from what I saw is that instead of going down from Chkhunderi pass there is a route going up. However, every single map I checked doesn't have a clear way down. Thus take it upon your own risk.

Where to stay in Khalde
There are only 2 spots here. One is 5 years old and one, if I remember correctly, has been re-built around 2019 spring. One is called Guest House Halde and the other one doesn't have a presence on the internet.
D
ay 4: Khalde – Ushguli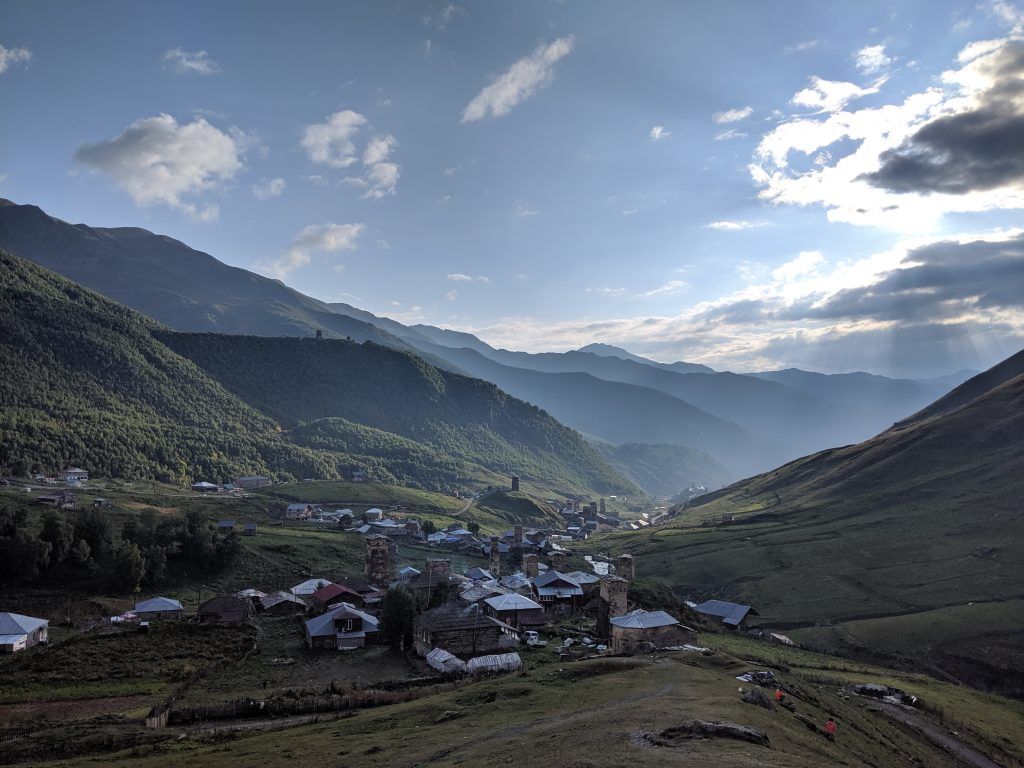 There are 2 options here. Traditional route or through Lagem pass. The traditional route is less scenic but much easier. However to ensure that you do not walk on a car route when you reach Iprali village cross Khaldechala river and instead of the crossing of the bridge onto the main road, turn left onto the small road which will lead you to the Davberi village. From here it is a fairly easy and clear trail all the way to Ushguli. Two KM before reaching Ushguli I would suggest turning right towards Murkmeli village to avoid hiking on a very dusty road.
Through Lagem pass.  Below is a map showing where the route starts. But I am not sure about its difficulty since I haven't walked it myself.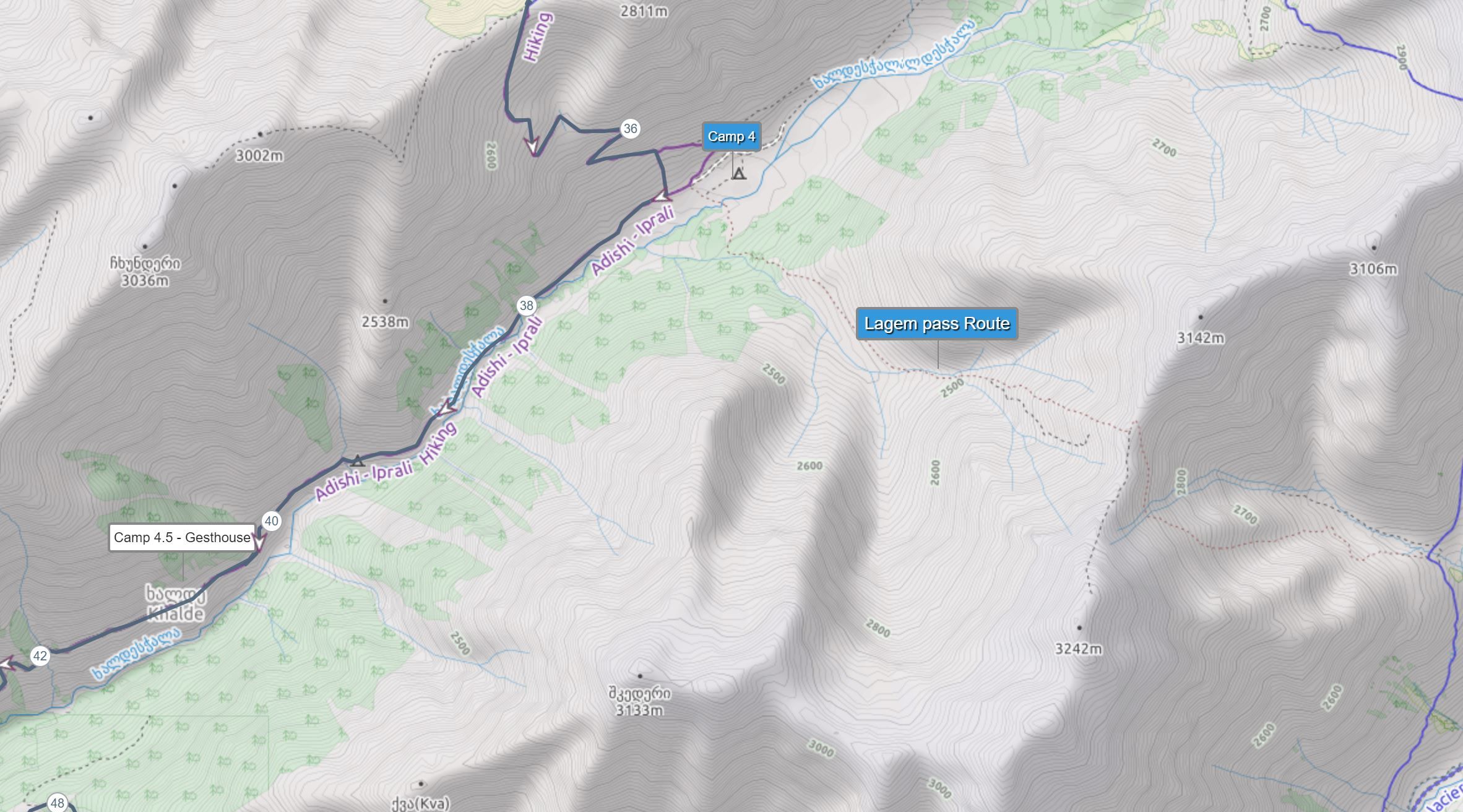 I would suggest staying a few days in Ushguli to explore the villages and lower and upper castles, visit the glacier on a horseback or on foot and enjoy the atmosphere.
Where to stay in Ushguli
Guesthouse Gamarjoba – one of the oldest guesthouses in Ushguli, located at the northern end of the Zhibiani community, right by the church.  The meals are plentiful and tasty. In the house lives also Temraz´s famous painter local painter.
Booking: guesthouse@gamarjoba-ushguli.com.
Authors & Photographer
Simonas Radkevicius – https://www.instagram.com/sim_rad/