Until recently it was still the Kingdom of Mustang. But the king is dead, the son abdicated and the Nepalese government used the god-given opportunity and annexed it. A country that has only 30 000 people.
But the upper Mustang region is as remote as it used to be during the time of Silk Road. Just maybe. There will be one or two jeeps and few satellite antennas in the scares villages you pass.
Otherwise, it is the same rugged place with beautiful mountain tops, friendly people and beautiful valleys. In whose valleys you can find ancient monasteries with wise-men strolling around. It has that feeling where the time goes very slowly.
The Expedition Of Upper Mustang
It was in all sense a true expedition. But not in the traditional sense. It was an expedition not to find a resource or a place but to find ourselves.
There were 5 of us. Explorers from abroad. To keep company for the next 26 days.  But we were not the only ones. There were also 10 mules, 1 horse, 1 cook, mule master, and our guide. All specialists in their own fields.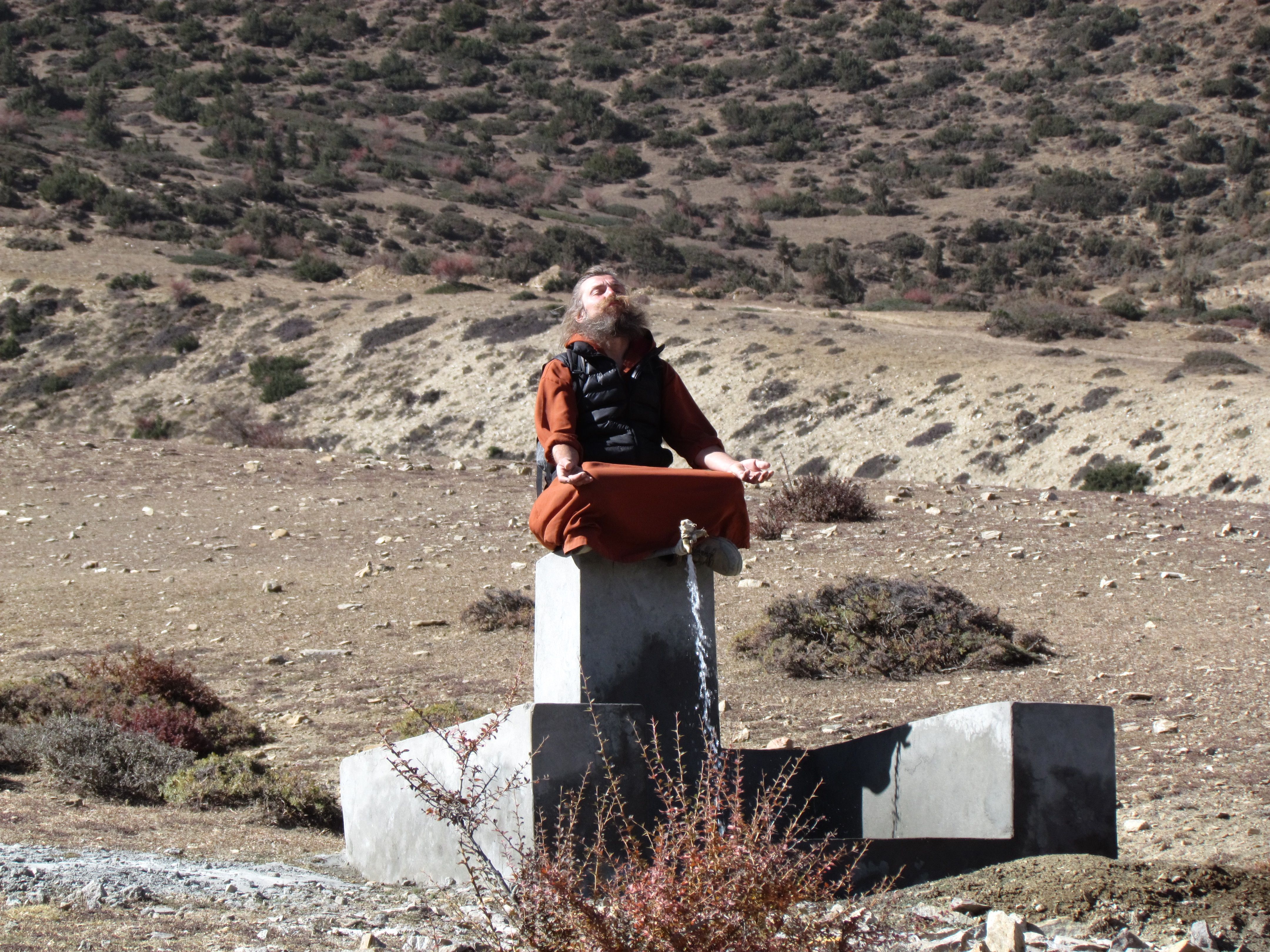 It was a magnificent journey. Both challenging in the body as in the mind. However, as in any expedition, it was paramount to appease the gods and local spirits first before tackling trails. Otherwise insurmountable pain and nausea could have taken us while hiking in the Upper Mustang.
Once we have done that we have finally started the journey. We were surprised by the variety of views we have seen and the challenge it gave us just to experience it. Throughout the hike, we have always were surrounded by the mountains that brooded over us. Some even felt that with an extra inch or two will be able to pierce the heaven. Throughout the expedition, we came across many different mountains and mountain ridges some stuck up like a row of thorns while others felt like godly cities or hidden kingdoms.
But the most beautiful thing of the expedition was the feeling of traveling back in time. Constantly feeling the spirits of the olden days.
 The Kingdom Of Lo & Our Experience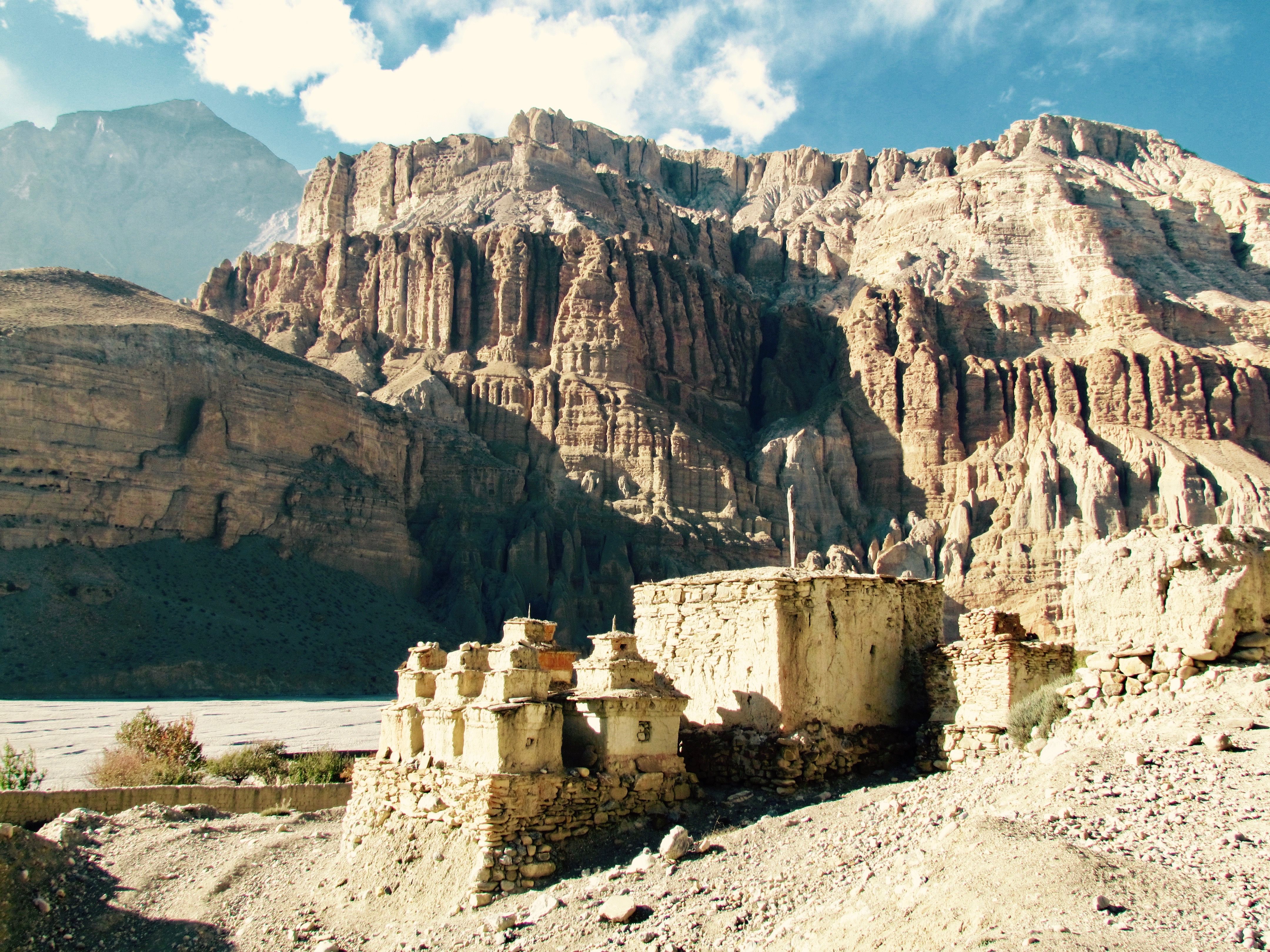 We have learned that Mustang was once a very rich country. Since Silk Road used to pass here. Many residents had gold and plenty of food on their table. However, the good times did not last. A dictator appeared, who decided that only he – alone can be rich. You can still see and feel the former greatness through many ancient fortresses ruins that are left across the country unattended.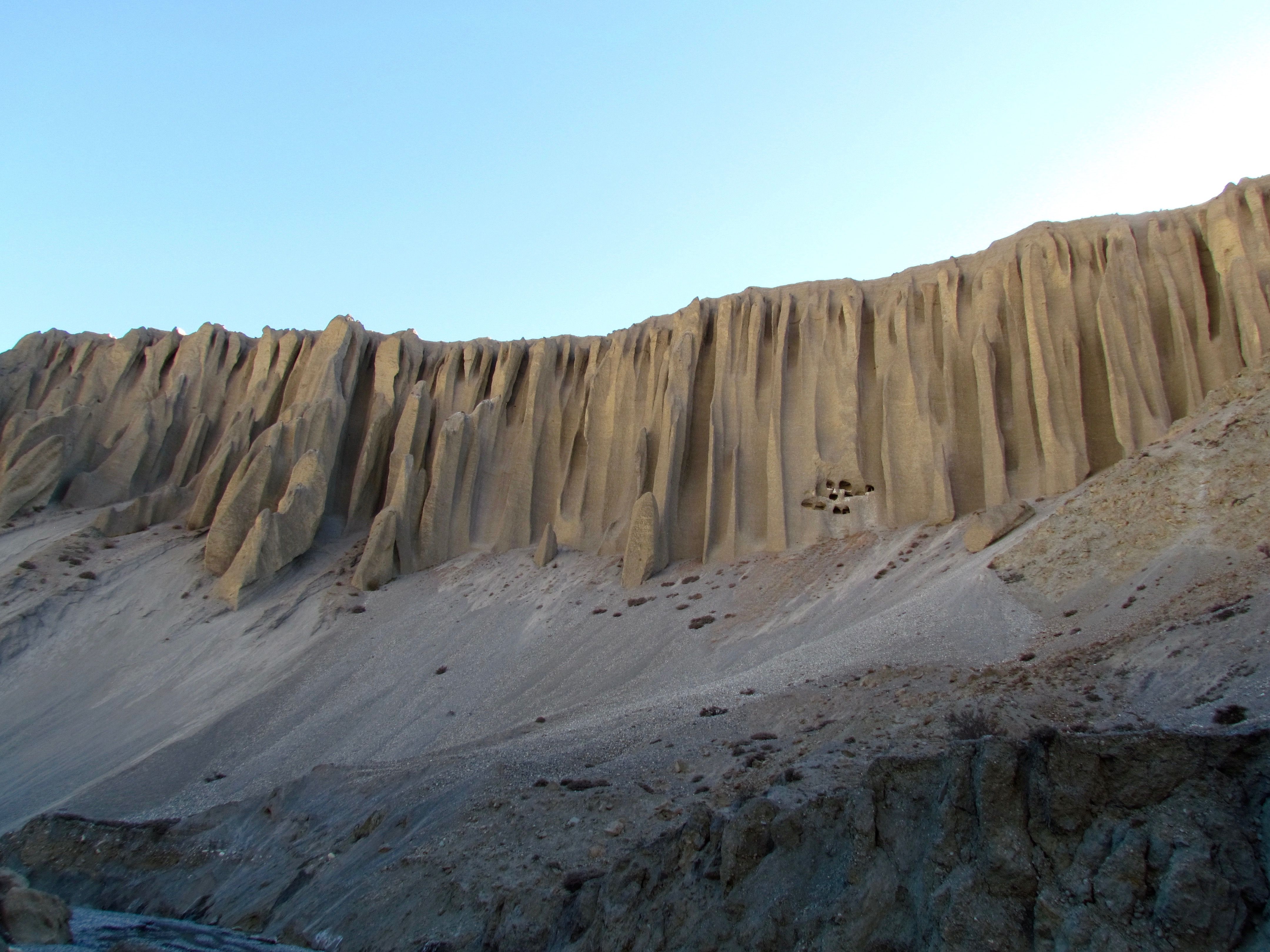 We have also learned that people used to live, meditate and hide from thieves in the caves through the course of Mustang History. Some are even used now to stock hay and livestock. While monks or hermits still use them for meditation. Thus the whole region has a very high spiritual feeling a washing the travelers and bringing them to a higher state of being.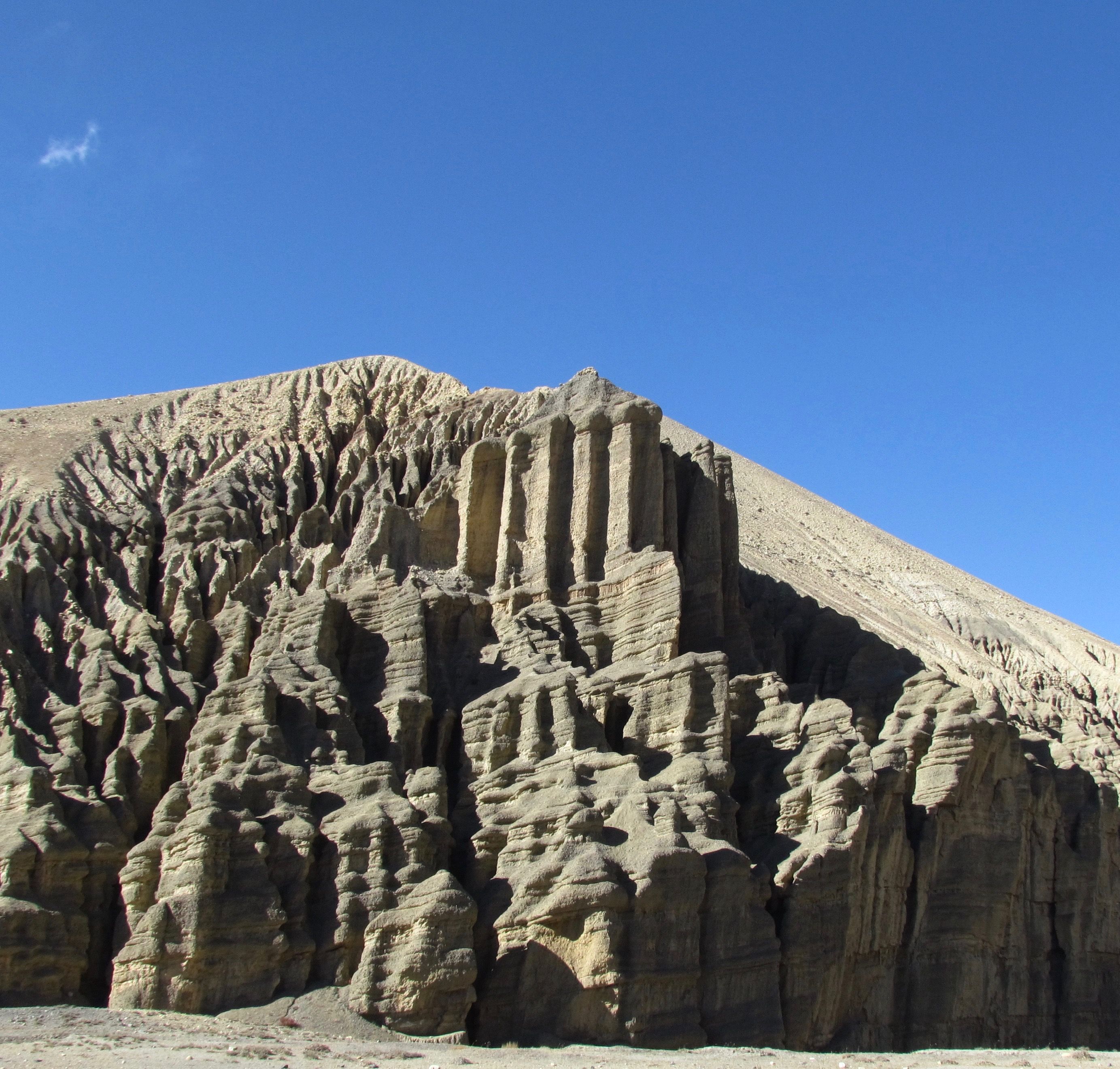 We saw city mirages etched in the cliffs of the mountains. So detailed that you could easily identify castles and cities. But here, we understood, is where Indian craftsmen drew inspiration in building Shiva temples.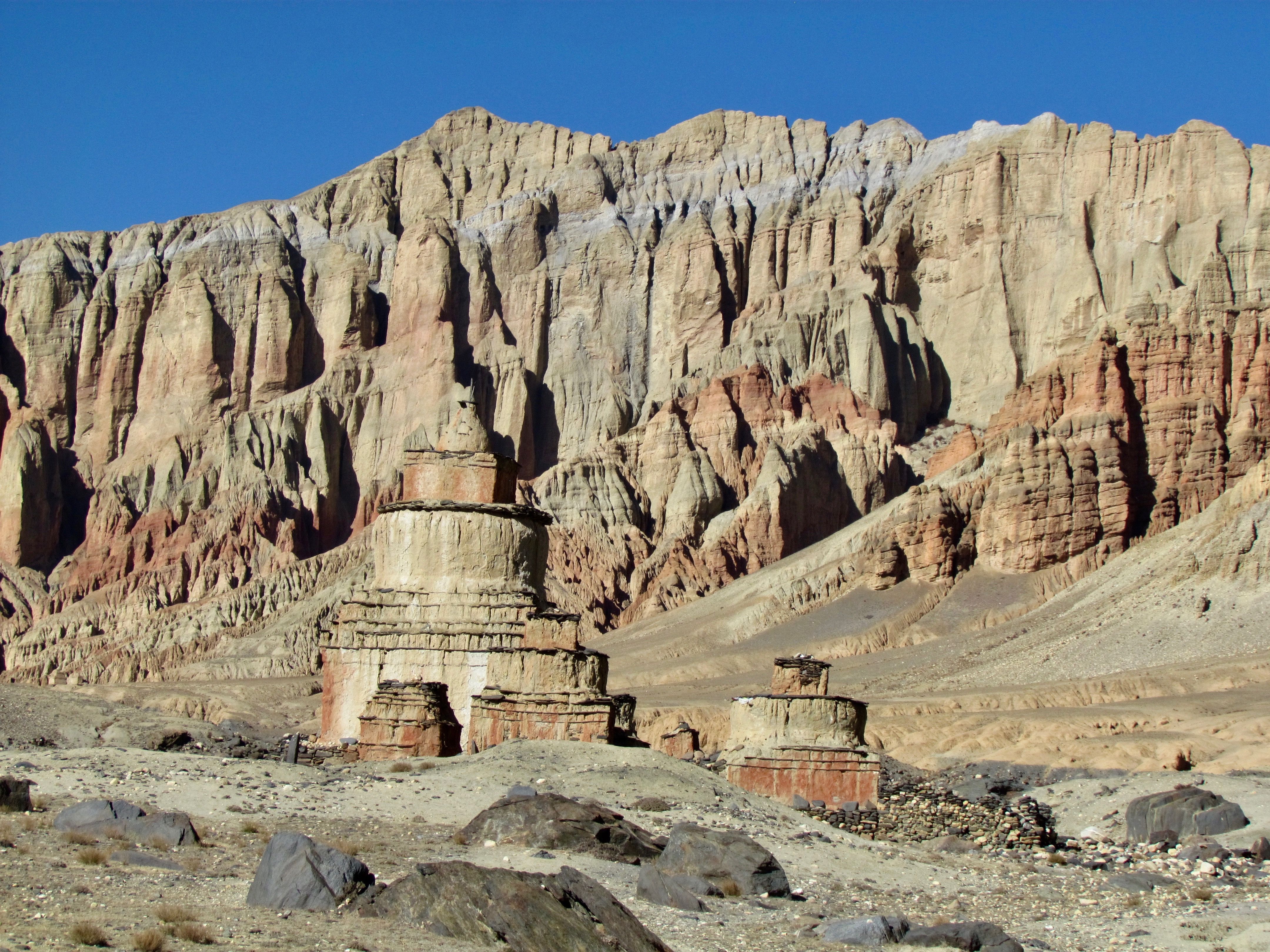 We saw and experienced places of power. Where locals to this day try to avoid it during the day. It is told that at this place GURU Rinpoche had a fight with a local demon. While fighting, the beast clawed the mountains and with its blood, the cliffs were constructed. And in the place where the intestines were ripped off the longest Mani wall was built in Mustang. And at the place where the face was ripped of Stupa was placed. Here magically all of us were rejuvenated all the tiredness and pain disappeared.
We have stayed at Ghar Gompa Monastery. Located at 5100m height. It is one of the oldest monasteries built during the 8 century. But the most interesting fact is that the monastery was never active. The Legend has it that the monastery had to be built otherwise it would be impossible to build the first monastery in the current Tibet. It never was active because there were not enough monks to run it. So when the monks came, it was decided not to break the tradition and leave it inactive. The Monastery from generation to generation was supervised by the same family, but monks only from time to time to gather in worship and ritual.
We played football. Can you imagine at a stadium at 4km height? When we reached it we thought we reached a spaceship landing place. But it actually was a football field. Just during the game if the ball falls out of boundary you would have to go very far to pick it up. 
All of this we learned, experienced and saw during our journey to this remote region of Upper Mustang.
 The Final Thoughts On Mustang and Himalayas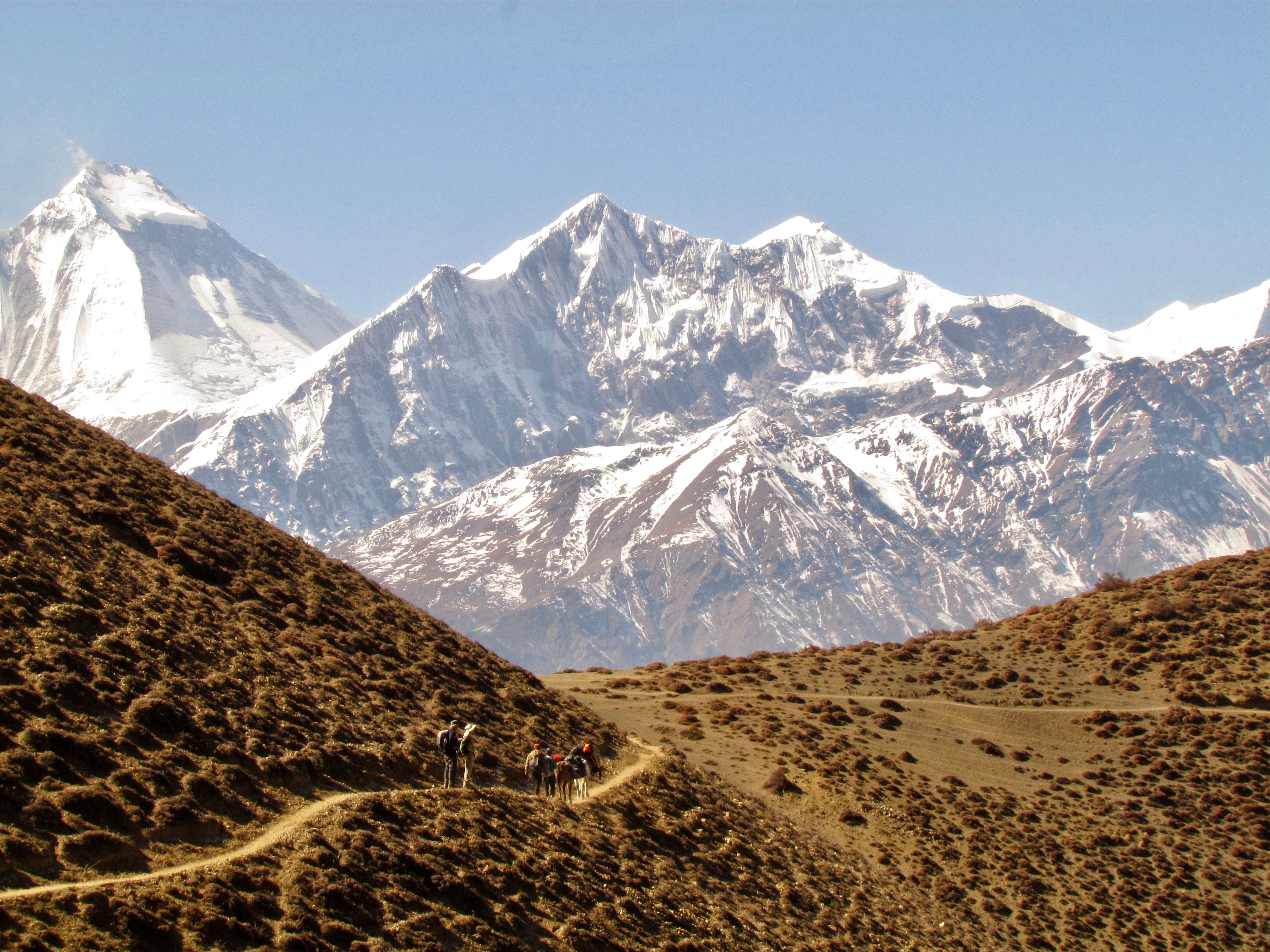 The Himalayas are a very mysterious place. Unfriendly nature, a harsh environment for living, but… they call you, you breathe differently there, you get an understanding of how small you are and many secrets open up here… Daily changing beauty, never repeating views, polarizing clouds, sun and moon together from the midday, heat and cold, flow and static, peace and danger…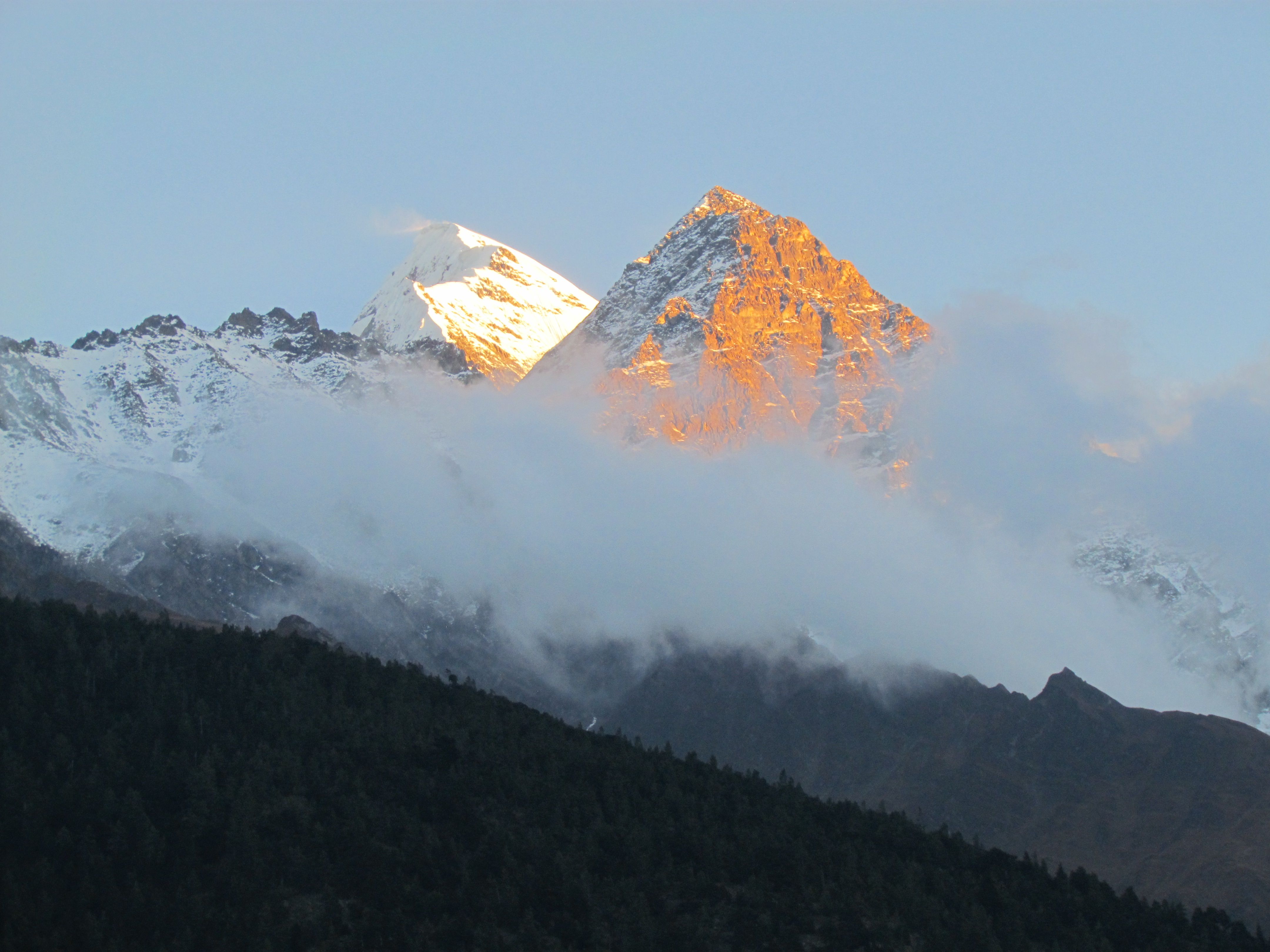 It is a place of power only a few such locations exist. And not everyone gets to experience it. Its the only place in the world whereby simply walking all the mysteries to the attuned are open.
Join Me On A New Adventure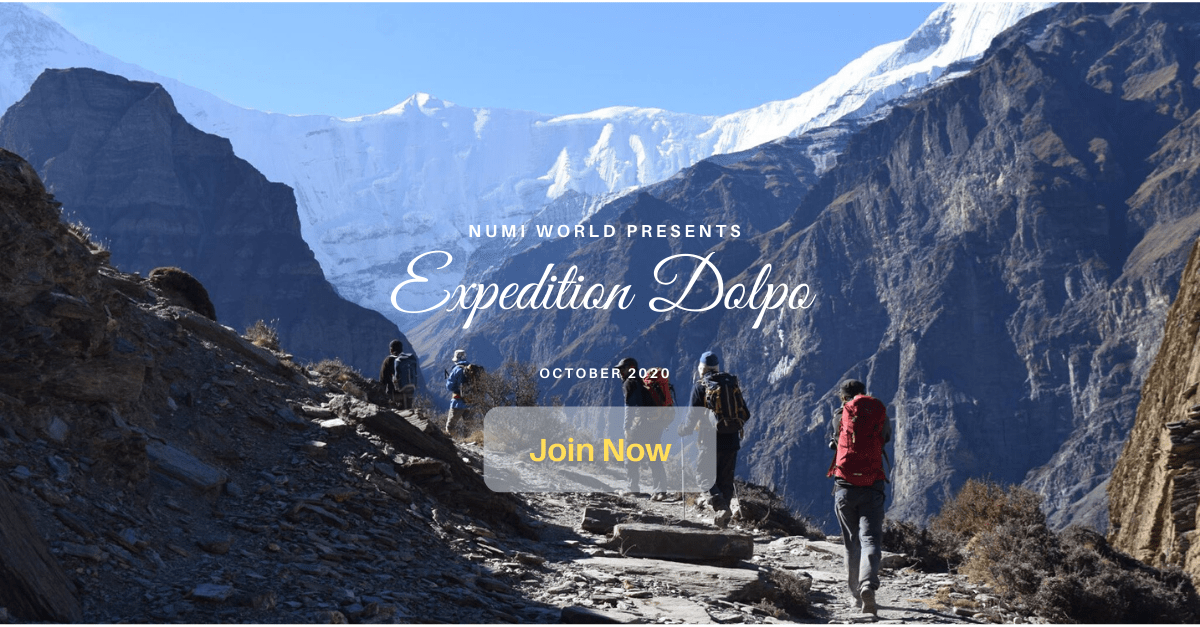 I am planning a new trip a new expedition to Dolpo Nepal for around 17 days, anyone who would like to join this expedition sign up here  – http://numi.world/itinerary and I will send you all the details!