If you've ever cursed at not being able to fit a small backpack into your vacation luggage, then it seems that a packable daypack was designed just for you. This guide to the best packable daypacks will help you choose the one you need.
What is a packable daypack?
A packable daypack is a lightweight backpack that can be compressed and folded into its own small pouch or pocket. They are also sometimes referred to as a collapsible daypack or a pocket backpack.
They come in a range of different sizes and with various features depending on what you need. Some can pack down small enough to fit into your pocket. While others are slightly bigger and yet still compact enough to easily fit into your luggage without taking up too much space.
Why and when to use a packable daypack?
Packable daypacks are ideal when you have limited packing space and need a lightweight backpack or an extra bag that can be easily stashed in your luggage or pocket. They are the perfect option for many different trips – light hikes, spontaneous outings, easy day trips, and excursions, business trips, or small family vacations. 
Use packable daypack when you just need to carry a small number of essential items like a water bottle, sunglasses, a jacket or your wallet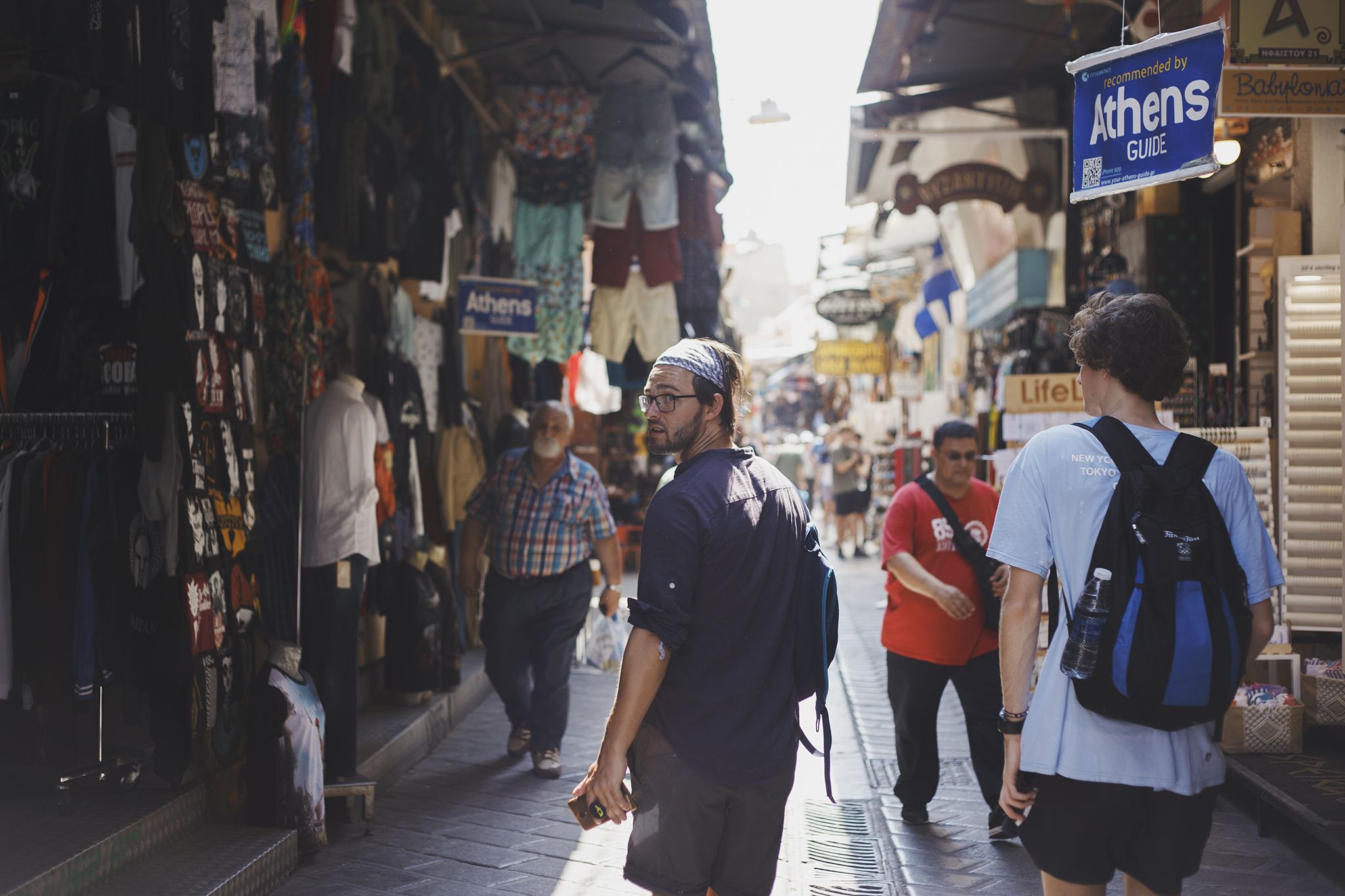 It's best not to use one on any lengthy or challenging hike as they don't have important features like an internal frame or extra supportive straps, which you'll find on other daypacks or hiking backpacks. 
The packable daypack is perfect for weights under 11 lbs otherwise it becomes a hassle for your shoulders and your back.
How to choose the best packable daypack
The main things you need to consider when choosing the right packable daypack is similar to choosing any other daypack. First, it's important to consider what you're going to be using it for and, second, extra features you might need.
However, you need to understand that there is a trade-off with packable daypacks between packability, size, added features and comfort. 
If you want the smallest possible size then you need to accept that it will not have a frame, a pad, and soft straps simply because it is compressible.    
Before you decide on which packable daypack is right for you, you should consider the following.
What it will be used for
The type of activity you'll be using the daypack for is important to consider because this will impact what kinds of features you might need. If you're thinking of using it for short day trips or spontaneous outings on vacation, then you'll only need a small packable daypack that can be folded down to fit into your pocket.
On the other hand, if you think you'll use it for light hikes and carrying bulky items like a jacket and a camera, then you might opt for a slightly bigger backpack with added comfort and features.
Size and capacity
The size and capacity of a packable daypack usually come down to the volume of the backpack as well as how small it can be compressed. Most packable daypacks are around 20 liters in capacity, which is a perfect sized daypack for most day trips and light hikes. It is possible to get a packable daypack up to 30L and as small as 13L.
On the other hand, the size of the pouch that the daypack can be folded into is one of the most important considerations, because this is precisely why packable daypacks are so useful. Some 20L options can be compressed down into a small pouch that fits into the palm of your hand and that you can easily slip into your pocket. 
Other packable daypacks fold into a pouch that can be as big as a small purse. These backpacks are still ideal for packing into your luggage but are not as easy to slip into your pocket. The size that a backpack can compress down into usually depends on what kind of material it's made from and what features it has.
Material and weather resistance
The best quality fabric is one that's both lightweight and durable, especially if you're going to be taking it traveling and hiking. Some packable daypacks are made from strong canvas material while others are thinner coated nylon that feels more like a rain cover. 
If you plan on using the backpack for outdoor activities, then you also might want to consider the weather resistance and waterproofing of the material. Some nylon fabrics have a water-resistant coating which makes it ideal if you're going to be out hiking.
Pockets
Most lightweight packable daypacks have just a main compartment and one outside pocket. This is fine if you're only planning on carrying a few items, with the smaller pocket used for accessible things like tissues and lip balm.
However, if you're using it for extended day trips or light hikes, you might want to consider extra pockets both on the inside as well as drink bottle pockets on the outside. This usually means a slightly bulkier packable daypack, but it can make it a lot more versatile.
Straps
Considering their size and how compact they can be, most packable backpacks do not have many features when it comes to extra straps and added support. Most of them have standard shoulder straps that tend to have minimal padding. Hip belts, sternums straps and extra back padding are usually features that you'll find on other sturdier and more fitted daypacks rather than foldable ones.
However, some packable daypack designs have added straps, like the L.L. Bean 22L Stowaway Daypack. If you plan on doing light hikes then you'll want to consider an option like this one that has more padding and support than the more compact types.
Best packable daypacks for every type of trip
A best budget packable daypack
Gonex 20L Ultralight Packable Daypack
Gonex Ultralight Travel Daypack is exceptional value and by far one of the cheapest on the market. This packable daypack is the perfect addition to any trip. It packs down into a compact pouch about the size of a sandwich, making it easy to add to your luggage.
It's also made from high-quality water repellent and tear-resistant material. You can take it on light day hikes without too much concern. It has side pockets for water bottles, accessible outer pocket as well as a more concealed inside pocket for valuables.
For under $20, you won't find a better packable daypack than this one.
Specs
Weight: 6.5 oz
Pockets: 4
Volume: 20 L
Hip Belt: No
Raincover: No
Features
Best packable daypack for hiking
L.L. Bean 22L Stowaway Daypack
L.L. Bean 22L daypack is certainly the best option if you plan on using it for outdoor excursions. It conveniently packs down into its own pocket and weighs just 14 ounces, making it a great addition to your business trip or family vacation.
It's designed with hiking in mind which you can tell by the additional waist belt and sternum straps, which are rarely found on other packable daypacks. The back panel is also made from moisture-wicking mesh to keep you cool while you're sweating on the trail. Plus, the variety of side pockets allows you to organize your gear and still have it all accessible to you.
The 22L capacity also means you can pack most of your essential day hiking needs with room to spare.
Specs
Weight: 14 oz
Pockets: 4
Volume: 22 L
Hip Belt: Yes
Raincover: No
Features
Features an internal stow pocket so you can stuff it into a tiny package for travel
Two side mesh water-bottle pockets with new loop locks to keep bottles secure
Adjustable waistbelt and sternum strap hold pack secure against your body
"Blinky" loop for attaching a light to help keep you visible
Best packable daypacks for traveling
New Outlander 20L Ultra Lightweight Travel Daypack
This New Outlander 20L Ultra Lightweight Travel Daypack is a good all-round option. It folds neatly into its own pouch and is made from durable and water-resistant yet lightweight material. It has side drink bottle pockets and a couple of good front pockets, which makes it perfect for most travel purposes or even as a small carry-on bag.
It could also be taken hiking with comfortable straps and the perfect capacity to carry essentials. It's also budget-friendly and a nice step up from the cheaper Gonex packable daypack.
Specs
Weight: 8.8 oz
Pockets:  6
Volume: 20 L
Hip Belt: No
Raincover: No
Features
Durable
Mesh shoulder straps
Multiple compartments and zippers
Lifetime warranty
Hold water bottles in the side pockets
Waterproof
Tortuga Setout Packable Daypack
Tortuga Setout Packable Daypack is a stylish all-black backpack perfect for a day out in the city. The YKK zippers are durable and tough. You can stuff it full of whatever you want to carry for the day. The external nylon material is finished in a durable water repellent coating so that you don't have to worry too much about the weather.
It packs down into a very small pouch which is easy to throw into your luggage at the last minute. The straps are also made from a breathable mesh fabric and it's super comfortable to wear all day.
Specs
Weight: 8.5 oz
Pockets:  4
Volume: 19 L
Hip Belt: No
Raincover: No
Features
The sternum strap, adjuster buckles and mesh-padded back panel make it feel durable like "real" backpack
Fits under the seat of an airplane
A best lightweight packable daypack
Sea to Summit Ultra-Sil Travel Daypack

Sea to Summit Ultra-Sil Travel Daypack is undoubtedly the best option if you want the smallest possible backpack that packs down to fit inside your palm. It weighs just 2.5 ounces and packs into a tiny stuff pouch.
The material is thin but made from Cordura nylon which is durable and water-resistant. It has reinforced stitching at stress points meaning that it can carry a heavier load than you likely expect. Still, it's not recommended for hiking or long days as the thin material makes it uncomfortable when you're carrying a lot of differently sized items.
It's most ideal for minimalist travelers who want an extra bag anywhere, anytime.
Specs
Weight: 2.4 oz
Pockets:  1
Volume: 20 L
Hip Belt:  No
Raincover: No
Features
Made from siliconized Cordura® nylon to provide strength and long-lasting performance with minimal weight
Simple, streamlined design features a half-moon, 2-way zipper across the top for easy access to the pack's main compartment; has no pockets or hydration sleeve
Adjustable thin nylon straps; stress points are reinforced with bar tacking for increased longevity
The Ultra-Sil Daypack stuffs into its own tiny built-in pouch that has a drawstring closure and snap tab for attaching to a key ring
Best stylish packable daypacks
Eagle Creek Packable Daypack 13L

Eagle Creek Packable Daypack is definitely one of the most stylish options available. If you're concerned about looking good on the trail and while walking the streets of a new city, then this is your go-to. It packs down into its own front pocket, the size of a small purse.
It has basic pockets, compartments, and water bottle pockets on either side. However, the overall capacity is on the smaller size at just 13L, meaning it may not be the best option if you plan on carrying a lot of personal items. Still, it's quite an affordable option if you're after a sleek backpack for your travels.
Specs
Weight: 5 oz
Pockets:  3
Volume: 13 L
Hip Belt:  No
Raincover: No
Features
Keep safe in crowded areas by securing your valuables in the lockable main compartment with a Central Lock Point for pickpocket protection
Never lose your keys again with a front pocket key fob that doubles as a clip to attach the daypack to the outside of your luggage
Breathable mesh shoulder straps keep you comfortable on  hot or humid travel days
Side mesh water bottle pocket allows quick and easy hydration
If you're after a well-known recognizable brand, then you'll want to consider Herschel's daypack. They are known for good quality backpacks with a distinct style and now you can get one in a packable compact size.
It has basic features, with a large compartment and outside pocket as well as adjustable straps. However, it isn't ideal for hiking, as the fabric is durable but not waterproof and there aren't any side water bottle pockets. Still, if you want to be on-trend then you can't go wrong with this option.
Specs
Weight: 6 oz
Pockets:  2
Volume: 24.5L
Hip Belt:  No
Raincover: No
Features
Adjustable webbing shoulder straps
Internal self-storage pocket with snap closure
Best overall packable daypacks
Eddie Bauer Stowaway Packable Backpack

Eddie Bauer Stowaway is the best overall packable daypack. It just about ticks all the boxes. It packs down into its own small pouch making it ultra-portable. It's made from lightweight and durable polyester that is also water-resistant, meaning you can take it outdoors in any weather.
It has a variety of external pockets and drink bottle holders to organize all your items. The straps are padded and comfortable to wear. If you're worried about style, then you've got six colors and patterns to choose from to suit any traveler.
Specs
Weight: 11 oz
Pockets:  5
Volume: 20L
Hip Belt:  No
Raincover: No
Features
StormRepel® WR finish sheds moisture
Four front lashing loops to attach a carabiner or clip light
Lightly padded adjustable shoulder straps with breathable mesh lining
Matador Freerain24 2.0
Matador Freerain24 packable daypack claims to be one of the lightest and most versatile options available. At 24L it's the perfect size for just about any outdoor excursion or day trip. With a sleek stylish design it looks good both on the trails and in the streets.
It's made from weather-resistant material and has a sternum strap if you plan on hiking and need added stability. The comfortable mesh shoulder straps also mean that you can use it all day without the worry about hurting shoulders. However, it's not as structured as the Eddie Bauer Packable Backpack so carrying heavier items over long distances may not be completely comfortable.
Specs
Weight: 6.6 oz
Pockets:  3
Volume: 24l
Hip Belt:  No
Raincover: No
Features
Waterproof 30D Cordura® ripstop nylon
Siliconized waterproof coating
Adjustable, weight distributing contoured shoulder straps
Conclusion:
If you're a true minimalist packer or you're just trying to save every last inch of space in your luggage, a packable backpack is an ideal item to take with you on your next trip. They take up almost no room and yet allow you to have the option of an extra bag or a daypack for light hikes on your vacation. With so many options available, it's important to consider the size, capacity and added features that you might need for a packable daypack.