Most people think of Malibu as being all about beautiful beaches and holiday homes. However, you might be surprised to find that the seaside city west of Los Angeles is also close to incredible hiking trails in the surrounding mountain ridges. 
The Santa Monica Mountains are a coastal mountain range that runs along Southern California, parallel to the Pacific Ocean. Malibu is perfectly located to explore these mountains and it's where you'll find the best hiking and outdoor parks in the area. 
From short undulating paths to longer more challenging trails, all of the hikes on this list offer incredible ocean views. Many of the trails are also pet friendly with dogs allowed on leashes in almost all of the park areas. 
So, if you're looking for a way to explore the outdoors in Malibu, here are the most popular day hikes in the area in order of difficulty.
What you need to know about hiking around Malibu
Many of these trails around Malibu are heavily exposed to the hot sun and you should take sun protection seriously. Bring sunscreen, a hat and sunglasses, which are all

hiking essentials

that you should pack in your daypack.

Watch out for

poison oak

on some of the trails and try to avoid it as much as possible. It can especially be a threat to people who are allergic to it. 

Trails around Malibu don't require any sort of hiking permit but some have paid parking fees at the trailheads.

Be aware that some of these trails are also shared with mountain bikers which means you should remain alert for riders coming past.

Venomous snakes such as rattlesnakes can be spotted on some of these trails, especially in hot weather. Watch the trail ahead carefully and be aware where you're stepping.

These trails are all easily accessible from Malibu and even Santa Monica, meaning there's no need for camping on the trails. However, you can camp in

Malibu Creek State Park

and

Sycamore Canyon Campground

which have designated sites that can be booked in advance if you want to stay near some day hikes. 
Best hikes near Malibu
Corral Canyon Loop
Start/finish: Sara Wan Trailhead (

34.033778, -118.734726

)

Distance: 2.5-mile loop

Elevation gain: 525-ft

Difficulty: Easy

Dogs: Allowed on leash
The Corral Canyon Loop trail is one of the most accessible hikes in Malibu. The trailhead is just on the Pacific Coast Highway, opposite Corral Beach. 
Although the loop can be done in any direction, it's best to take the left trail first which offers better ocean views as you climb higher. At the far end of the loop, you'll come to the highest point with views that stretch along the entire Californian coastline. Then you can continue down through the canyon back to the start of the hike. 
It generally takes just an hour or so to complete but expect a decent elevation gain so it's still a good workout. The trail is well worn but it can have overgrown bushes, so it's recommended to wear long pants on this hike. 
Tuna Canyon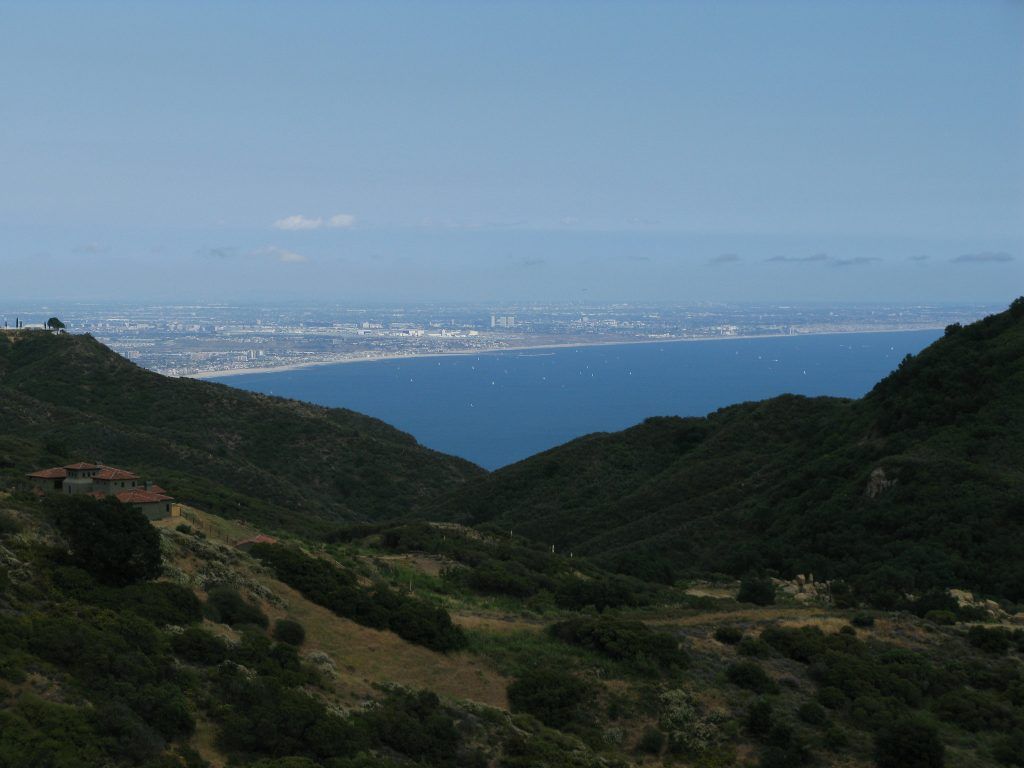 Start/finish: Tuna Canyon Trailhead (

34.059776, -118.616996

)

Distance: 5-miles round trip

Elevation gain: 650-ft

Difficulty: Easy

Dogs: Allowed on leash
Tuna Canyon is a 1250-acre park area between Topanga and Malibu. It's popular with families with relatively flat and undulating trails. From the main trailhead you can access two main viewpoints, one facing east and one facing west. You can easily combine both together in this five-mile hike.
Head left at the first intersection along Big Rock Motorway, which will take you out to the first viewpoint and highest point in the area. Then, you'll need to double back to the same intersection and continue straight to Big Rock Lateral, the other viewpoint in the park. From here, you can head back the same way to the car park to complete the round trip.
There are incredible ocean views from both viewpoints, and some say it's one of the most underrated areas for hiking in Malibu.
Charmlee Wilderness Park
Charmlee Wilderness Park is a 532-acre scenic park area in Western Malibu. The park has a number of picnic areas, hiking trails and a nature center. There are around eight miles worth of trails that you can create your own hike from although the most popular tends to be the Ocean Overlook. There is a $4 parking fee for day use.
Ocean Overlook Loop Trail
Start/finish: Charmlee Wilderness Park parking lot (

34.058777, -118.879576

)

Distance: 2.6 miles loop

Elevation gain: 450-ft

Difficulty: Easy

Dogs: Allowed on leash
This ocean view loop trail is the most popular hike in the Charmlee Wilderness Park. It is a fairly easy undulating trail that offers incredible views across the ocean. The loop skirts around the outer parts of the park and reaches the Ocean Overlook lookout around halfway. 
The park has been devastated in wildfires previously and the trail can be closed for extended lengths of time, so you should check the park status before heading out.
Escondido Falls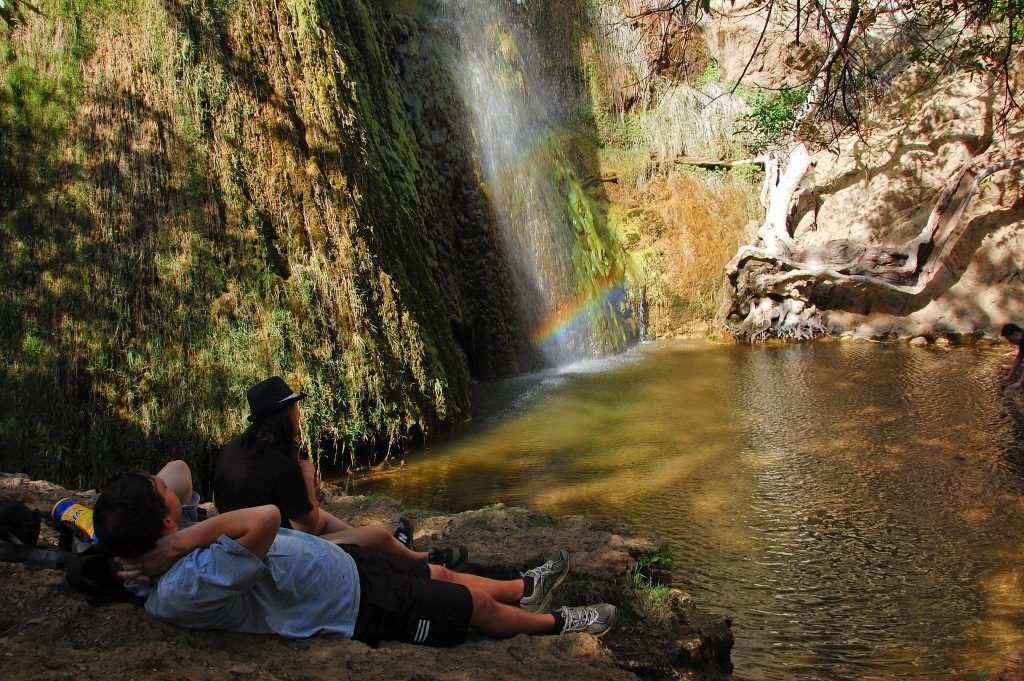 Start/finish: Winding Way Road (

34.031689, -118.772657

)

Distance: 3.8 miles return

Elevation gain: 620-ft

Difficulty: Easy-Moderate

Dogs: Allowed on leash
This is one of the most popular hiking trails around Malibu. The hike begins off Winding Way Road along a well-defined path. The trail is known as Escondido Canyon Trail and it crosses over creeks as it takes you to one of the biggest waterfalls in Southern California. 
The falls are a two-tiered 150-foot cascade of water running down limestone rock. If it's a hot day then you can cool off at the small pool of water at the bottom of the falls. 
The trail is not very difficult, but you must be prepared for some rock hopping over streams. There is also a steep climb to get up to the Upper Escondido Falls and the main viewing area.  
Solstice Canyon
Start/finish: Solstice Canyon Hiking Trail Parking Area (

34.037917, -118.747553

)

Distance: 3.2 miles loop

Elevation gain: 800-ft

Difficulty: Moderate

Dogs: Allowed on leash
The Solstice Canyon is a very popular place for a day hike. The trails are well worn and frequently trafficked passing by some interesting abandoned ruins. This moderate 3-mile loop first follows the gentle Solstice Canyon Trail, which is a shaded service road. You'll pass the Keller House, an abandoned hunting cabin made of stone and then further to the Tropical Terrace Ruins, a Polynesian-style home that was destroyed by fire in 1982. 
Just past the ruined house, you'll find the small but constantly flowing waterfall and natural pools. It's the perfect spot to have a break and cool off before taking the Rising Sun Trail back to the car park. 
It's a bit of a climb initially, but the Rising Sun Trail offers incredible views of the ocean through the canyon walls as you head back. 
Big Sycamore Canyon Loop
Start/finish: Sycamore Canyon Trailhead (

34.080702, -119.012658

)

Distance: 10.2 miles loop

Elevation gain: 1210-ft

Difficulty: Moderate

Dogs: Allowed on leash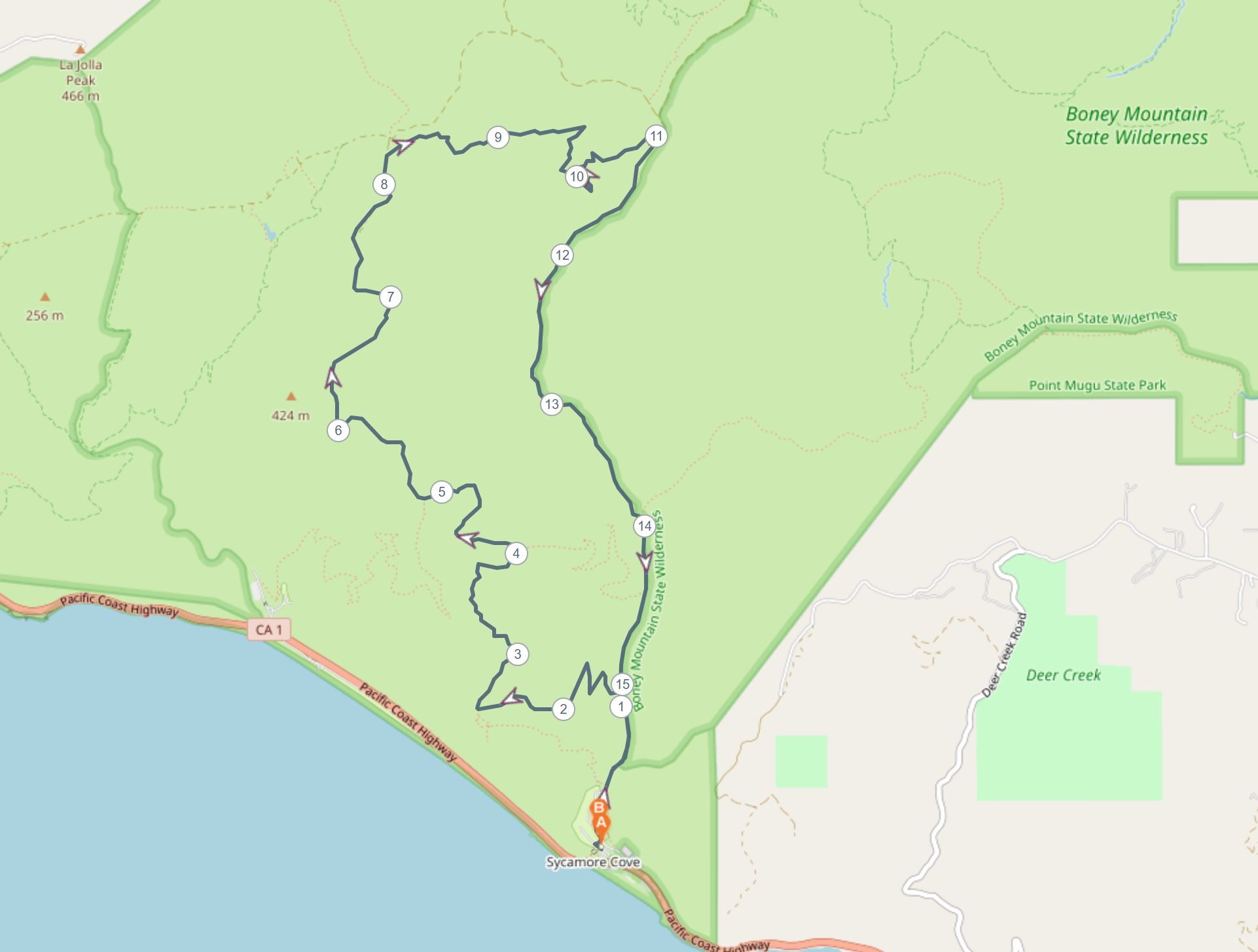 Sycamore Canyon is inside the Point Mugu State Park which is 14 miles west of Malibu. There are a couple of trails that you can follow to explore the canyon, but the Big Sycamore Canyon Loop is a popular, moderate grade loop that is an excellent option. 
You can begin the hike from the campground by taking the scenic trail or from the official trailhead which is just further up the road a little. Either way, both trails meet up and continue around the loop clockwise for a gradual hill climb with incredible ocean views. 
As you reach the highest point of the hike around halfway, it's all downhill and flat from there through the canyon back to the start point.
The trail is also popular for mountain biking so be aware on the trails for oncoming bikes. The cost of parking for day use is $12 and the gates to the park are open from 8 am until 9 pm.
Backbone Trail Loop
Start/finish: Calabasas Peak Trailhead (

34.096173, -118.650396

)

Distance: 7.5-mile loop

Elevation gain: 2020-ft

Difficulty: Moderate-difficult

Dogs: Allowed on leash
Technically, the entire Backbone Trail runs for 67 miles across the length of the Santa Monica Mountains in southern California. However, it's possible to do this loop trail as a day hike that tackles just a section of it. 
From the Calabasas Peak Trailhead on Stunt Road, you can follow this 7.5-mile loop that begins with a steep scramble for the first couple of miles. After this, it is much more gradual and downhill. The trail crosses over Stunt Road a few times as you eventually circle back to your starting point. 
The views of the surrounding Santa Monica Mountains are incredible from the exposed trail for much of the hike. It's recommended that you hike the loop clockwise for a much more comfortable hike. 
Malibu Creek State Park
Malibu Creek State Park is a large park area covering over 8000 protected acres in the Santa Monica Mountains. There are miles upon miles of hiking trails with beautiful views and rock pool swimming holes to enjoy. 
There are also a number of restored movie sets in the area used in M*A*S*H* and Planet of the Apes that you can reach on foot. 
The park entrance is 6.8 miles off the Pacific Coast Highway along Malibu Canyon Road. For day hikers, the park gates are open from 8 am to 10 pm with parking fees around $12 a day. Dogs are allowed in campgrounds and paved roads but not on trails.
Mesa Peak
Start/finish: Backbone Trailhead (

34.080018, -118.703719

)

Distance: 5.6-miles return

Elevation gain: 1390-ft

Difficulty: Difficult

Dogs: Not allowed
This peak provides an incredible panoramic view of the coastline of Malibu and the Santa Monica Mountains. The trail begins at the Backbone Trailhead car park in the Malibu Creek State Park. 
Following the trail known as the Mesa Peak Motorway, which is a wide dirt road you'll slowly gain 1390 feet in elevation to the ridgeline. The views are incredible in all directions for most of the hike, so you'll know that the steep climb is worthwhile. 
Once you reach a major trail intersection, you need to continue left on Puerco Motorway that heads slightly down to the summit of Mesa Peak. The incredible panoramic views of the coast are beautiful. You can then return the same way.
Zuma Canyon Loop Trail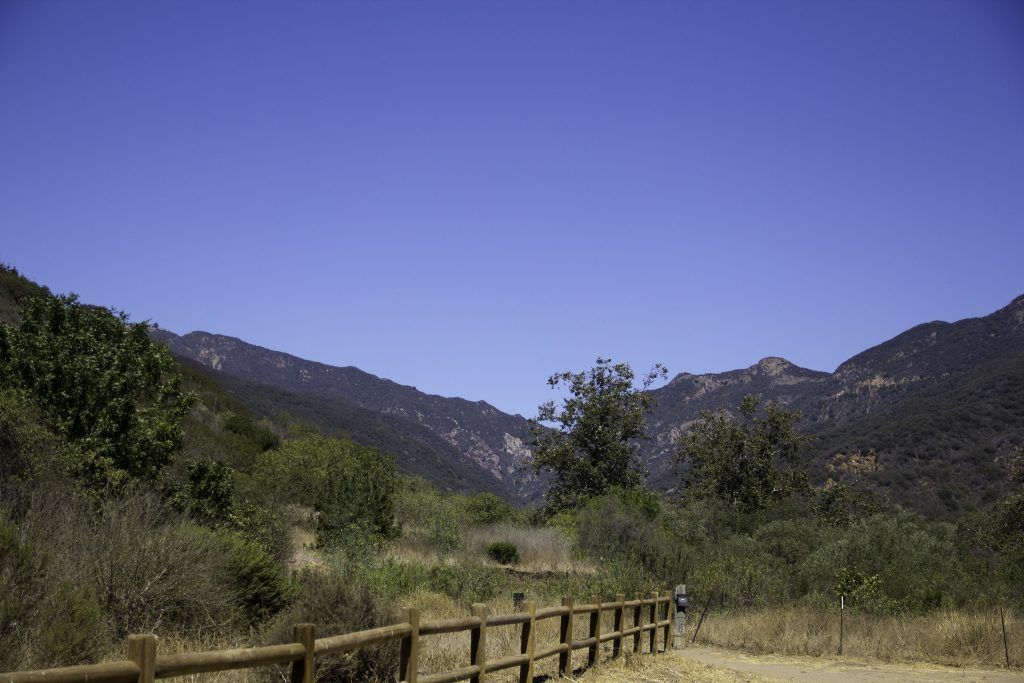 Start/finish: Zuma Ridge Trailhead (

34.033040, -118.818073

)

Distance: 3.7 miles loop

Elevation gain: 650-ft

Difficulty: Moderate

Dogs: Allowed on leash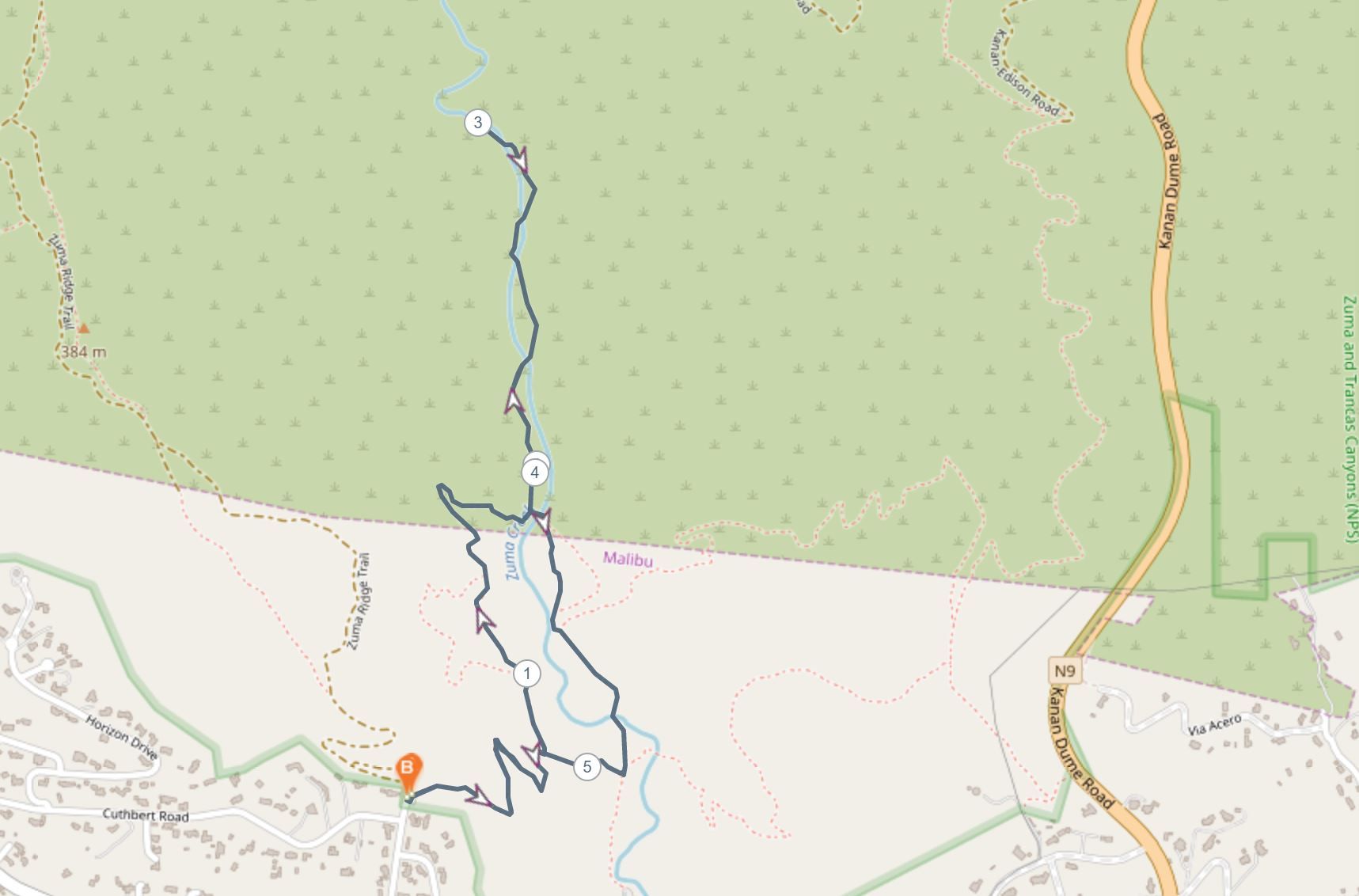 The Zuma Canyon Loop trail is a relatively popular hiking trail in Malibu, although the 10.8-mile loop is definitely a challenging yet rewarding day out. The trailhead is easily accessed to the west of Malibu and just up from Zuma Beach at the end of Busch Drive.
The route climbs steadily up Zuma Ridge and then up and down through Zuma Canyon. There are incredible ocean views and mountain ridgelines visible for much of the way. The loop is well signposted so you can easily navigate the intersections with other trails in the area.
The trail is well worn but occasionally a little overgrown and you should watch for snakes on a hot day. The loop can be done in any direction but is most commonly recommended in a clockwise direction. 
Related Posts