It's so important to have the right clothing for winter hiking. Being able to stay warm, dry and comfortable means that you can have a much more enjoyable hike no matter the weather. However, pants are often overlooked gear items as people tend to concentrate more on keeping their upper body warm in winter. Still, having the right hiking pants to keep you warm and dry, as well as, giving you complete freedom of movement, is extremely important in the tough conditions that winter brings. 
This article will outline the best winter hiking pants for men and women, as well as, explain what you need to look for and consider when choosing the right pants for your winter hike. 
How to layer your pants for winter
Just like for clothing on your upper body, it can be ideal to layer your pants for colder conditions. In winter, you're often trying to stay warm, dry and comfortable at all times and this can work best with a combination of pants worn together.
A basic layering system works like this:
Base layer: A next-to-skin base layer or thermal underwear will help regulate your body temperature, but it should also be made from a sweat-wicking material such as merino wool. You still sweat in winter despite the cold weather and keeping dry is important for staying warm. 
Insulated layer: The middle layer is all about keeping yourself warm. Depending on the conditions you'll be facing in winter, you can opt for a synthetic material or fleece lining or even down for extreme conditions.
Outer layer: The outer shell layer is usually a water and windproof layer to keep your legs dry in case of snow, rain or strong wind. This layer can also be removed or added during the course of your hike depending on the weather conditions.
Main criteria for choosing winter hiking pants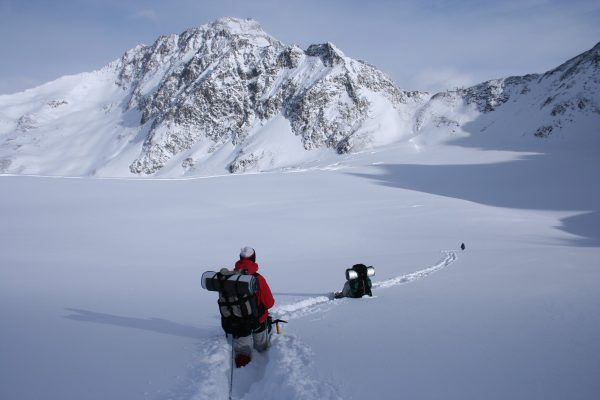 Winter pants are just as important as anything else on a winter hiking gear list. As with many different clothing options, there are a variety of criteria that you need to think about such as comfort, material and features.
Material
Hiking pants can be made in a variety of different materials. The type of material you choose is important because it can impact many other things like durability, insulation, breathability and mobility. Most hiking pants will come in a blend of synthetic materials, with some offering different features depending on their purpose:
Fitted base layers: Synthetic blends with a higher amount of elastane for added stretch.
Softshell pants: Rigid materials such as nylon, polyester and cotton.
Outer shells: Weather proofing abilities such as Gore-Tex or water repellent coating.
Insulating pants: Fleece-lined pants offer added warmth.
Insulation
Warmth is one of the key factors when considering winter hiking gear. This can occasionally mean that you have to compromise on both breathability and mobility. However, the layering system mentioned above works well here, as you can have a more breathable base layer with a more insulated mid-layer.
Insulating pants are sometimes made from tougher and thicker materials that are fleece-lined, however, there are also some lighter-weight synthetic options too made from nylon.
Weather-resistant
There are a range of weather-resistant or weatherproofing options when it comes to different pants. Most of the time, your standard hiking pants and mid-layer options offer basic water-resistant properties. However, for tough conditions with snow and rain it's best to consider fully waterproof and windproof outer shell options made from Gore-Tex or water repellent coatings.
Breathability
With thicker materials used in winter hiking gear, it can be difficult to find breathable clothing at the same time. However, breathability is important for keeping yourself dry and allowing sweat to be wicked away. Options that are made from merino wool or some synthetic wool blends will be more breathable and comfortable to wear than options like cotton or hard-shell fabrics with thicker membranes.
Weight
Although weight isn't usually a huge factor when choosing the right pair of pants, you might want to consider this when it comes to weather conditions and mobility. For example, some fabrics like cotton get heavier when wet and this can add extra weight when hiking in winter. You will want to opt for materials that have quick drying properties such as merino wool or synthetic blends which can reduce the weight.
Mobility
The last important criteria for choosing winter hiking pants is mobility. With the added layers, material thickness and insulation, it can often make hiking pants for winter quite restrictive. If you're going to be hiking over tough terrain that requires ease of movement then you will want to make sure that your hiking pants allow you to move effortlessly. 
Picking a pair of pants that are more fitted and have articulated knees offers more flexibility and less restrictions when tackling tough terrain. This will also depend on your individual body shape and preferred fit.
Added features
All hiking pants have added features that differ across brands and styles. While these are often not necessities for winter hiking, it can come down to personal preference as to whether you want them or not.
Added features include pockets, built-in belts and convertible pants or zip-off legs. Many pants will offer basic pockets around the waistline, but some options have extra pockets on the lower legs as well. 
Built-in or integrated belts can offer more adjustable sizing for people who fall in between standard sizes or who like to be able to adjust their waist tightness. 
One of the biggest features with hiking pants is convertible options or zip-off legs. These are often two-in-one style options that can be converted into shorts. They can be extremely versatile and helpful if you're hiking across different seasons or likely to get hot during your hike. However, some people find them baggier than standard pants and the zips can be slightly annoying. 
How price can influence your options 
The price for hiking pants can vary wildly depending on the brand, materials used, quality and added features. This might impact your choices when shopping for pants and it's important to be aware of the quality that you're buying. 
Splurging on higher quality or a highly reputable brand is often a good idea if you want a pair that is reliable and durable. Often cheaper options will have lower quality zips and thinner materials that won't last very long. 
Winter hiking pants for women
Best winter hiking pants overall
KUHL Women's Klash Pants
These cold-weather hiking pants strike a perfect balance between style, practicality and comfort. They have plenty of features that make hiking in winter more enjoyable, including a water repellent finish, comfortable stretch for added mobility and extra pockets for valuables. They are the perfect softshell mid-layer pants with the ability to add a base-layer underneath or outer shell on top when needed. There's very little not to like about these winter hiking pants for women, which are also moderately priced.
Specs:
Material: 72% nylon, 20% polyester and 8% spandex

Fit: Regular, mid-rise 

Pockets: 5

Belt: No

Weather resistance: Durable water repellent finish
Features:
Abrasion resistant, ripstop material

Ergonomic fit with knee darts for freedom of movement

Right thigh pocket for easy access to valuables 

Zippered bottom hem to fit over hiking boots
Best budget winter hiking pants
Columbia's Women's Lined Saturday Trail Pants
Columbia makes some of the best budget hiking clothing. With these pants you get plenty of bang for your buck with some nice features for cold weather hiking. The stretchy material makes the straight leg fit very comfortable. For cold conditions, these pants will also keep you warm with an inner thermal reflective lining. There's not much to dislike about these pants, except perhaps that the pockets are slightly limiting and small.
Specs:
Material: 96% nylon and 4% spandex

Fit: Regular

Pockets: 4

Belt: No

Weather resistance: Water repellent finish
Features:
Omni-Shade UPF 50 sun protection

Omni-Shield advanced repellent finish

Straight let and mid-rise fit

Thermal reflective lining for extra warmth and breathability 
Best waterproof pants for winter hiking
Patagonia Women's Torrentshell Pants
These pants from Patagonia are the perfect outer shell layer that you can easily pack in your daypack and reach for when the weather turns. They are loose fitting with adjustable cuffs which can easily be pulled over your base or mid-layer pants. They will keep you dry even in severe weather with Patagonia's H2No Performance fabric that is 100% wind and waterproof. There's limited extra features with these pants and just a couple of basic pockets, however, for rainy weather they are one of the best options.
Specs:
Material: 100% recycled nylon

Fit: Regular

Pockets: 2

Belt: No but elasticised waistband with drawstring

Weather resistance: Water and windproof
Features:
Made from 100% recycled nylon face fabric

Waterproof and breathable H2No reliability 

Durable water repellent zippers

Storm flaps and hand warming pockets
Best convertible pants for winter hiking
Outdoor Research Women's Ferrosi Convertible Pants
These convertible pants tick all the boxes when it comes to practical and durable hiking pants. They are lightweight, fitted nicely, offer plenty of pockets and have zip-off legs for multipurpose use. The two-in-one design means you can convert these pants into shorts whenever it gets warm in the backcountry. The material is also wind and water resistant which means these are a great option for battling winter weather. If you're after comfortable, convertible hiking pants, these are for you.
Specs:
Material: 86% nylon and 14% spandex

Fit: Regular-straight leg

Pockets: 5

Belt: No but integrated drawstring

Weather resistance: Water and wind resistant
Features:
Nylon ripstop to protect you in scree and overgrown terrain

Convertible pants for all day use

Zippered pockets for keeping valuables safe

Softshell fabric for breathability and mobility

Soft, fleece lined waistband 
Winter hiking pants for men

Best winter hiking pants overall
prAna Men's Stretch Zion Pants
These hiking pants are often considered one of the best you can wear in all conditions. The Stretch Zion material is 97% nylon and is comfortable to wear with a slim cut that moves with your body easily. The material is incredibly durable, although it's still light enough to be breathable when you're sweating on the trail. It can handle plenty of tough conditions with a water repellent coating that will also keep you dry. In terms of extra features, you'll find standard front and back pockets, as well as, an extra cargo pocket on the leg. For the all-round best hiking pants for winter, these tick plenty of boxes.
Specs:
Material: 97% nylon and 3% spandex

Fit: Regular-slim

Pockets: 5 

Belt: Adjustable belt included

Weather resistance: Water repellent finish
Features:
Original stretch Zion performance fabric

Abrasion resistant and quick drying

Angled dual entry cargo pocket

Streamlined adjustable waistband

Mesh lined pockets
Best budget winter hiking pants
Columbia Men's Silver Ridge Pants
Columbia are known for their good quality and lower prices compared to other brands and these pants are no different. These hiking pants are comfortable, lightweight and quick drying. They come in a zip-off convertible option if you prefer, with a baggier fit than the prAna Stretch Zion pants. The only downside to this budget option is that the material is a little thin and doesn't provide a great deal of insulation in very cold conditions. However, they would be sufficient for basic winter hikes or for layering up in colder locations.
Specs:
Material: 100% nylon 

Fit: Regular

Pockets: 6

Belt: Adjustable belt included

Weather resistance: Sun protection built-in
Features: 
Durable, quick drying material

Adjustable waistband with added elastic

Pockets with hook and loop closure

Meshed lined pocket bags

Zip-off leg option
Best waterproof pants for winter hiking
Arc'teryx Zeta SL Pants
These pants from Arc-teryx are your ultimate wet weather gear. They are perfect for being your outer shell option when you encounter rain and snow. They are lightweight, packable, and comfortable to wear. The weather resistance of these pants is exceptional with fully waterproof Gore-Tex material to keep you dry, as well as, side zips for extra breathability. You can't expect much in terms of added features though with no pockets but as your pullover outer shell they are still ideal. They are quite expensive compared to other winter hiking pants on this list, but most waterproof outer shell options tend to cost a bit more.
Specs:
Material: Nylon with Gore-Tex Paclite Plus Technology

Fit: Regular

Pockets: 0

Belt: No but has adjustable waistband

Weather resistance: Fully waterproof with Gore-Tex fabric 
Features: 
High performance and lightweight for rapid travel

Waterproof, windproof and breathable fabric

¾ length Water-Tight zippers for ease getting on over hiking boots

Minimalist design for exceptional fit
Best convertible pants for winter hiking
Outdoor Research Men's Ferrosi Convertible Pants
These are one of the most popular hiking pants for winter on the market. They are incredibly comfortable and practical with all the added features you'll need such as an extra side pocket and zip-off legs. The two-in-one design means you can convert them to shorts when the weather gets a bit warmer. For cold weather hiking though, the lightweight and quick-drying material makes them a great softshell option. However, they offer very little in terms of insulation, so if you're hiking in freezing conditions you may need an additional base layer.
Specs:
Material: 86% nylon and 14% spandex 

Fit: Regular

Pockets: 5

Belt: No 

Weather resistance: Durable water-resistant coating
Features: 
Lightweight and quick-drying material

Abrasion resistant

Sun protection UPF 50+

Extra zippered thigh pocket

Zip-off legs above knee
Conclusion
Hiking pants are an important piece of gear for your winter trekking adventures. They should be comfortable, practical and keep you warm and dry at the same time. This article has outlined some of the key criteria that you should consider when deciding what pants to wear in winter, as well as, some of the best options for men and women on the market.