We all know how important it is to drink water while we're hiking, but sometimes it can be frustrating to have to take your daypack off to reach for your water bottle. This is where a hydration daypack is a good solution. These packs come with a water reservoir and accessible mouthpiece so that you can drink on the move, without even having to slow down. They're perfect for rigorous outdoor activities when you need to stay hydrated throughout the day.
This guide will help you decide which hydration pack is right for your next hiking trip, as well as, what you need to consider when making a purchase.
What's the difference between a hydration daypack and regular daypack?
A hydration daypack is just one of many different types of daypacks. However, the main difference is that regular daypacks don't come with a water bladder and their most common hydration solution is to carry water bottles in the side pockets. Hydration packs, on the other hand, are sold with bladders that fit inside a back pouch so that you can sip on water virtually hands-free. However, some regular daypacks are now made with hydration pouches which allows you to add a reservoir after purchase if you prefer.
Hydration packs are also generally smaller in size than regular daypacks. Most hydration hiking packs start from around 10L and go up to 24L, but hydration pouches can be found in packs of all sizes.
Hydration daypacks can also appear different in form and shape, with some designs making the pack sit closer to your body when a full water reservoir is inside. This can make the weight distribution of the water sit more evenly across your back.
The hydration packs covered in this article are those that come with a complete reservoir system included.
Different types of hydration packs
Similar to other types of daypacks, there are a variety of hydration packs that you can choose from for every type of outdoor activity. They generally have different features depending on which activity you plan on undertaking.
Hiking hydration packs
These hydration daypacks are similar to regular hiking daypacks except that they have a built-in hydration reservoir down the back of the pack. They can range in size depending on what kinds of hikes you will be doing.
Running hydration packs
There are two types of hydration packs for running: vests and backpacks. They are designed to fit closer to your body to restrict movement while running with vests being a more minimalist option.
Cycling hydration packs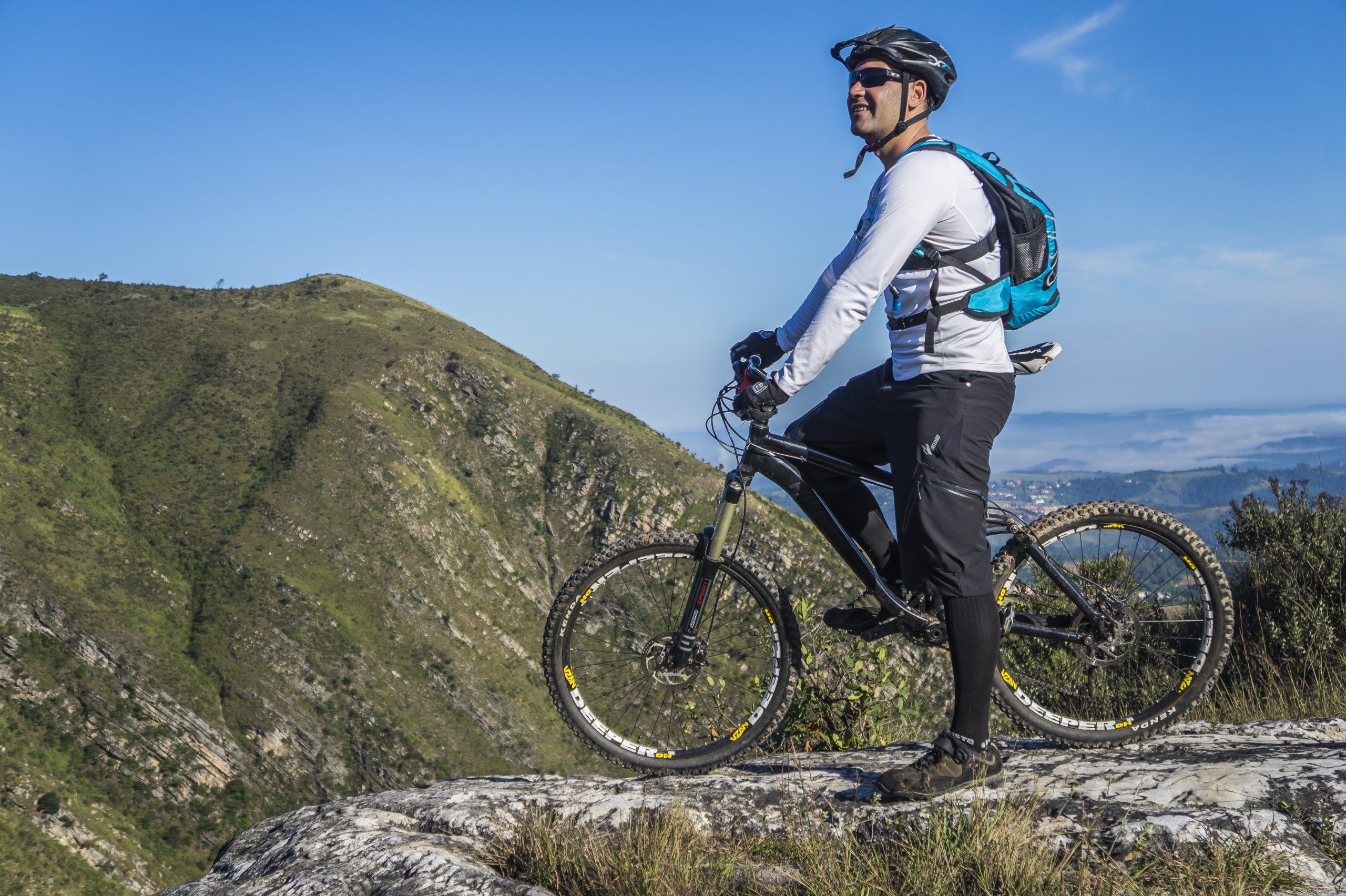 These hydration packs are generally lighter and more compact and designed for both road cycling as well as mountain biking. The straps are designed to not interfere with pedalling but still ensure you can drink while riding.
Snowsport hydration packs
Hydration packs designed for snow sports are more insulated to stop your water from freezing. They are also designed to fit your body to stop any movement while skiing or snowboarding.
Hydration waist packs
There are also hydration packs that are made to be carried just around your waist. These are generally made for water bottles instead of reservoirs and there is little other storage space. They are best for light and fast activities such as trail running or cross-country skiing.
Main features of hydration packs
When considering different hydration packs and deciding which one is best for you, there are a number of features that you need to pay attention to. Some of the features of hydration packs are similar to most daypacks, such as sternum straps, hip belts, pockets and gender specific fits. These are all important features that you should consider when choosing any daypack. If you want to read more about regular daypack features, check out our article here.
However, there are a number of specific features that are unique to hydration packs that you should focus on when deciding which one is right for you. These include:
Reservoir capacity
The hydration reservoir or bladder that sits inside your pack can come in a range of different capacities. You can usually purchase 1 liter reservoirs up to 3 or more liters. You should consider how much water you will realistically need to carry depending on what kind of activities you plan on using it for. For example, on a long summer day hike you might need to carry three liters, compared to a short half day hike in spring when 1.5 liters would be enough.
You don't always need to carry a full bladder either. If you plan on doing a variety of hikes, then you can purchase a larger reservoir and only fill it with the amount that you will need.
Pack comfort and fit
Although comfort and fit are something that you should consider for any daypack, it's especially important to consider how comfortable a hydration pack is with a full reservoir inside. Although aspects like torso length and waist fit are also important, you should still consider how comfortable the daypack is with the water bladder against your back. Some packs have narrower hydration pockets, which can make it less comfortable to wear when the reservoir is full.
Similar with regular women-specific daypacks, you might also want to consider women's hydration packs. They are better designed for women's body shapes and can have a more comfortable fit than unisex varieties.
Reservoir opening
It's best to have a water reservoir that is easy to fill and clean. Reservoirs have different opening types and you should consider this before making a purchase. A wide opening is the easiest to fill and clean, while a smaller opening may require an additional cleaning kit so that you can wash it properly after use.
Drinking tube and bite valve/mouthpiece
The drinking tube and bite valve are how you can easily drink while on the move. Some bite valves twist to open and close, while others operate with a switch so that it doesn't leak when you aren't using it. This can come down to personal preference as to which type of valve you prefer.
Tube portals
Tube portals are small holes in the daypack that allow you to thread the hydration tube through to the outside of the pack. This allows you to easily have the tube accessible over your shoulder while you're hiking. Most packs have portals on either side so that you can decide which shoulder you prefer to drink from, while others have a portal at the center.
Tube clips
Tube clips are a great addition to most hydration packs. These clips are attached to the shoulder strap and allow you to clip the reservoir tube into a more accessible position. This can also keep the tube from annoying you as you move around.
Disconnect tubing
Some reservoirs allow you to quickly disconnect the tube from the main body of the bladder. This is a great option if you need to refill your hydration system mid-hike. It allows you to keep the tube in place on your pack while you fill up the bladder.
Insulation
If you plan on undertaking any winter activities, then you might want to consider insulation. There are cold weather additions such as insulated tubes, insulated bladders as well as covers for the bite valve. This adds extra weight to the hydration pack, but it can be useful if you want to keep your water from freezing in cold temperatures.
Size and shape
Although you can add hydration reservoir systems to packs of any size and shape, most specialist hydration packs are smaller in size than regular daypacks. You can usually find hiking hydration pack options ranging from small 10L up to 24L. The shape can also be slightly different for hydration packs, with some smaller designs bringing the pack to fit closer to the body to ensure even weight distribution. These smaller hydration packs are usually preferable for lightweight hiking when you don't have to carry too many additional items with you.
Prices of different hydration packs
When you're considering purchasing any hiking gear, price can be a significant consideration. In general, the cost of hydration packs can differ depending on the brand, quality, size and added features. If you plan on using your pack a lot and expect it to last a long time, it's a good idea to invest in a high-quality hydration pack even if it costs a bit more. Brands such as CamelBak and Osprey are known for their good quality and long-lasting gear, even though they might be a bit more expensive than others.
Categories of hydration daypacks
Best overall hydration daypack
Osprey Manta 24LLink 

This hydration pack from Osprey is one of the best all round daypacks for hiking. It's one of the most comfortable on this list, plus it has all the extra features that you would expect from a good pack. It has Osprey's anti-gravity suspension system which offers great ventilation as well as perfectly balanced load distribution. It includes Osprey's Hydraulics 2.5L reservoir that has its own dedicated compartment with a magnetic sternum strap bite valve for easy access. The extra additions like a rain cover, several pockets and trekking pole attachment, make this one of the best hydration packs on the market. There's not much to dislike about this pack.
Specs:
· Capacity: 24L
· Weight: 2 lbs 14.3 oz.
· Hip belt: Yes
· Rain cover: Yes
· Frame: Internal frame
· Pack access: Panel
· Number of pockets: 7
· Reservoir capacity: 2.5L
Features:
· Adjustable and highly ventilated suspension
· Osprey Hydraulics 2.5L reservoir
· Dual zippered hipbelt pockets
· Ice tool loop with bungee tie off
· Trekking pole attachment
Best hiking hydration daypacks
CamelBak Fourteener 24L
This pack by the hydration pioneers, CamelBak, is a close runner up for the best hiking hydration daypack. It has plenty of features that you would expect from a good daypack, with a comfortable back panel suspension system, great storage capacity and plenty of pockets for organizing your gear. The 3L hydration bladder is one of the easiest to use with a fast flow and wide mouth opening. It's an especially good option for longer day hikes over rough terrain. There is not much to dislike about this option except that it doesn't come with a rain cover.
Specs:
· Capacity: 24L
· Weight: 2 lbs 10 oz.
· Hip belt: Yes
· Rain cover: No
· Frame: Internal frame
· Pack access: Panel and Top
· Number of pockets: 6
· Reservoir capacity: 3L
Features:
· Load-bearing hip belt with pockets
· Trekking pole attachment and tool loop to secure extra gear
· Separate hydration compartment to leave more room for gear
· Updated reservoir delivers 20% more water per sip
REI Co-op Trail Hydro 20L
The REI Trail Hydro is a comfortable and inexpensive option that is great for most hiking adventures. It is a well fitted design with padded shoulder straps and a ventilated back panel. The dedicated reservoir compartment is also well padded and can still be easily accessed even with a full pack. The only cons for this option are the smaller bladder capacity of 2L and the unpadded hipbelt, which is not as comfortable as others on this list. However, it's a little more affordable than the Osprey and CamelBak options.
Specs:
· Capacity: 20L
· Weight: 1 lbs 12.8 oz.
· Hip belt: Yes
· Rain cover: No
· Frame: Internal frame
· Pack access: Panel
· Number of pockets: 5
· Reservoir capacity: 2L
Features:
· Lightweight, abrasion resistant nylon and seams
· Sternum strap and hip belt adjustable and removable
· Soft pocket for sunglasses or phone on top of pack
· External daisy chain attachment points for trekking poles
Gregory Inertia 24 H2O

Designed with comfort and practicality in mind, the Gregory Inertia 24 is a great option for a hiking hydration backpack. The latest design includes a perforated 3D foam backpanel for ventilation and breathable comfort, plus a 2-liter 3D Hydro reservoir with a patented 3D molded design. This makes it one of the comfiest choices on the market, especially when loaded up for a day hike. One of the only downsides to the pack is that it doesn't come with a rain cover, but other than that, there's very little not to like.
Specs:
· Capacity: 24L]
· Weight: 1.73 lbs
· Hip belt: Yes
· Rain cover: No
· Frame: Internal frame
· Pack access: Panel
· Number of pockets: 4
· Reservoir capacity: 2L
Features:
· Dedicated zippered compartment for the 2 liter Hydro reservoir
· Multi-layer foam back panel for greater airflow even with the pack on your back
· Padded hipbelt with zippered pockets<
Osprey Skarab 22
The Osprey Skarab 22 is a solid hydration choice. It stays true to Osprey's reputation and is a very comfortable daypack with a great overall fit. However, it has less additional features than the Osprey Manta 24. The Skarab is a top loader with limited access into the pack and there are just a couple of pockets in addition to the main compartment. However, for more minimalist hikers who still want a quality pack, this is a good option.
Specs:
· Capacity: 22L
· Weight: 1 lbs 7.4 oz.
· Hip belt: Yes
· Rain cover: No
· Frame: Internal frame
· Pack access: Top
· Number of pockets: 2
· Reservoir capacity: 2.5L
Features:
· Dedicated compartment with Osprey Hydraulics 2.5L reservoir
· Front panel daisy chain attachment points
· Removable hip belt
· Adjustable sternum strap
Patagonia Nine Trails 14 Hydration Pack
For a smaller hiking hydration daypack, this Patagonia option in their Nine Trails range is a good choice. It's an all-round performer with a lightweight design, four external pockets and well-padded straps. However, it's smaller bladder at 2L may not be great for all kinds of hikes and it's a bit expensive compared to other similar packs on this list. Still, if you're a fan of Patagonia and would prefer a small sized hydration daypack then this might be the one for you.
Specs:
· Capacity: 14L
· Weight: 1 lbs 5.4 oz.
· Hip belt: Yes
· Rain cover: No
· Frame: Frameless
· Pack access: Panel
· Number of pockets: 4
· Reservoir capacity: 2L
Features:
· Separate front pocket for smaller items
· Small pockets on the hipbelt
· Mesh back panel prevents moisture build-up
· Made from lightweight CORDURA brand ripstop nylon for abrasion resistance
· Padded shoulder harness with adjustable sternum strap
Best budget hydration daypack
Gregory Nano H2O 18L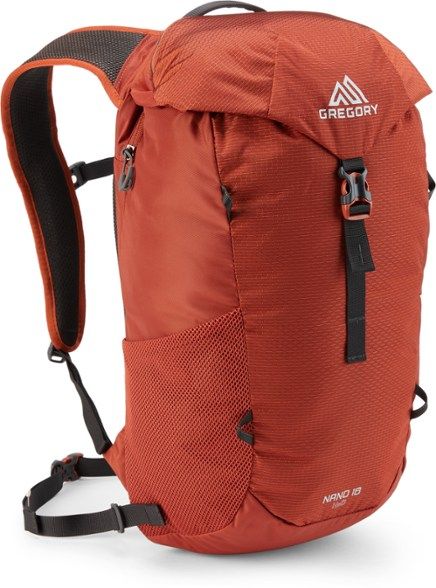 The Gregory Nano H2O is certainly the best budget hydration hiking daypack on the market. It's a lightweight pack that has ample room for most hiking essentials. The 3L reservoir capacity is a nice addition which is perfect for summer hikes when you need to carry plenty of water. The daypack does sacrifice some luxuries with only a few pockets, not much of an internal frame or ventilated back panel and no rain cover. However, for the price, it's a great option that still maintains good all-round quality.
Specs:
· Capacity: 18L
· Weight: 1 lbs
· Hip belt: Yes
· Rain cover: No
· Frame: Frameless
· Pack access: Top
· Number of pockets: 3
· Reservoir capacity: 3L
Features:
· Removable webbing hipbelt to balance your load
· Easy-pull top drawcord opening for quick access
· Reflective attachment loops for securing other gear
Best insulated hydration daypack
CamelBak Snoblast 21
If you're taking your adventures into winter and maybe doing some snowshoeing, then this hydration pack by CamelBak should be your go-to. It's made for winter activities with its thermometer harness, which includes an insulated drinking tube and reservoir sleeve to keep your water from freezing in cold weather. The main compartment can also be accessed through various zips, making it easier when you're wearing gloves. The only cons with this pack are that the hip belt is not padded and there's hardly any additional pockets for organizing your gear.
Specs:
· Capacity: 21L
· Weight: 1 lbs 10 oz.
· Hip belt: Yes
· Rain cover: No
· Frame: Frameless
· Pack access: Top and panel
· Number of pockets: 1
· Reservoir capacity: 2L
Features:
· Fully insulated hydration system
· Snowshed back panel repels snow
· Adjustable sternum strap
· Designed to carry helmet, snowshoes and board
· Three-zipper design for quick pack access
TETON Sports Oasis 18L 

For another great budget option, the Oasis 18L daypack from TETON Sports comes in around the $50 price point. As well as being very affordable, the daypack has lots to offer. The 18L pack comes with plenty of pockets, to stash away your essentials and carry extra drink bottles on hot days. The pack also comes with a 2L hydration reservoir, with straps on the shoulder to keep the mouthpiece in place while hiking. It's perfect for all sorts of day hikes, and adventures in all conditions. 
Specs:
· Capacity: 18L
· Weight: 2 lbs
· Hip belt: No
· Rain cover: Yes
· Frame: Frameless
· Pack access: Front panel
· Number of pockets: 6
· Reservoir capacity: 2L
Features:
· Contoured, padded shoulder straps for ultimate comfort
· Includes rainfly pack cover for adventures in all conditions
· Comes with a 2L hydration bladder, as well as side pockets for adding drink bottles
Best women-specific hydration daypack
Osprey Mira 22
We know that women-specific daypacks have a slightly different design and fit for women's bodies and it's the same with Osprey Mira hydration packs. This daypack made specifically for women is one of the best available. It has many of Osprey's great features such as a ventilated and adjustable back panel, plenty of pockets including in the hipbelt and a trekking pole attachment. It's a solid pack that makes it slightly heavier than some of the other options on this list, but it's sturdy with a great all-round fit.
Specs:
· Capacity: 22L
· Weight: 2 lbs 12.3 oz.
· Hip belt: Yes
· Rain cover: Yes
· Frame: Internal frame
· Pack access: Panel
· Number of pockets: 7
· Reservoir capacity: 2.5L
Features:
· Adjusted sternum strap
· Osprey Hydraulics 2.5L reservoir
· Dual zippered hipbelt pockets
· Ventilated and adjusted pack panel
· Trekking pole attachment
Best lightweight hydration pack
CamelBak Hydrobak Light
If speed and lightweight gear is most important to you, then this ultralight hydration pack is perfect. CamelBak Hydrobak is perfect for trail running, mountain biking, and fast hikes. With its limited capacity, the pack can only carry a 1.5L reservoir and enough space for things like a raincoat, first aid and some snacks. This makes it ideal for those confident adventuring with minimal gear or wanting to move fast over terrain. Still, for lightweight gear, this is excellent quality that comes highly recommended.
Specs:
· Capacity: 2.5L
· Weight: 6 oz.
· Hip belt: No
· Rain cover: No
· Frame: Frameless
· Pack access: Top
· Number of pockets: 2
· Reservoir capacity: 1.5L
Features:
· Helmet carry system holds your helmet when you don't need to wear it
· Ventilated back panel with body mapping technology offers a lightweight, comfortable fit
· 1.5-liter Crux reservoir included delivers 20% more water per sip
Conclusion
Hydration daypacks are a great choice for most outdoor activities with the ability to stay hydrated easily and effortlessly. Whether you're planning short hikes in summer or long backpacking treks, you'll find something for every adventure on this list of great hydration packs.