There are plenty of options when it comes to choosing the right backpack with a completely comfortable fit for a day spent outdoors. 
However, not that long ago, there was only one standard type of backpack available that didn't take into account the different shapes and sizes of people
It's since become known that women often require a different design in daypacks in order to get the most comfortable fit. This has led to many brands like Osprey, REI and Deuter manufacturing women-specific backpacks, alongside their men's or unisex styles.
This means that for a more tailored fit, you might want to consider women-specific designs, as well as the more prominent men's or unisex daypacks.
This guide will help you decipher what you need to think about when looking at a women-specific pack and how to choose the right one.
The difference between men and women's daypacks: why choose a women-specific daypack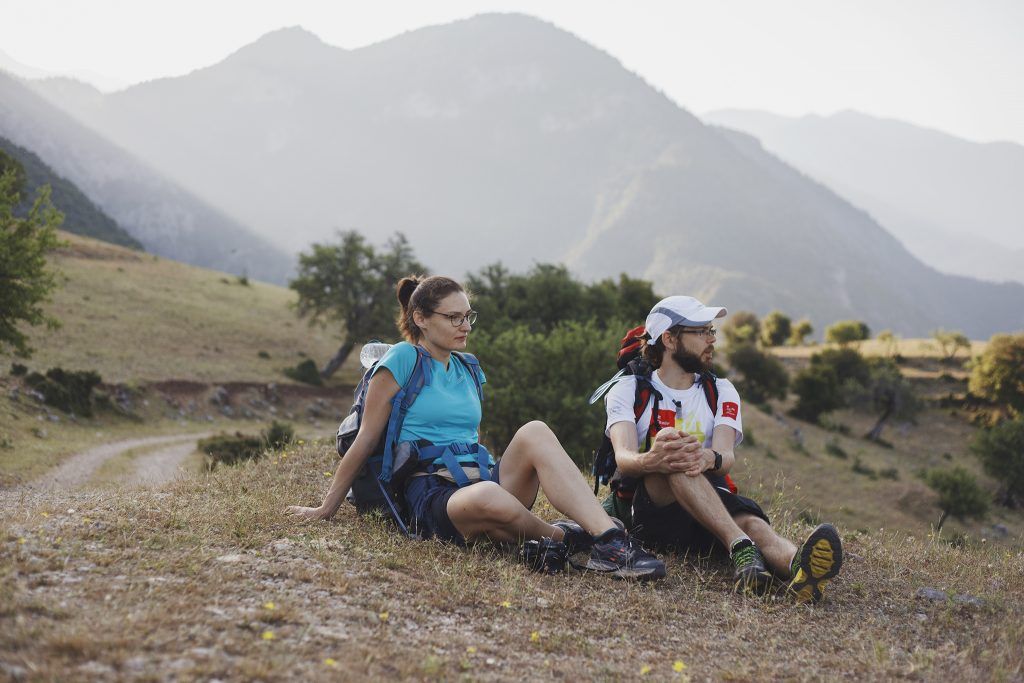 Although some people believe that this is more of a marketing push, there are some significant differences between men and women's daypacks to enable a better fit for different body shapes. Most of these key differences are in the backpack shape, harness and hipbelt, which are designed to fit women's bodies better. 
When considering a women's daypack, they are generally designed for a shorter and smaller framed body with a lower center of gravity. They also take into account curvier body shapes, which impact how a pack sits comfortably on your back. 
However, some taller women still fit better in men's packs and some smaller men even find women's backpacks more comfortable. It often comes down to the different features that a women's backpack offers compared to unisex varieties and your personal body shape and size.
Different women's backpacks for different activities
There are a variety of activities that daypacks can be used for, including hiking, running, biking, climbing and snowsports. Before you consider whether you should purchase a women's pack, you should first decide what activity you will need it for most. There are different features depending on what activity it's intended for, which are important when deciding on the correct backpack for you.
However, once you've decided on what kind of backpack you need, you'll find that most of them will also come in a women's fit. This simply makes the pack more comfortable for your chosen activity if it fits your particular body shape better than a regular or unisex fit.
Main features of a women's backpack that you need to consider
There are some features that you need to consider when choosing the right daypack, no matter your body shape or gender. These features rarely change and are as common on a women's backpack as they are to other gender-neutral packs.
Hydration
Hydration is an important part of hiking. One of the key roles that a backpack plays is as a water carrier. Most come with a range of different hydration options, including different pockets and pouches depending on your preferences. 
The most common feature is to have side pockets for drink bottles. However, you can also find hydration pouches in the back of the pack for a hydration reservoir system. This can be especially helpful if you don't want to reach around for your drink bottle every time.
Ventilation
In order to keep yourself cool and free of sweat while hiking, it's important for daypacks to be breathable and with good ventilation. High-quality backpacks have breathable fabric on the back of the pack to allow for airflow, with different styles of padding and ventilation depending on the brand.
Weatherproof
Ensuring your backpack has some form of weatherproofing is important. You will likely encounter some form of bad weather at least once on a trail and it's ideal if you're prepared for this so that you and your pack contents can stay dry. 
Some larger packs come with an attached rain cover while others are also made from water-resistant fabric.
Pockets
Pockets are definitely a personal choice with a range of different options depending on style and brand. You will have to decide on what kinds of pockets you find most useful, with some having a small zippered pocket on the outside or additional hip belt pockets, as well as, internal pockets for organizing your gear and easy access.
However, the unique design of women-specific daypacks means that there are additional things you need to consider when comparing men's or unisex backpacks with women's options.
Shoulder straps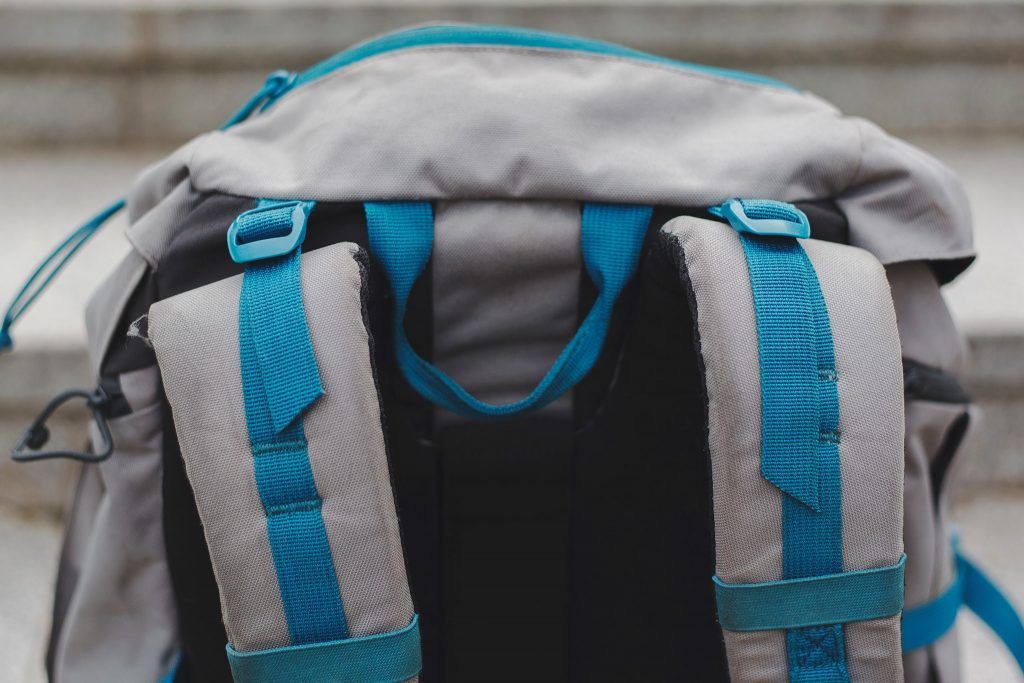 Compared to men's daypacks, the shoulder straps on women's packs tend to be narrower to accommodate their smaller frames. The straps are also usually more contoured and shorter in length. This is important to consider, because with poorly fitted shoulder straps, you can easily succumb to chafing with heavy loads. 
One of the first things you need to think about when trying on a backpack for the first time, is how comfortable the shoulder straps feel. They shouldn't be digging into your shoulders, even with added weight inside the main compartment.
Hip belt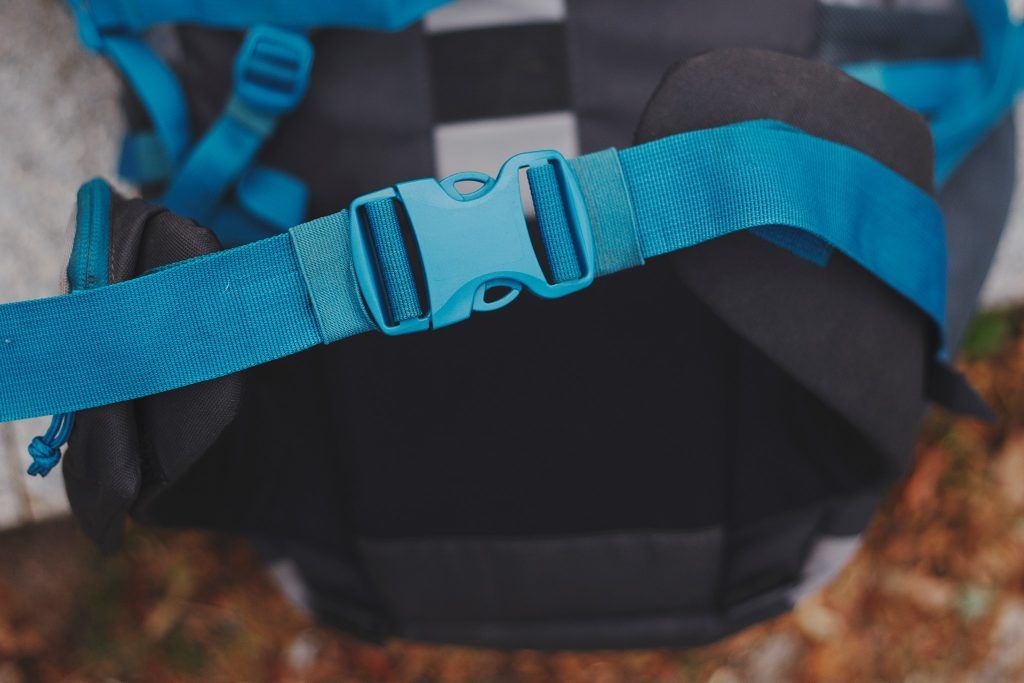 Hip belts are significantly different on women-specific backpacks. They are more contoured to suit women's curvier body shapes. When you are trying a women's backpack on for the first time, ensure that you fasten the hipbelt to see that it fits and feels comfortable. 
This is one of the main areas that women usually have problems with on long day hikes. Poorly fitted or uncomfortable hip belts can lead to chafing and bruising on your hips.
On larger backpacks with more complex suspension systems, hipbelts tend to be separate components to the pack's main compartment. This means that you can mix and match the pack and the hipbelt before you purchase it to ensure that it is the right fit for you.
Padding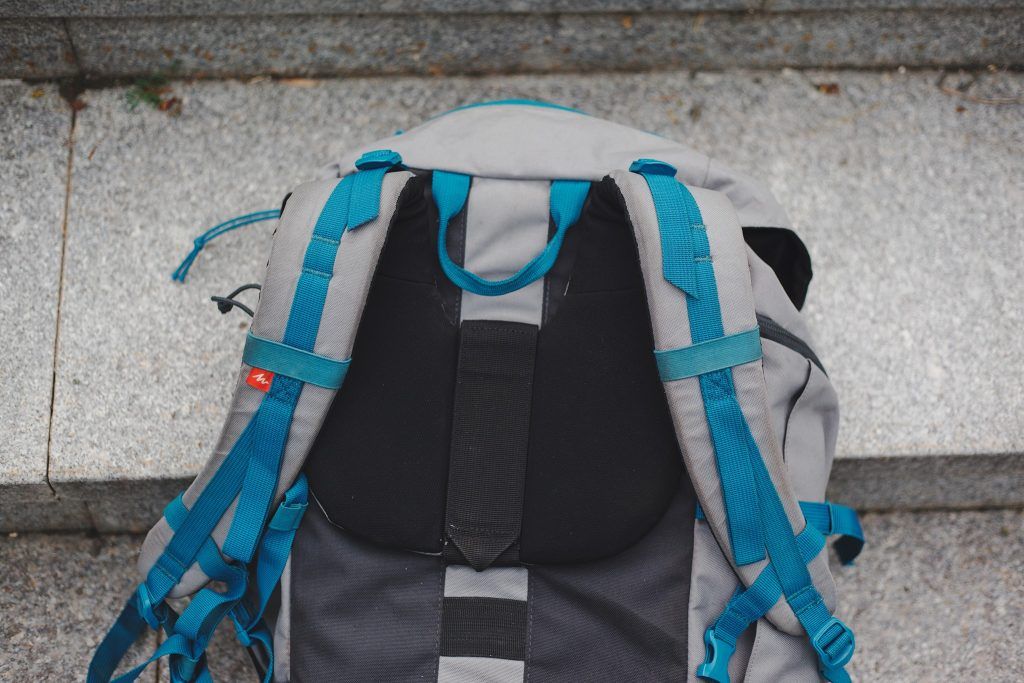 For women-specific backpacks, padding can vary depending on the design. There is usually more narrow padding on the shoulder straps but there can also be extendable padding on the hipbelt for women. This means that you can wrap the belt further around the hips to ensure a more solid fit that also reduces the risk of chafing. 
If you're planning on doing plenty of hiking or carrying heavy items like camera gear in your pack, then you'll want to choose an option that has significant padding on the hip belt and shoulder straps to ensure it will be comfortable for a whole day outdoors.
Sternum strap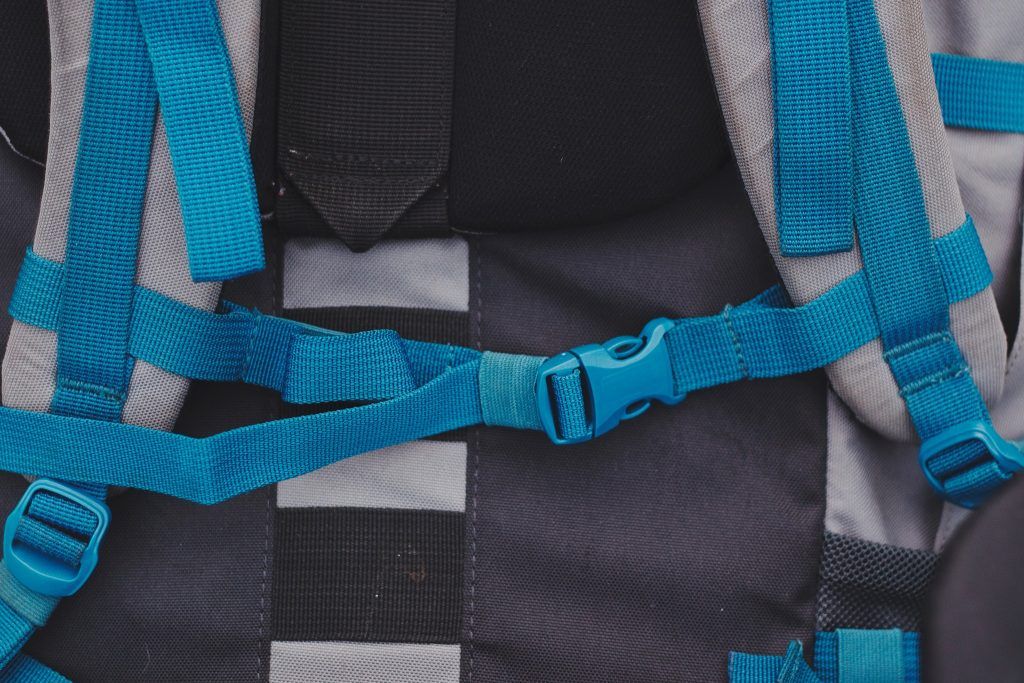 The sternum strap connects the two shoulder straps across your chest. This equalizes the pressure of the weight across your shoulders and upper body when you're carrying a heavy load. For women, it's especially important to look for adjustable sternum straps which will fit a variety of chest sizes.

Pack weight and capacity
Women's backpacks tend to have smaller capacities and lighter pack weights, although this isn't a definitive rule. You can purchase women-specific backpacks across a range of different capacities even up to 70L or more. You should purchase the right capacity for what you're going to need it for.
For short hikes, a daypack with a 10-20L capacity is usually manageable. Although, a 25-30L daypack is generally perfect for full day excursions.
How to choose the right size women's daypack
Within women-specific backpacks there are still different sizes available. Depending on the brand, they are usually divided into extra-small (XS), small (S), medium (M) or large (L). This is generally worked out by your torso length. The best way to choose the correct size is to refer to the sizing guide for each brand and measure your own back or head in-store and get the pack properly fitted.
A general overview of how to size and fit a backpack correctly has been compiled by Rei Co-op. 
Osprey also has a good sizing overview for their own backpacks, including women's specific packs. 
In general, a large women-specific backpack is made for a torso length of up to 21 inches. If you're a female with a taller torso than that, then a men's or unisex backpack may be a better fit. 
Adjustable suspension systems and internal frames
Many larger packs used for backpacking and overnight hikes have adjustable internal frames and suspension systems which allow for slightly different sized bodies. This means that within each of the sizes: S, M or L, there will be a range of torso lengths that the backpack fits best. This usually varies depending on the brand and should be tried and tested before purchasing.
In comparison, some smaller daypacks don't have internal frames. These frameless packs are best reserved for short hikes or when you don't need to carry much gear. However, for any daypack over 20L, you will likely find that most have some form of internal frame for comfort.
The best women's daypacks by category
Best overall women's backpack
Osprey Tempest 20
Osprey Tempest Overview: This is one of the best daypacks for women on the market and is a very popular choice. It features a hip belt with pockets for small essentials and an internal frame, making it a solid choice for hitting the trails or walking around the city. Osprey are known for their durability and their packs are certainly worth the price tag. If the 20L option is a bit small for carrying extra gear, the design also comes in a 30L option too. 
Specs:
Capacity: 20L

Weight: 1lb 10.2 oz

Hip belt: Yes

Rain cover: No

Frame: internal frame

Pack access: panel

Number of external pockets: 7
Features
Side stretch mesh pockets

Stow-on-the-go trekking pole attachment 

External hydration sleeve

Two zippered hipbelt pockets
Best small daypacks for women
Gregory Maya 16
Gregory Maya Overview: The Gregory Maya small daypack for women is a great choice for hitting the trails for a short hike or a summer walk. The harness design is perfect for hiking with a padded hip belt and mesh back panel for ventilation. The small size makes it a nice snug fit that sits close to your body, but it's 16L capacity means that you are limited with how much you can carry. Still, it's one of the best small daypacks available.
Specs:
Capacity: 16L

Weight: 1lb 10.4 oz

Hip belt: Yes

Rain cover: No

Frame: Frameless

Pack access: Panel

Number of external pockets: 8
Features
Dual zippered hipbelt pockets

Dual side stretch mesh pockets

Adjustable torso length with 3D foam breathable backpanel

Women's specific Die-cut BioSync flexible shoulder harness with sternum strap and hydration clip

Trekking pole/tool attachment with bungee closure system
Deuter Speed Lite 22L
Deuter Speed Lite Overview: This durable women's daypack is the perfect size for most adventures. It's built for women with a shorter back length and narrower fit than regular packs and it's designed for ultimate comfort on the trails. With its variety of pockets and straps and padding in all the right places, this is a great choice for a lightweight daypack.
Specs:
Capacity: 22L

Weight: 1lb 9 oz

Hip belt: Yes

Rain cover: No

Frame: Internal frame

Pack access: Panel

Number of external pockets: 4
Features
Lite Air back system provides stable, comfortable load distribution with a flexible, tensioned Delrin® U-frame and extremely light, ventilated, padded back panel

Narrow, ergonomically S-shaped shoulder straps help keep you cool with 3D air-mesh lining and venting inserts; also has an adjustable sternum strap and sunglasses loop

Side compression straps adjust pack volume; they can be fastened across the front of the pack to carry skis other bulky gear

Zippered mesh hipbelt pockets; stretch side water bottle pockets; large front stretch pocket; zippered top pocket
Best hiking daypacks for women
Gregory Jade 28
Gregory Jade Overview: This is one of the best women's hiking backpacks available and repeatedly gets rave reviews. It's one of the more comfortable options with a women-specific harness and contoured hipbelt fit. It also has a dynamic suspension system on the back that allows for carrying heavy loads whilst maintaining open-air ventilation to keep you cool. It might seem a little large and heavy for regular short walks but for most outdoor trips the size is perfect. It can carry all the essentials you'll need for hiking. 
Specs:
Capacity: 28L

Weight: 2lb 9 oz

Hip belt: Yes

Rain cover: Yes

Frame: Internal frame

Pack access: top

Number of external pockets: 6
Features
Adjustable torso length with open-air ventilated backpanel with moisture wicking mesh

Women's specific die-cut shoulder harness with sternum strap featuring an integrated safety whistle and hydration clip

Dual side stretch mesh pockets with pass-through for over or under compression

Adjustable attachment loop and upper shock lock for trekking poles or an ice axe.
Patagonia Nine Trails 26
Patagonia Nine Trails Overview: This daypack was made for hiking in the backcountry with a narrow, compact design. Its gaping U-shaped zipper is quite unique and opens the pack up wide so that you can easily stuff it with everything that you need to carry for a day hike. The hipbelt also has small exterior pockets so that you can easily access essentials. However, the only downside is that the narrow shape and skinny shoulder straps may not be completely comfortable on some taller women.
Specs:
Capacity: 26L

Weight: 2lb 0.6 oz

Hip belt: Yes

Rain cover: No

Frame: frameless

Pack access: Front

Number of external pockets: 3
Features
Lightweight yet durable CORDURA® nylon ripstop to endure years of use in the field

Three exterior stretch pockets 

Breathable mono-mesh back panel provides excellent airflow and prevents moisture buildup for all day comfort
Best budget women's backpack
REI Hydro 20
REI Hydro Overview: This comfortable pack is a great option under $100. It's a versatile women's daypack that can be used as either short day hikes or even commuting to work. It has a hydration sleeve for sliding in a camelbak reservoir or a small laptop or tablet, depending on your needs. It's hipbelt can also be removed if you prefer and the narrow design makes it a pretty stylish option too.
Specs:
Capacity: 20L

Weight: 1lb 11.4 oz

Hip belt: Yes

Rain cover: No

Frame: Internal frame

Pack access: Panel

Number of external pockets: 5
Features
Made with lightweight, abrasion-resistant, BPA- and PVC-free thermoplastic urethane and RF (radio-frequency) welded seams for durability and elasticity

Stretch-mesh, exterior side pockets hold water bottles or anything you need to get to quickly

External daisy-chain attachment points let you attach trekking poles and other gear to the outside of your pack

Hard-sided Quickload pocket for hydration reservoir 
Best stylish backpack for women
REI Co-op Trail 25
REI Co-op Trail Overview: This stylish daypack is a great addition for any trip. It's light and comfortable and all the internal and external pockets makes it perfect for organizing gear for either a day hike or as carry-on luggage. It has all the straps you'll need to keep it sturdy on your back, however, the hip belt is not padded which means it might not be the best option for long hikes. Still, the stylish canvas material and front design makes it the best daypack for fashionable yet practical women.
Specs:
Capacity: 25L

Weight: 1lb 15 oz

Hip belt: Yes

Rain cover: Yes

Frame: Internal frame

Pack access: Panel

Number of external pockets: 5
Features
Recycled oxford nylon bottom is highly abrasion-resistant

Side mesh pocket with elastic closure offers quick access

Pack has an inner sleeve and tube port for a hydration reservoir

Internal HDPE framesheet adds structure and helps shield your back from protruding gear
Best women's daypack for heavy loads
Deuter Trail 28
Deuter Trail Overview: This tough women's backpack is ideal for hikers and climbers who need a comfortable pack to carry all the right gear. The shape is designed to be more ergonomic to fit better on women's bodies and the harness is purposely built for heavier loads. The padding is thicker than most other options on this list and the hip belts are wider and sturdier. It has various compartments and pockets which also means that for long hikes you can organize all your items accordingly.
Specs:
Capacity: 28L

Weight: 2lb 9 oz

Hip belt: Yes

Rain cover: Yes

Frame: Internal frame

Pack access: Top and panel

Number of external pockets: 4
Features
Stretch pockets on the outside and front for storage

Hiking pole attachment and helmet holder

Air contact system on back panel for ventilation 
Best women's pack for backpacking and overnight hikes
Osprey Sirrus 36 
Osprey Sirrus Overview: This Osprey option is the best choice for longer backpacking adventures and overnight hikes. It's designed perfectly for comfort and fit on a woman's body with an adjustable suspension on the back panel and a contoured hip belt. The pack is made for comfortable hiking trips, with a sleeping bag compartment at the bottom and added straps for attaching sleeping mats and trekking poles. For something a little bigger, it also comes in a 50L option, which would be perfect for overnight hikes in winter.
Specs:
Capacity: 36L

Weight: 2lb 13 oz

Hip belt: Yes

Rain cover: Yes

Frame: Internal frame

Pack access: Top

Number of external pockets: 6
Features
Stow-on-the-Go trekking pole attachment

Internal hydration reservoir sleeve

Ventilated tensioned mesh back panel with added adjustability for variations in torso length to provide fine-tuned customization fit for every hiker
Conclusion
There are so many things to consider when choosing the right daypack for women. Now with most brands designing women-specific packs, it means that you can often find one with a more comfortable fit than the traditional men's or unisex varieties. Whether you're planning a serious day hike or just want something for your daily commute or carry-on luggage, there's a women's daypack that is perfect for you.
Related Posts