There's no reason to stop hiking when winter arrives. If you're prepared properly, hiking in winter can be an incredibly fun, beautiful and rewarding experience. The chance to encounter snowy landscapes, crisp air and quiet trails, means that winter is actually not a bad time to be outdoors.
However, the cold weather and harsh conditions present some additional considerations and challenges when compared to hiking in other seasons. So, here's a winter hiking gear guide so you can be fully prepared the next time you want to go for a hike in cold weather.
What you need to consider about winter hiking
Hiking in winter can be vastly different than hiking in other seasons. This is because the colder conditions mean that you need to consider different gear and clothing options, different food and hydration and the risks associated with hiking in freezing temperatures.
Food and hydration during winter
It's really important to maintain your energy levels and hydration in winter. It's easy to forget to keep drinking fluids when it's cold but it's just as important even if you don't feel thirsty. Your metabolism can also help keep your body warm, so it's important to continue eating throughout your hike to keep your energy and body temperature up. 
However, with the cold conditions of winter, there are also additional considerations you need to think about when it comes to food and water.
Consider an

insulation system

for your hydration reservoir. There are accessories you can purchase which insulate the tube on your reservoir, so it doesn't freeze up.

If you use

water bottles

, keep them inside your pack rather than on the pockets outside. 

If you're going for a day hike, take hot water in a

thermos

with you so you can drink warm water or make yourself some tea during your hike to keep warm.

Don't pack food that can freeze easily. Choose

snacks

like chocolate, energy bars and nuts which are harder to freeze.

Keep any food or water close to your back inside your pack. Your body heat will prevent things from freezing as quickly.
Winter hiking dangers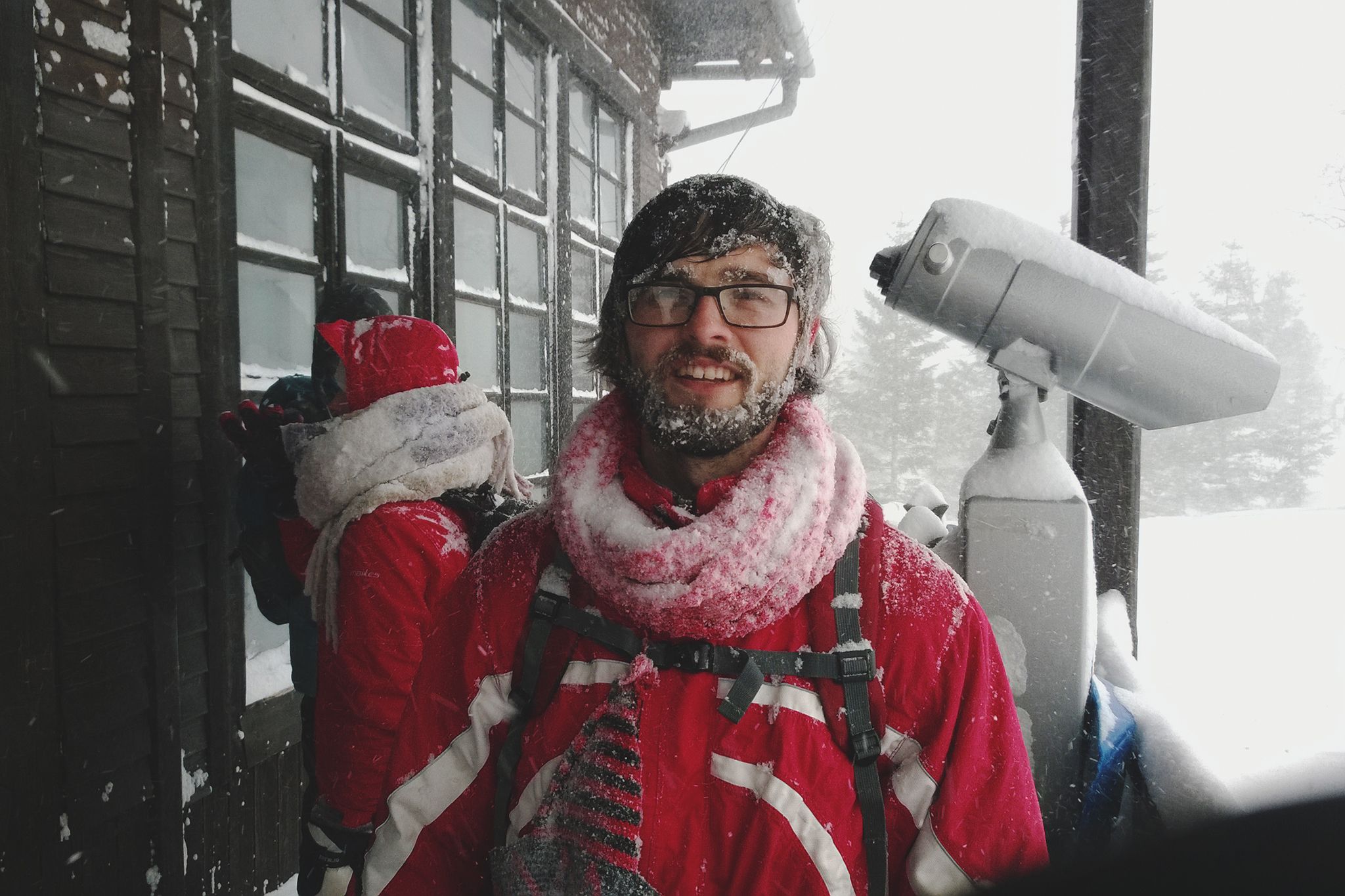 Hiking in winter poses a number of additional risks when compared to other seasons. It largely depends on where you're planning on hiking, but in general, the bitterly cold weather and harsh conditions mean that you should consider potential dangers associated with hiking in this season. 
The two main extreme dangers of winter hiking are frostbite and hypothermia. These conditions are both due to intense cold weather. Frostbite is the freezing of body tissue and is most common in fingers, toes and ears. It's not necessarily life threatening but it can result in permanent damage to the affected areas. 
Hypothermia is the consequence of your body temperature dropping too low. It can be life threatening, and you should take it seriously if the symptoms are present. 
Other risks of winter hiking are associated with inexperience in dealing with snow or ice. It's not uncommon to fall or get an injury from not being adequately prepared or experienced in hiking in snow or on icy trails. 
However, all of these risks can be minimised by knowing what gear to pack and understanding the conditions that you'll likely be facing.
Winter hiking gear and clothing
The best way to ensure that you have a safe and enjoyable winter hiking experience is to wear appropriate clothing and gear. Staying warm and dry is the main aim, while there is also additional gear that you can carry for safety reasons in snow and ice. 
When thinking about appropriate winter hiking clothing, it's important to understand the layering system. Layering is ideal for hiking because as you move on the trail and start to get warm, you'll likely want to remove some outer layers. It works especially well in winter, because if you stop moving or the temperature suddenly drops, it means you can add outer layers back on to keep your body heat in. 
A basic system works in three layers:
A base layer: thermal or insulating items that are moisture wicking to keep you warm and dry.

A mid-layer: an insulating layer used to keep you warm and usually made from wool or fleece. There are a range of options for mid-layers from pullovers to fleece jackets.

An outer layer or shell: a weatherproof layer designed to keep you dry from the elements.
In addition to layering your clothing, there are some other things you need to consider when thinking about winter hiking gear and clothing:
Cover up from head to toe

– any skin exposed to the cold air is going to reduce your body temperature so it's important to think about covering everything including your hands and head.

Don't wear cotton

– cotton is the most inappropriate fabric for winter hiking clothes. It stays wet for long periods of time and has no insulating effect. A natural wool like merino or a synthetic blend is best.

Think about sun protection

– although you might not consider sun protection in winter, it's very important, especially if you're hiking in snow. The sun rays can reflect off snow and ice and cause damaging sunburn.

Research trail and weather conditions

– finding out what kinds of conditions you'll face on the trail is important no matter what season. However, in winter it's especially important to consider whether you'll come across any snow or ice. This will impact what kind of additional winter hiking gear you need to pack such as crampons or gaiters. 
Winter hiking clothing checklist
1. Footwear
High quality, waterproof hiking footwear is one of the most important items you should own if you plan on hiking in winter. If you expect to encounter snow on your hikes, then you should also consider insulated boots. There are insulated boots for both above and below treeline adventures, with above tree line adventures requiring more heavy-duty mountaineering boots.
2. Pants
When it comes to winter hiking pants, you generally have two main options. Softshell pants are more breathable, flexible and can be water-resistant. However, they won't stand up to intense wind or heavy rainfall. This is where you might want to consider hardshell pants which are water and windproof. Most people who hike in winter invest in both options and often put hardshell pants over the top of other hiking pants when conditions turn bad.
It can be difficult to choose the right hiking pants for winter, with so many criteria and features to consider. You can read more about the best winter hiking pants here.
3. Gloves
Gloves are especially important in freezing temperatures. Blood circulation in your hands can drop in cold weather and frostbite can be a real threat. It's best to have two pairs of gloves. One pair is used as a base layer for warmth and insulation, while another pair should be more like a waterproof shell or mittens for when you encounter heavy rain or wind. 
4. Hat
A wool hat or beanie is a winter hiking clothing essential. You can lose a lot of heat through your head and so to keep your body temperature up you should wear a wool or fleece hat. There are a range of different weights of beanies or hats for winter and it depends on how cold the temperatures will be where you're hiking.
5. Jacket
Your outer layer while hiking should be a jacket. The best jacket for winter hiking is an insulated down jacket. Down jackets are great for keeping you warm and trapping your body heat inside. There are a range of different downs to choose from, similar to sleeping bag ratings and it depends on the temperatures you will be expecting. 
You will also want to carry an outer shell jacket that is wind and waterproof. These generally don't offer a whole lot of warmth or insulation like a down jacket, but they can protect you from the winter elements and keep you dry which is ultimately important for staying warm too.
6. Thermal clothing
Thermals or base layers are designed to keep you dry and warm. They are generally not too thick but sit next to the skin and made from synthetic blends or merino wool to wick moisture away. Most brands have speciality thermals or base layers made for hiking purposes. You would need both upper body and lower body clothes.
7. Socks
Socks for winter hiking are usually more heavy-duty and made from a wool blend. This can come down to personal preference but it's important that your feet are warm and comfortable to prevent blisters and to maintain blood circulation. 
8. Scarve
Scarves are a great addition to your hiking gear in winter but depending on their style, they can be slightly annoying. If you find regular scarves irritating while hiking, you can opt instead for a buff or neck warmer similar to a balaclava, which will at least keep your neck covered and your body heat in. 
9. Glasses or goggles
Although sun protection might be the last thing that you think about on cold days, it's still really important. If you're going to encounter any snow or ice on the trail, then glare off the surface can be a real problem. You should carry sunglasses with you, ideally polarised ones, which prevent glare from affecting your eyes.
10. Gaiters (optional)
Wearing high gaiters in winter can help prevent snow from getting into your hiking boots. They can also add an additional layer of insulation onto your lower legs. However, they're not an essential and are up to personal preference.
11. Snowshoes (optional)
If you're heading into territory that is covered in snow, then you might need snowshoes. Snowshoes increase the surface area of your shoes which allows you to walk on snow without sinking through it. 
12. Shoe spikes/crampons (optional)
If you're heading above the tree line and expecting to encounter rock and ice, then shoe spikes or crampons might be another additional piece of gear you will need. There are a range of different types of crampons like microspikes and it really depends on what kind of terrain and conditions you will be expecting. 
Winter hiking gear checklist
1. Daypack/backpack
You will need to carry a hiking daypack for winter, as you do in any other season. The size and features of your daypack will depend on how demanding your trek will be, however, in winter, it's generally better to have a larger size of 30L or more to carry all the additional winter gear. You can read more about how to choose the right daypack. 
2. Food and water
It's important to carry enough food and water while you're hiking. You should consider what kinds of food will be best for cold conditions, such as snacks that won't freeze. You should also carry water either in a hydration reservoir or drink bottles, depending on your preference.
3. Thermos
Carrying a thermos is a great idea for winter hiking. This will enable you to drink warm water throughout your hike or even make yourself a cup of tea to warm yourself up.
4. Headlamp
With shorter daylight hours in winter, you can sometimes run the risk of finishing or starting your hike in the dark. You should carry a head torch with you so that you'll be able to safely navigate the trail with less natural light. 
5. Emergency blanket and fire starter
An emergency blanket and fire starter are safety essentials for hiking in any season. However, it can be especially important for winter because they will help you stay warm if something bad was to happen on the trail.
6. Satellite phone or PLB
Another safety essential is a satellite phone or personal location beacon (PLB). These devices can call for rescue in an emergency. They are especially important for hikers who head to remote backcountry areas or somewhere that doesn't have a strong regular phone network.
7. Map/compass
A map and compass are important navigation tools that you should carry with you no matter the season. It might be in addition to a GPS or your phone, but it's always important to carry a backup navigation system in case your technology fails or battery runs out.
8. First aid kit
A first aid kit is one of the most important hiking essentials. You can purchase a fully stocked kit or build your own with bandages, medical tape, antiseptic, pain relief pills, sterile gauze pads and adhesive plasters.
Conclusion
If you prepare yourself properly and wear all the right gear, then winter hiking can be fun and enjoyable. Once you've considered what kind of weather and trail conditions you'll be encountering, you'll be able to plan the right clothing and items. This gear list has outlined all the essentials for winter hiking to help you make sure you're properly prepared for your next winter hike. 
Related posts