Trek to Mount Roraima is probably one of the best hikes in South America.  During the hike, you will pass through beautiful savannahs and rivers before reaching a strenuous climb to the top of Mount Roraima. Culminating in stunning views of the valleys below, unique to mountain ecosystems and waterfalls that few places can compete with.  
Best Time To Visit Mount Roraima
The best time to visit is during the dry season which starts at the end of November and finishes in April. However, it doesn't mean it won't rain during your hike. It's a tropical place. 
If you decide to hike outside the dry season, you will be risking heavy rains and perilous river crossings. 
---
USA government travel advisory for Venezuela is set to Level 4: Do Not Travel. Do not travel to Venezuela due to crime, civil unrest, poor health infrastructure, kidnapping, and arbitrary arrest and detention of U.S. citizens.
---
Getting In Getting Out
The only way to climb Mount Roraima (apart from a few technical rock climbing options) is from the Venezuelan side near Paraitepui village which is based in Canaima National Park.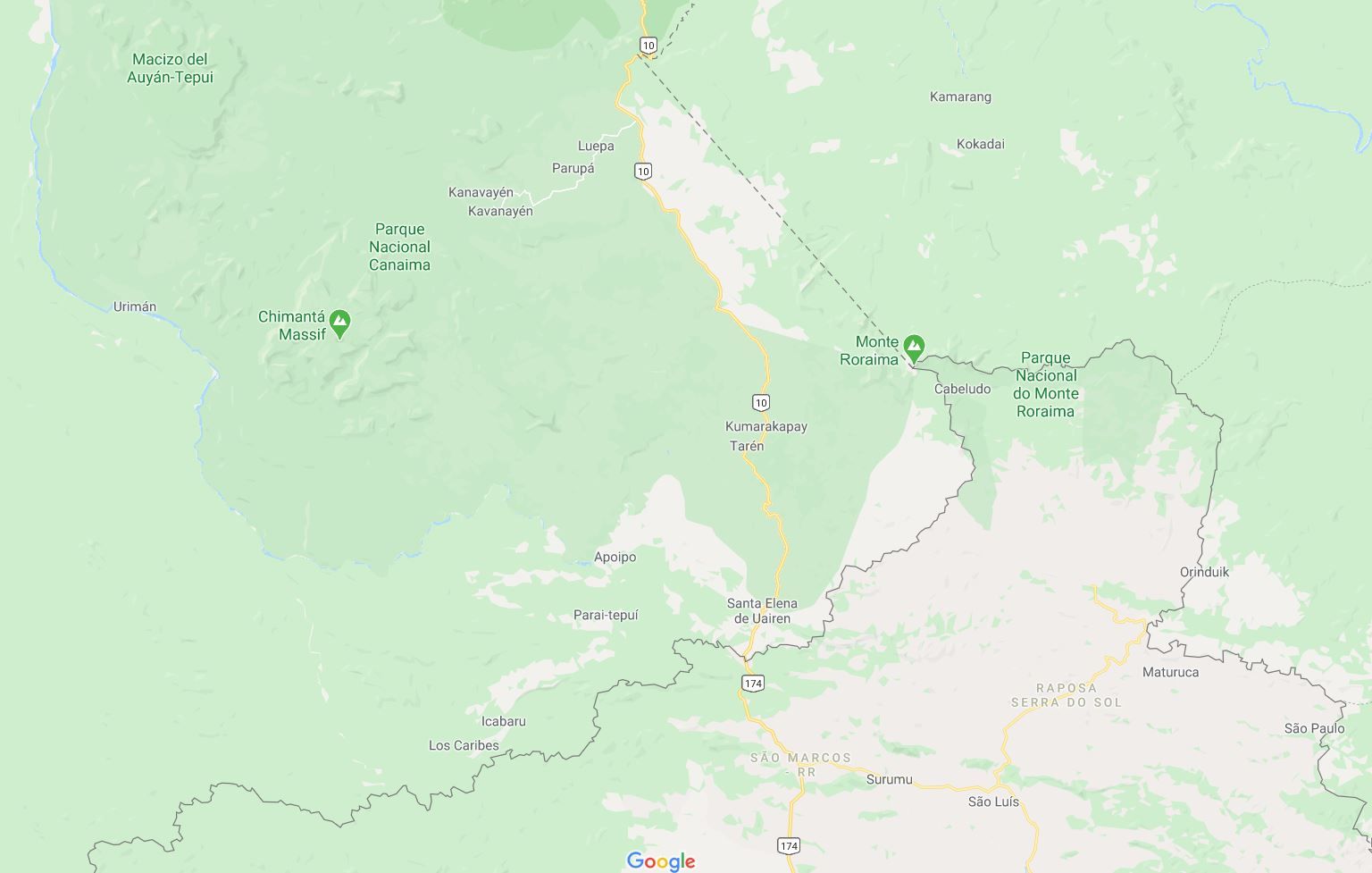 To get here, there are a few options:
If you fly into Venezuela there are direct busses (

you can check bus schedules here

) from cities in Ven Caracas, Ciudad Bolivar, or Ciudad Guyana to Santa Elena de Uairen and ask to stop at Kumarakapay village (do it before you buy the ticket). From there walk to Paraitepui village

Fly to Santa Elena in Venezuela and take a bus to Guayana city (

you can check bus schedules here

) and ask to stop at Kumarakapay (do it before you buy the ticket). From there walk to Paraitepui village

Hire a tour company such as

Roraima Adventures

,

Wild Frontiers

or any other that can arrange safe transportation from Brazil for you. Currently the safest option with the current situation in Venezuela 
Note: keep in mind that online bus schedules may not be up to date (not all of the buses or times will be listed). You will get most accurate information at the location.
Things To Consider
The current tense economic and political situation in

Venezuela

and the insecurity it brings

Going solo – if you decide to go solo, you have to understand that it's illegal to do it. Thus I strongly advise going either with a tour company or hire local guides and porters at

Paraitepui

village. 

Going with a local indigenous guide – if you decide to go with the local indigenous guide you will have to source him yourself at the Paraitepui village. You need a guide for three main reasons. One hiking without it is illegal, two the top of the mountain is like a maze without a guide it's very easy to get lost. And to climb without exploring the

top of the mountain

is just a waste of time. Three you would need a porter to carry a portable toilet. Since to do number 2 you either need to carry a toilet with you or take all the poop with you in a bag. You can't leave it there.  As a final note if you decide to go

trekking

with a local indigenous guide you have to consider that you will have to carry food for at least 5 – 8 days and all the gear by yourself.

Going with a tour agency – If you decide to go with a tour agency that offers

Roraima trek

it solves for you all the above problems. Plus ensures the transportation in and out of the mountain and can help with any other issues you might have. If you will be using the agency that is based in

Brazil

, they might have connections to ensure safe passage in

Venezuela

. 
What To Bring
There are quite a few things to bring. Either fly it in or buy it in Brazil. You won't be able to find anything in 2020 in Venezuela. 
Trail Map

To get to the top of the mountain there is only one route. You won't need a map for it if you will be going with a tour company or a guide, but it's always good to be prepared. I have created a trail map leading to the top of Mount Roraima. Check it and analyze it. 
Hiking Key Information
Length: 5-6 days

Difficulty: moderate/strenuous – steep, humid, and rainy

Best months: November to April

Bring: water filter – the main water source will be wild streams

Independent climbs are not permitted. A guide is mandatory

Travel insurance
Mount Roraima Hiking Stages
Stage 1 – Paraitepyu To Tek River Camp (13,5KM) 
The trail starts at the Paraitepui village. It's an easy hike on a dry flat Savannah. For most of the hike, it will be sunny with no shade to hide under. It will take no longer than 4 hours to walk to the campsite. 
There are two campsites, I would suggest staying at the second one, near the river. It's more enjoyable and better for cooling down.
Stage 2 – Tek River Camp To Base Camp Under Mount Roraima (10 KM)
The trail will be slightly steeper compared to the first stage. If you are lucky and the season will be dry, you will have quite an easy crossing of two rivers. 
After the two river crossing, you will reach a basecamp right under the cliffs of Mount Roraima. With the possibility to enjoy a natural shower under the nearby waterfall. 
Stage 3 – Basecamp To Roraima Summit (5.5KM)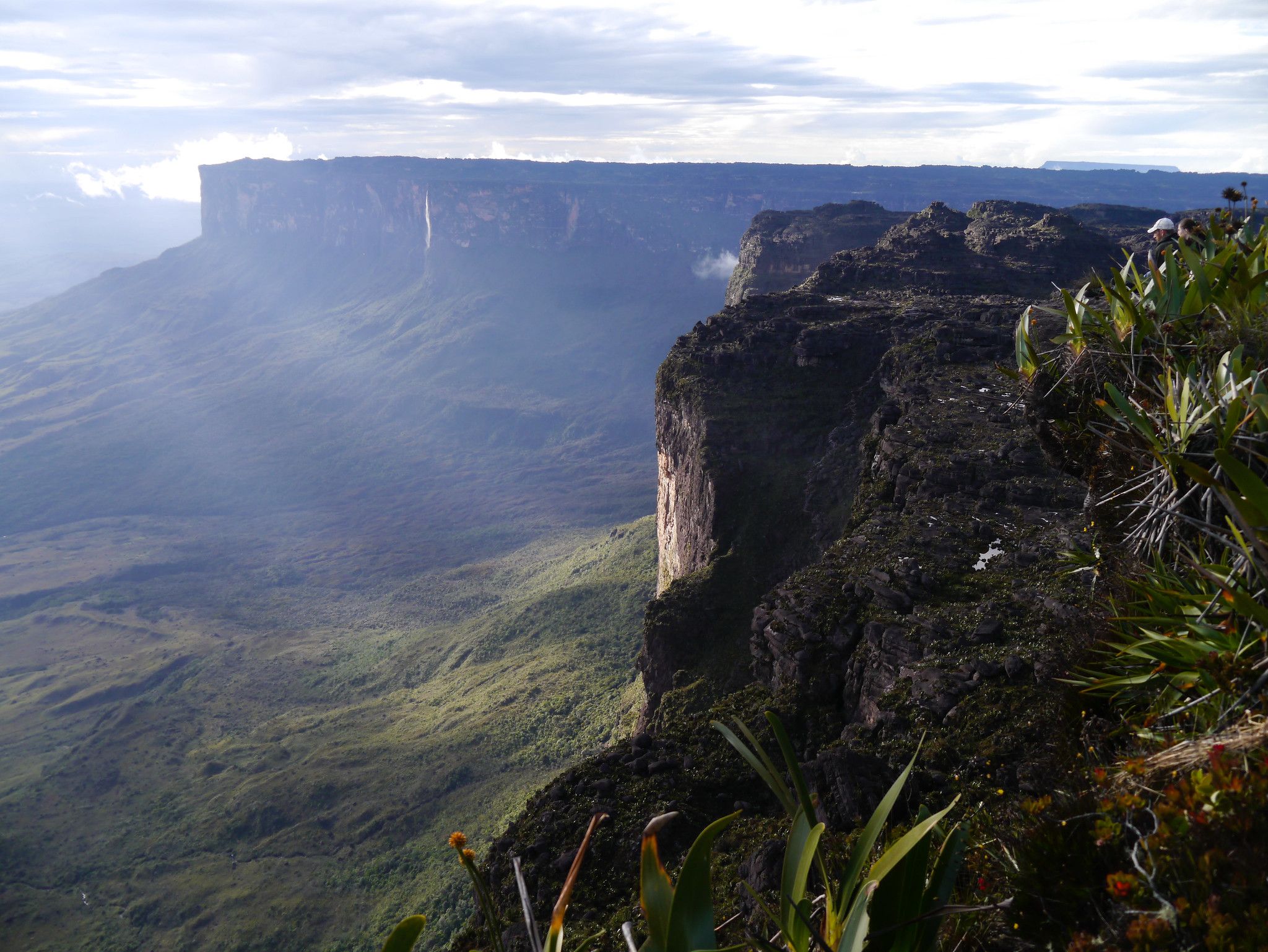 The most difficult stage. With a total ascent of around 1000m and a steep climb up Mount Roraima.  The trail follows a natural ramp along the Roraima's cliffside from right to left through the lush and humid jungle. 
Once you reach the top of the mountain the campsite will be in one of the caves named "hotel".
Stage 4 – Exploring The Roraima Summit
It is a day of relaxation and eye-popping views. If you have time and would like to enjoy the magical views that only Roraima can offer, you can spend at least 3 days exploring the top.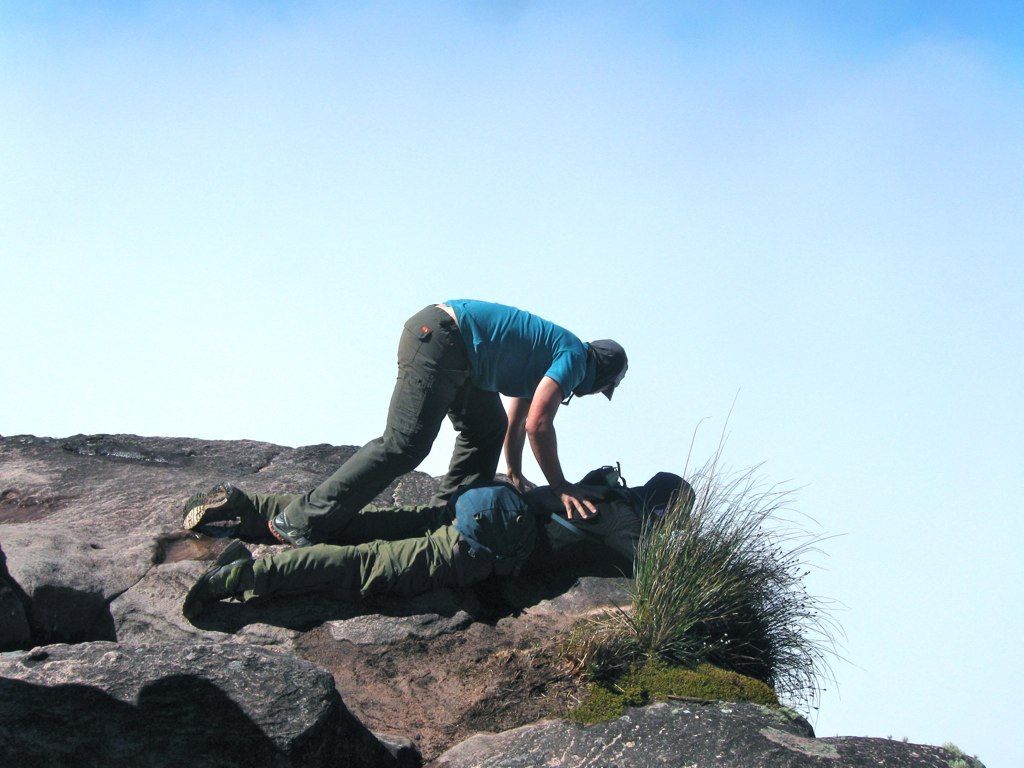 Some of the highlights are the valley of crystals,  angel falls, rock formations and flora that only grows here.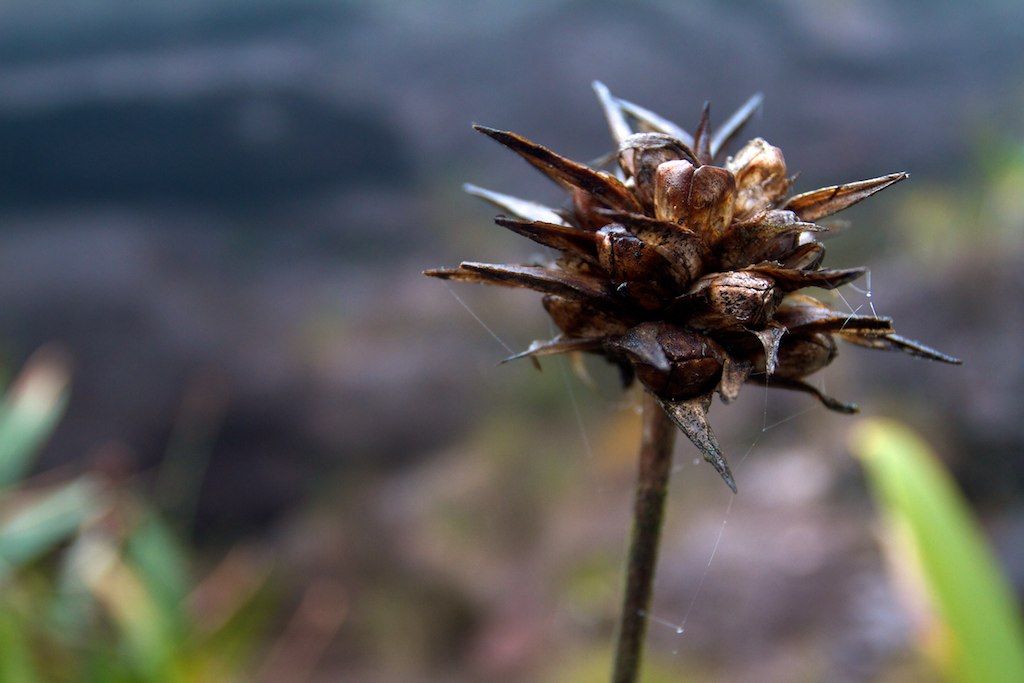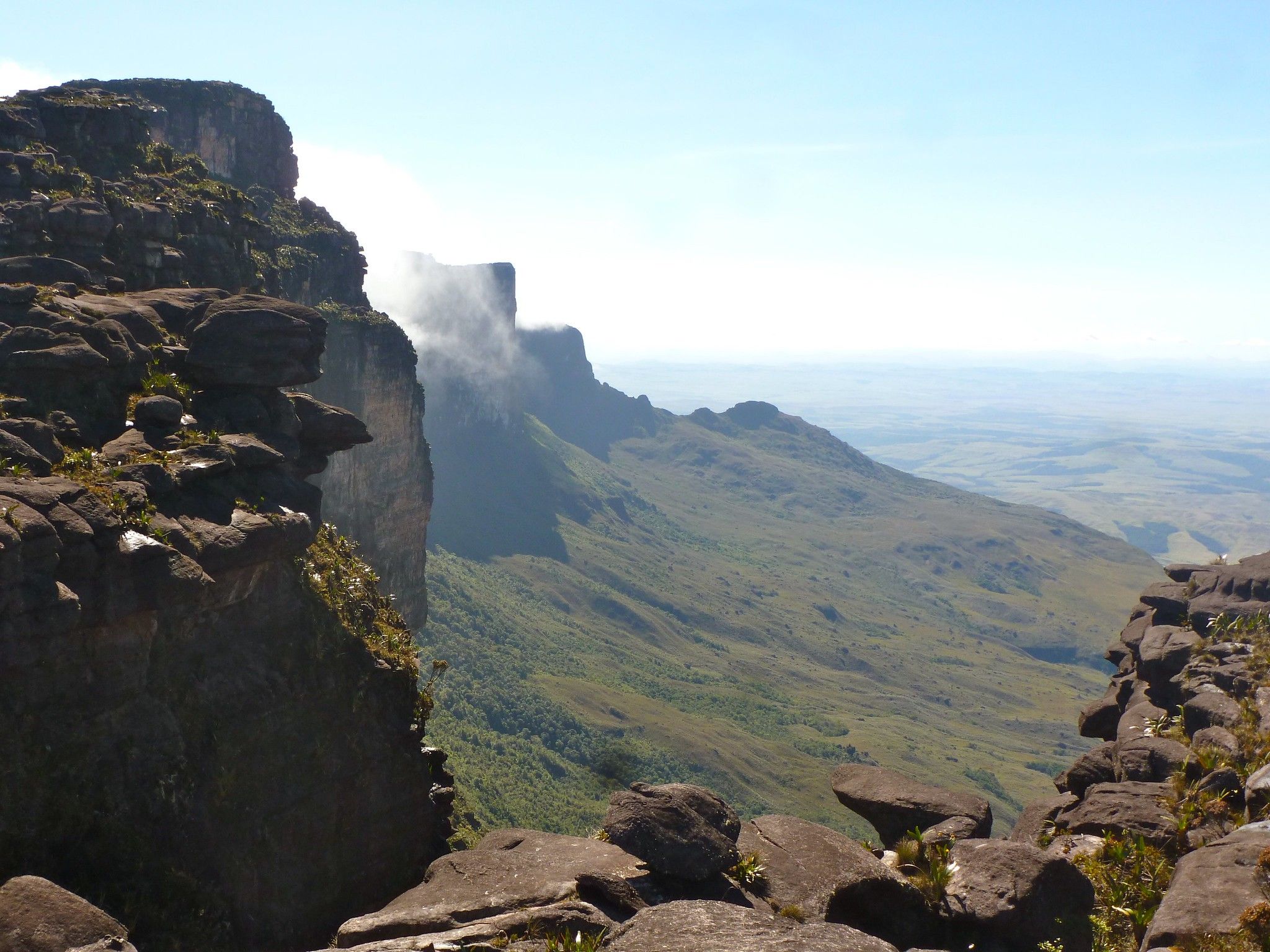 Stage 5 – Summit To Tek River Camp (16km)
It is a long day. A total of 16km will be walked. The most difficult part will be getting down from the mountain to the basecamp. The rest is an easy walk, with a river waiting to swim in. 
Stage 6 – Tek River Camp to Paraitepuy (13.5km) 
A light hike through the savannah leaving Mount Roraima in the back. The only nuance is the sun, otherwise a pleasant hike. 
Conclusion
Mount Roraima hike is one of the most beautiful hikes in South America. Few people ever do it but the reward it gives the climber is simply spectacular. If you are ever in the region to skip this trek would be simply sacrilegious.