If you're heading out for any outdoor activity of more than a couple of hours, then you'll likely want to carry a few things with you such as a water bottle, warm clothing, food and even a first aid kit. Most people opt to use a daypack, rather than trying to carry everything that you need in your hands and pockets.
However, daypacks come in a range of different sizes and styles with different features and knowing how to choose the right one is important.  
A good daypack can make your hike more enjoyable, while a badly fitted or wrong sized daypack can be frustrating and uncomfortable. This guide will help you choose the right daypack for your next hike.
Daypack vs backpack: what is the difference
If you've ever been into your local outdoor gear store, then you've likely stood at the hiking section with all the different sizes and colors of backpacks and wondered, what's the difference?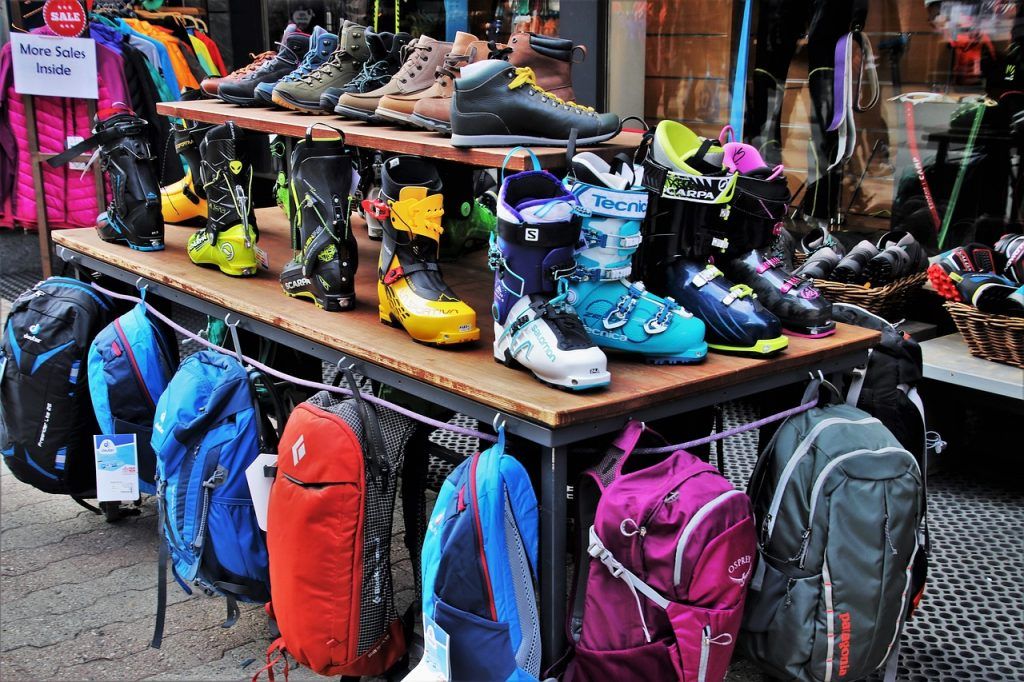 A backpack is a generic term for any bag that is carried on your back. It is usually a frameless sack that is secured over your shoulders with two straps. However, backpacks can vary in shape, size, type and form depending on the purpose is of the bag.
A daypack is generally considered to be a small backpack that is used mostly for day trips. They are usually from around 20 to 50 liters which is enough to carry a few essentials for a day spent in the outdoors. They also have some unique features that not all backpacks have that make them great for different day trip activities. 
Daypacks tend to be lightweight with no internal frame against the back panel, which you're more likely to see on larger backpacks for overnight trips. The main compartment is also usually accessed from the top, which is known as top-loading, with a few side pockets as well. However, daypacks are constantly changing in design and there are greater demands for different types and styles depending on what you intend to use it for. It's important to know exactly what you're going to be using the daypack for before you head out to purchase one.
Different types of daypacks
There are daypacks for all different outdoor activities from hiking to rock climbing to cycling and snow sports. Depending on which activity you're more likely to do, daypacks can have slightly different features.
Hiking daypack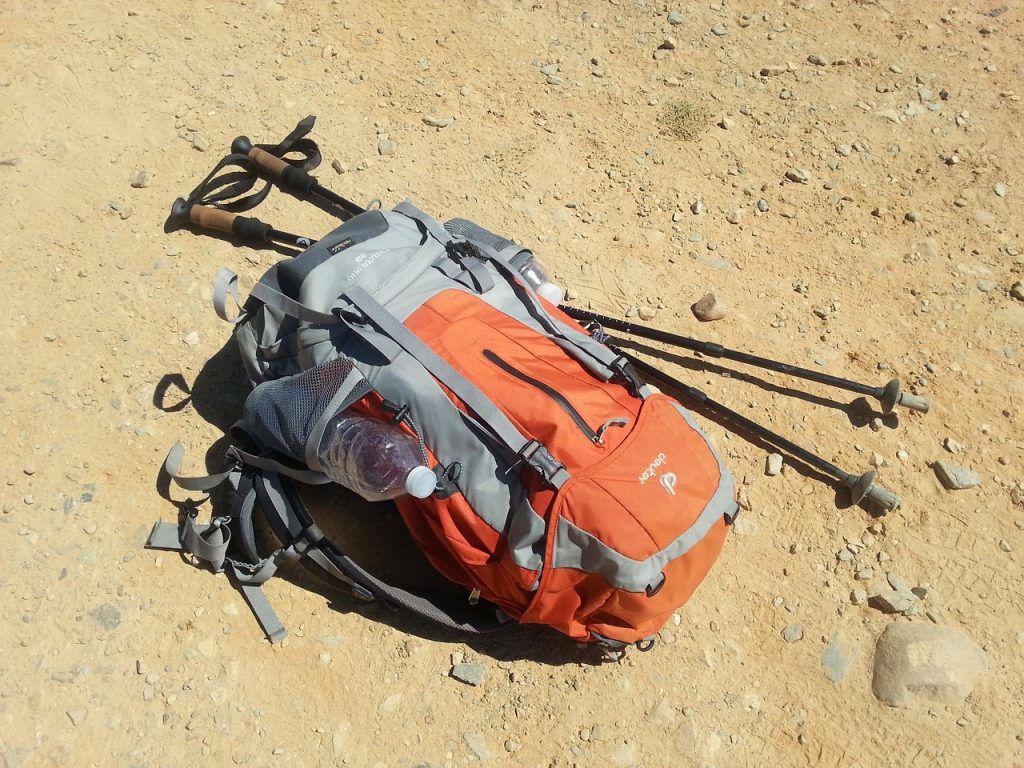 You can choose from many different shapes for a hiking daypack. Although, most packs dedicated for hiking tend to have water bottle pockets and hydration reservoirs. Hiking packs also usually allow for different adjustments such as in the shoulder straps and sternum strap, to have a more comfortable fit.
Daypacks for hiking can range in different capacities depending on the conditions you'll be hiking in and what you need or want to carry. 
Running daypack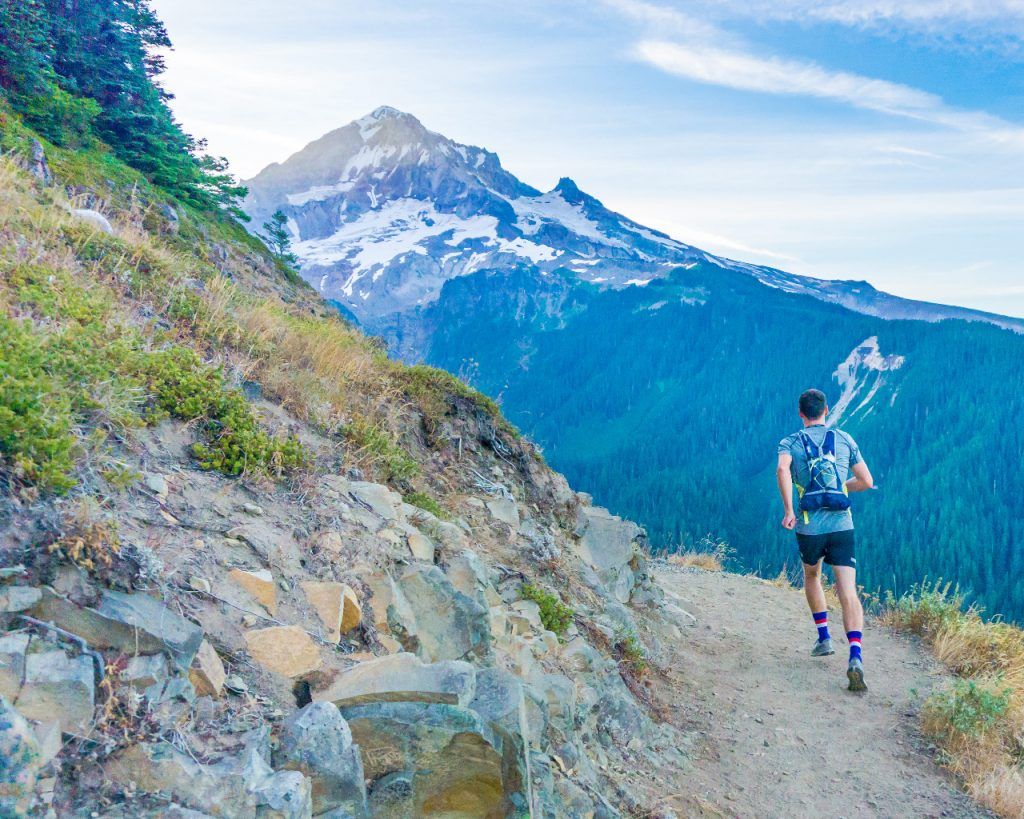 Daypacks for running tend to be on the smaller and lighter end of the scale. They also limit the movement of the pack with a more fitted and tighter structure. Running daypacks are more like hydration packs and have easy to access pockets.
Climbing daypack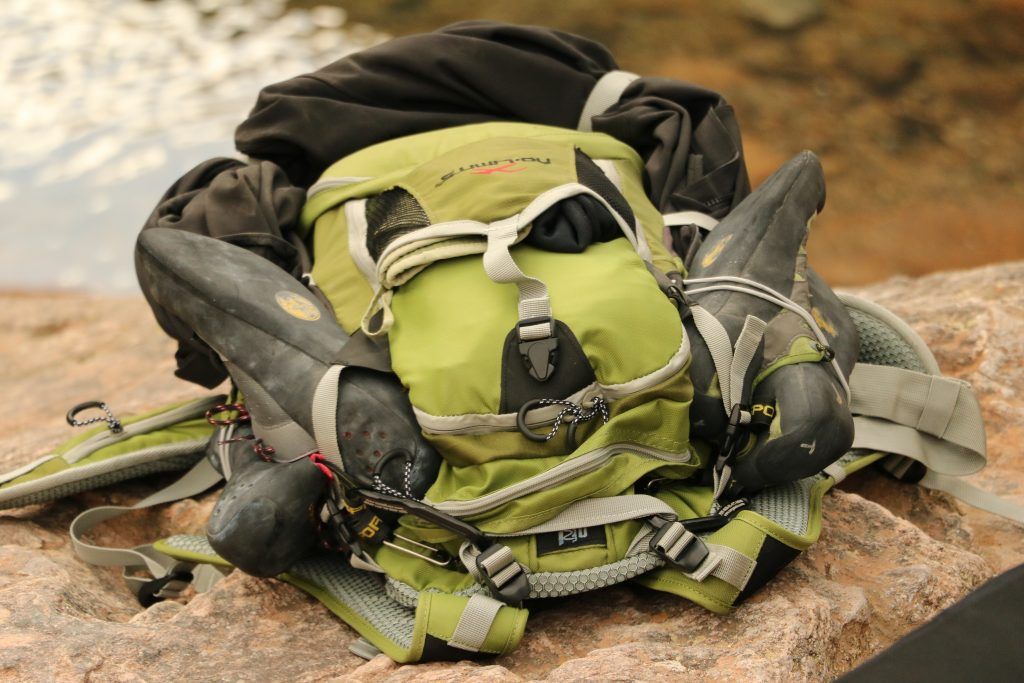 Daypacks for climbing are better if they have a narrower design made from tougher materials to reduce abrasion damage. Some climbing daypacks have a more structured frame with a hip belt to center more weight on your hips. They can also have specific features like ice axe loop and daisy chain loops for climbing gear.
Cycling daypack
Cycling daypacks tend to be compact and lightweight so as not to interfere with your riding. They also have space with hydration reservoirs like for hiking, but they tend to focus more on sternum straps than hip belts for comfort when riding.
Snowsports daypacks
Daypacks for skiing and snowboarding tend to be more like climbing backpacks with a narrow and tight-fitting design to ensure it doesn't hinder your movements. Most daypacks for snow activities also have attachments for skis and boards as well. 
Packable daypack
A packable daypack is one that folds into a small pouch or its own pocket. They are usually less rigid and have more basic features than an ordinary backpack, but their compact, pocket-sized feature means that you can take it with you almost anywhere. They are best for light hikes and traveling when you don't have a lot of luggage space. You can read our guide about best packable daypacks and how to choose one.
Women-specific daypacks
Brands have come to realize that women often require a more tailored fit and design for daypacks to be more comfortable. This means that as well as standard unisex styles, there are women-specific backpacks that have different shapes and features suited specifically for women's bodies. You can check out our guide to the best women's daypacks and why you need one. 
Daypacks for camping and backpacking
As soon as you consider taking a pack for camping or anything that requires a heavier load, a daypack can be limiting and even uncomfortable. Once you need to carry more than 20 pounds, you really should consider a backpack that has a more structured frame and perhaps more padding in the straps, as these things are not always featured on regular daypacks. 
Packs for camping or multiday hikes tend to be more than 50L and able to carry heavier loads.
Day pack sizes and capacities
Sizes and capacities of daypacks range from less than 10L and up to 50L. This really depends on what activity you're doing and how much you need to carry.
How is backpack size and capacity measured?
Backpack capacity is measured in liters as this tends to tell you how much you'll be able to fit inside when it's well packed. The dimensions and measurements of a pack are less important, simply because it is the capacity or volume of the main compartment and pockets that are most useful when determining which backpack you'll need. In saying that, dimensions and shape of a backpack may become a consideration for activities like climbing when a narrow and taller pack is better.
Small daypacks (10-20L)
Small packs up to 10L tend to be for cycling or running with just enough room for water, snacks and a light jacket.
A pack between 10 and 20 liters can be purposed for any activity that requires not a lot of gear, such as day hiking in summer months. They tend to have more pockets to fit in extra items.
Medium sized daypacks (20-35L)
This is the ideal daypack size for most activities. This allows enough capacity to carry all the essentials as well as some extras like a camera, warmer gear and a first aid kit. They are the perfect all-round daypack for multiple seasons and uses.
Large daypacks (35-50L)
Larger daypacks over 35 liters are for heavier loads or longer excursions that require more gear. They can be good for winter day hikes when you need extra warm clothing or for climbing or mountaineering equipment.
If you have ultralight camping equipment, you might be able to turn this daypack into a camping or overnight pack, depending on how minimal you can pack and whether you have a small sleeping bag.
Important considerations when choosing a daypack
Type of activity or hike
The type of activity you will be doing will influence your decision on which daypack to choose. For hiking, you need to look for space for water bottles and hydration reservoirs as well as straps for distributing weight across your back. 
For other activities like cycling and running, you'll want to make sure the daypack is more fitted and won't move around too much to affect your movement. 
Size and capacity
The size, shape and capacity of a daypack is one of the most important things to consider when choosing a daypack. This really depends on what activity you're doing and how much you need to carry. A medium-size pack between 20 and 35 liters is generally pretty standard for a daypack. 
Straps
Daypacks tend to have a few different straps. They are important for weight distribution and comfort. Sternum straps allow you to connect your shoulder straps across your chest. This can help with stability and balance and release even more pressure off your shoulders.
Some daypacks, especially the larger sizes over 35L, have hip belts as well. They help distribute the load evenly across your back and put more weight on your hips which alleviates the pressure on your neck and shoulders. This is especially important if you're carrying heavy loads.
You also might want to consider how much padding the straps have, especially the shoulder straps. Many of the smaller daypacks tend not to have much padding, which can affect how comfortable the backpack is.
Fit
Many backpacks have different fit options depending on your personal torso length. Some brands like Osprey offer multiple sizes of the same type of backpack to fit different people. Usually this means there is adjustable suspension to fit your torso, although this tends to be for larger packs.
There are also gender-specific fits for many backpacks. Torso dimensions for women are generally shorter and narrower making for different sized frames in mind. Female backpacks also tend to have different hip belts and shoulder straps which are contoured for female bodies.
It's important to fit and size a backpack properly before hitting the trails.
Pockets
Pockets tend to be a personal preference and you'll find different brands often have different ideas about the ideal pocket placement and space. It's common for most daypacks to have a top access point for the main compartment and then smaller exterior pockets on the front with water bottle pockets on the side. A growing popular feature is pockets on the hip belt, which is a great idea to stash small things like tissues or lip balm. One of the most important things to consider with pockets is easy access.
Recommended daypacks for day hikes
Patagonia Nine Trails 28
Patagonia Nine Trails 28 has a reputation as one of the best and most environmentally and socially responsible brands on the market. If this appeals to you, then their Nine Trails 28 daypack is perfect for your next adventure. It's a stylish backpack that is also very durable, made with nylon ripstop material that is finished with a water repellent so you can use it in any weather and terrain.
Specs
Weight: 2 lbs 3.3 oz

Pockets: 4

Volume: 28 L

Hip Belt: Yes

Raincover: NO
Features
Front extended U-shaped zipper allows easy access to the main compartment

Roomy front exterior stretch pocket for stashing bulky items 

Side compression straps for balancing the load on your back

Super breathable mono-mesh back panel provides airflow and prevents moisture build-up

Made from durable CORDURA nylon ripstop treated with a DWR (durable water repellent) finish
Deuter Speed Lite 20
Deuter Speed Lite 20 is a good all-round option for light summer hikes. It's very versatile with water bottle pockets and light, breathable material. The waist belt is thin so you wouldn't want to carry anything heavy but it's a good, lightweight option.
Specs
Weight: 1 lbs 0.8 oz

Pockets: 4

Volume: 20 L

Hip Belt: Yes

Raincover: No
Features
Compatible with all Deuter drinking systems up to a volume of 3 liters.

Elasticated inner compartment for storing wet/sweaty clothing, water reservoir, etc.

Durable Water Repellency (DWR) coating that is safe for health and environmentally friendly and completely PFC-free. This special surface treatment causes water to roll off the outside of the textiles. This keeps the material dry and nature clean.
Osprey Talon 22
Osprey Talon 22  is one of the most popular and best hiking daypacks on the market. It's a nice fitted shape with an adjustable torso length and a mesh hip belt. There are plenty of pockets and room for a hydration bladder. 
Specs
Weight: 1 lbs 7.6 oz

Pockets: 7

Volume: 22 L

Hip Belt: Yes

Raincover: No
Features
Adjustable torso length

External hydration access

Seamless lumbar to hipbelt body wrap

AirScape™ mesh covered accordion foam backpanel for comfort and fit
Osprey Stratos 36
Osprey Stratos 36 is one of Ospreys best daypacks for longer hikes or winter excursions which require more gear. It has plenty of pockets, including ones on the hip belt and a bottom hatch to get into the main compartment different ways. It can be used for many activities too with an ice axe loop, rain cover and trekking pole holder.
Specs
Weight: 3 lbs 3 oz

Pockets: 9

Volume: 36 L

Hip Belt: Yes

Raincover: Yes
Features
Adjustable AirSpeed™ ventilated trampoline suspended mesh backpanel

Internal hydration sleeve

Adjustable torso length

Removable sleeping pad straps
REI Co-op Traverse 35
Rei Co-op Traverse 35 is similar to the Osprey Stratos, this pack is for longer days and winter hikes. It can be used across different climates and conditions with good ventilation and a rain cover to keep it waterproof. It also comes in a women's fit.
Specs
Weight: 3 lbs 2 oz

Pockets: 8

Volume: 35 L

Hip Belt: Yes

Raincover: Yes
Features
3D contoured hipbelt with sculpted foam padding hugs your body for a perfect fit and all-day comfort

REI UpLift™ Compression technology pulls the pack load up and in, closer to your center of gravity, to improve your balance and stability

Hydration compatible (reservoir sold separately) with tube holder on shoulder strap

Back panel offers the lumbar support of a traditional back panel with the breathability of a trampoline back panel
REI Flash 45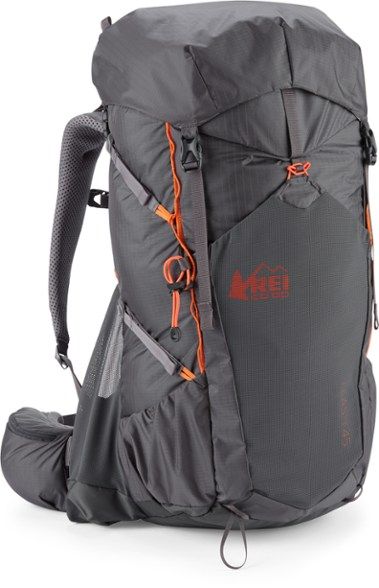 REI Flash 45 is a compact hiking daypack, perfect for heavy loads, with a comfortable upper limit of 30 pounds. Water bottle pockets are close enough so you can reach them without removing the pack and there are side pockets for storing handy small items. It also has a removable top lid which can take nearly 6 liters off the capacity. If you pack light, you might even be able to use it as an overnight pack.
Specs
Weight: 2 lbs 8,5 oz

Pockets: 8

Volume: 45 L

Hip Belt: Yes

Raincover: Yes
Features
For a tight load and good balance, Packmod compression straps (included) can be run from any loop to any other loop, so you can sculpt your pack to the shape of your load

3D contoured hipbelt and ventilated back panel are comfortable all day with a load of 15-30 lbs.

Top lid is a removable, 5.75-liter pocket
Conclusion
A daypack is an essential component for any outdoor activity. Knowing what to look for and how to choose a daypack is important. Understanding what you're going to use the daypack for and what kind of fit, size and features you might need will help you decide which is the best daypack for you.
Editor's note: This post was originally published in 2020. I have now updated the article with new daypack models for 2021 and some additional tips.