If one day you will be passing through South Dakota and will be looking for a spot to enjoy some great hikes. Even if it's for a day or two. Badlands National Park is a must. It has very little visitors because of its remote location. It contains beautiful contrasting views between the Great Plains and the Badlands. It has fossils of prehistoric animals, legends, geological formations, and solitude so intense that few can handle it. 
There is plenty of wildlife in the Badlands National Park. From coyotes, mountain goats, to prairie dogs, bison and many more. 
It's located 1 hour and 30 minutes away from Mount Rushmore. Anyone who is visiting Mount Rushmore shouldn't miss on this openly hidden secret.
General Information About The Badlands National Park
Open 24 hours 7 days a week

The National Park has 2 visitor centers Ben Reifel Visitor Center and White River Visitor Center

Ben Reifel Visitor Center is open all year long.

White River Visitor Center is open during summer

For private vehicles, the entrance fee is $30 (covers entry of private vehicle + occupants for 7 days)

For individual hikers, the entrance fee is $15 (covers entry for 7 days)

For motorcycles, the entrance fee is $25 (covers entry of motorcycle + occupants for 7 days)

GPS location of the park 43.748110671963, -101.945786522360

Badlands' climate is extreme. If you come in the summer be prepared for temperatures up to 110F with no shade on the trails

There is only one restaurant in the park. Consider that before packing your food

Two main campgrounds of the park are Cedar Pass and Sage Creek.

Cedar Pass campground is open from April 1st to October 15th 2020 (off-season camping is available).

Reservations can be done online

or via phone. Campground is paid but has more amenities.

Sage Creek is open throughout the year, no reservations are available and is free of charge (however, no water is available).
Getting In / Getting Out 
You can only get to the park by car. 
I-90 road provides easy access to the Badlands loop road, the main road through the park. 
Enjoy this scenic drive, it's as beautiful as the walk in the park.  
The drive leads you through a mixed landscape of grasslands and the badlands. Along the way, there are multiple pullouts to stop and enjoy the Badlands wilderness. 
While driving keep your eyes open for potential sightings of a lone bison, a dear or a bighorn sheep. 
For those that will be using GPS to get in, here are the coordinates – Latitude: 43.748110671963 – Longitude: -101.945786522360.
Mandatory Gear For A Hike in Badlands National Park
It'll vary depending on the season you arrive but the core will be the same.
A day pack

A hat

Sturdy hiking shoes or trail runners with good ankle support. The trail is uneven and can be slippery if it rained.

Food (snacks, sandwiches)

Bring at least a gallon for a day's hike

Sunglasses

Hiking pants and long hiking shirt to avoid getting sunburned

Optional warm fleece if you arrive early in the morning or/and leave late in the night

Optional rain gear if you plan to explore the park for more than a day
The must-do hiking trails in Badlands National Park
Notch Trail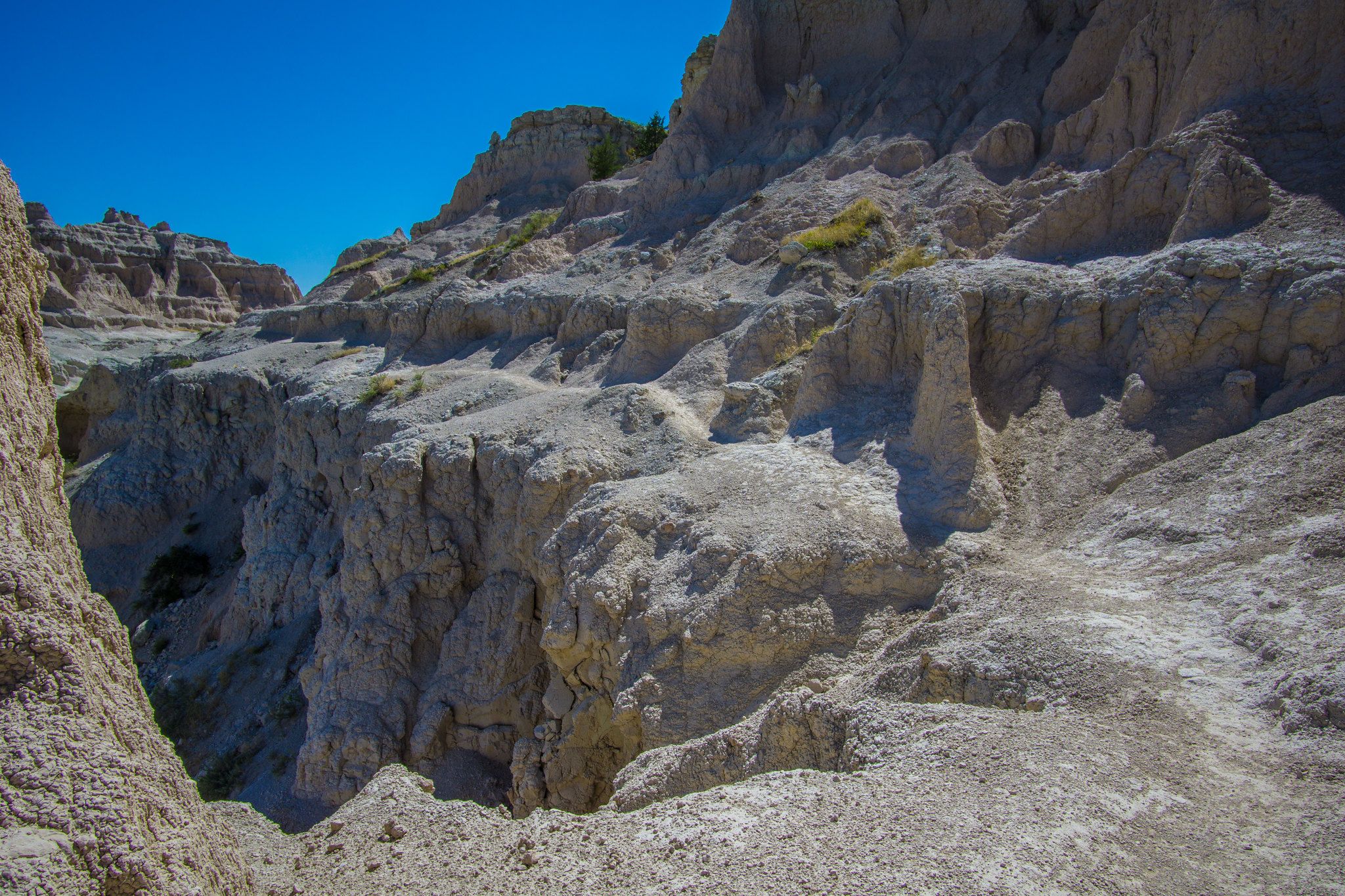 It's a short 1.33-mile round trip hike with spectacular views. For those who are afraid of heights, skip it. Otherwise, an enjoyable and slightly dangerous hike awaits you. The fun will start when you will reach a 50-foot ladder leading to the top of the rock. From the top, a short trail in parts passing right beside the cliff will lead you to an abrupt cliff edge at the top of the hill which looks like a Notch. This is where it got its name. 
Trail Data
Difficulty: moderate to strenuous if you are not used to hiking.

Length: 1.33 mile

Trail starts: south end of the Door and Window trail parking area. 

The exact coordinates are 43.76012, -101.92825

Key Tip: be careful when hiking after it rained, it's extremely slippery. 
Door Trail
Short 1-mile round trip trail that takes you to the heart of the Badlands. If you have ever wondered why this place is called Badlands, after hiking this trail you will understand. The culmination of the hike is the view of the steep eroded canyons where life seems impossible.
Trail Data
Difficulty: easy 

Length: 1 mile

Trail starts: north end of the Window, Door, and Notch trail parking area. 

The exact coordinates are 43.763578, -101.927095

Markings: marked by yellow knee-high posts.
Window Trail
The shortest and the most trafficked trail in the park at only 0.2-mile length. Leading to a large opening in a wall. If you have little time, this is the best way to experience true Badlands.
Trail Data
Difficulty: super easy. 

Length: 0.2 mile

Trail starts: south end of the parking lot just above Notch trail. 

The exact coordinates are 43.760634, -101.927624
Castle Trail
The longest and probably the most spectacular trail in Badlands National Park stretching the whole 5.5 miles. Being in a more remote area and a bit less trafficked trail, there is a great chance to encounter some wildlife along the way. Bison, mountain bighorn sheep, skunks, and prairie rattlesnakes. 
The trail crosses open prairie into rugged gullies, weaves through a maze of spires, buttes, sod tables, and fins. All masterfully blended with the open prairie. At the end of the trail, before turning back, cross The Badlands Loop Road and explore a short 0.4-mile Fossil Exhibit Loop Trail. On the way back, hike the Medicine Root Trail to avoid repeating the same route.
Trail Data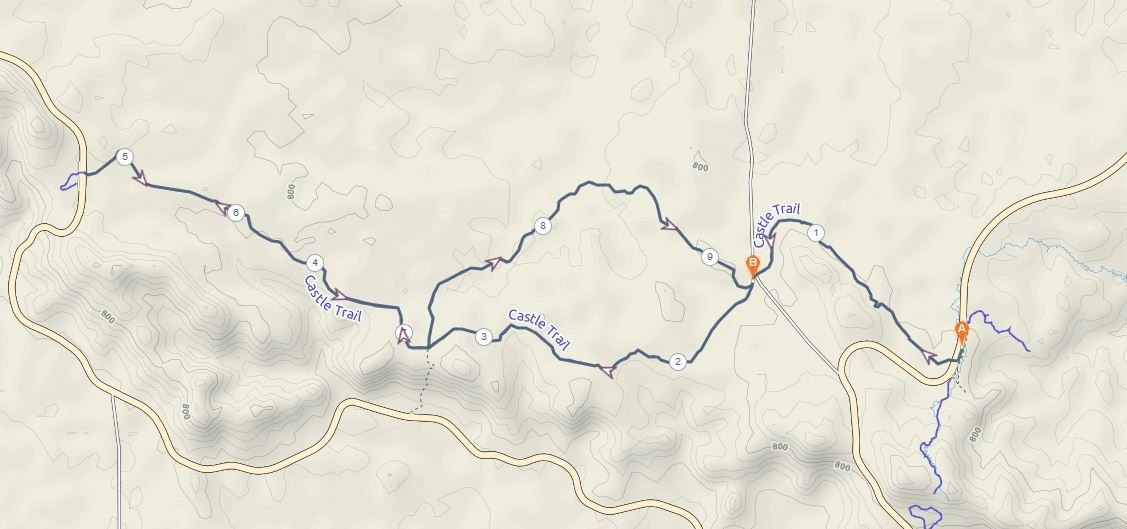 Difficulty: easy 

Length: 5.5 miles one way or 11 miles back and forth

Trail starts: starts at the north end of the parking lot. On the other side of the road going towards Notch trail. 

The exact coordinates are 43.7613, -101.92792 

Tip: be careful of rattlesnakes. 
Medicine Root Trail
An easy hike with views in the distance of the Badlands. With chances to sight bisons, skunks, prairie dogs, bighorn sheeps, and other wildlife.
Trail Data
Difficulty: easy

Length: 4 miles

Trail starts: at the north end of the parking lot. On the other side of the road going towards Notch trail. 

The exact coordinates are 43.7613, -101.92792 

Tip: watch out for cactus and rattlesnakes
Fossil Exhibit Trail
Short 0.4 mile-long loop trail. Do not expect dinosaur fossils here. It's more of a visitor center kinda hike. It's on a boardwalk (you are allowed to walk off the boardwalk)with boards explaining the type of fossils they found. A great hike to get to know the region and history about the place. 
Trail Data
Difficulty: very easy

Length: 0.4 miles

Trail starts: at the end of a Castle trail, the Fossil Exhibit trail parking. 

The exact coordinates are 43.772744, -102.002699
Conclusion
Badlands National Park's breathtaking views, rich geological history, diversity of species, and easy trails make it the ideal place to explore for any hiking beginners. 
Please share your experience if you visited the park or it's in your future plans in the comments below!
Related posts