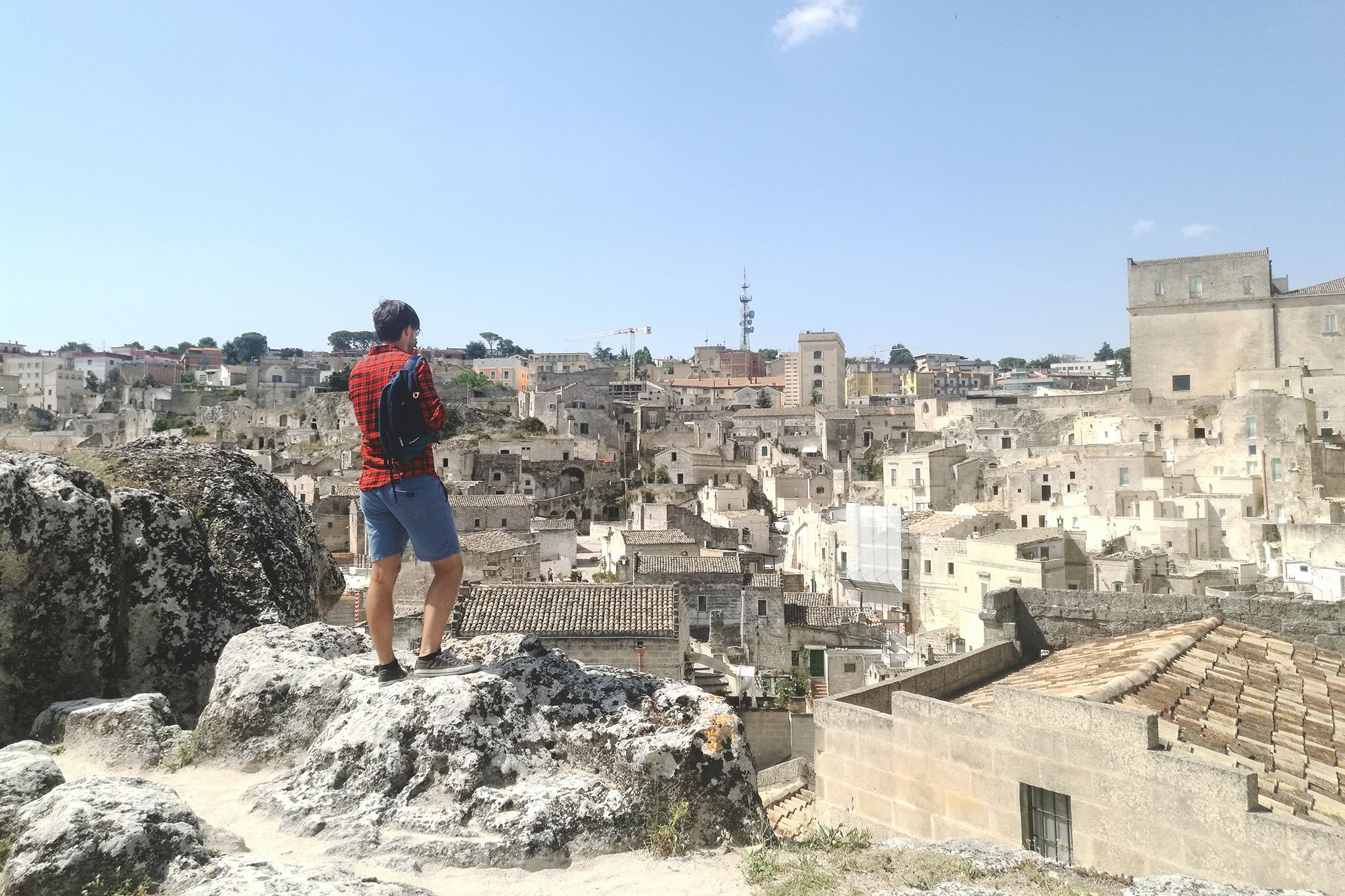 Puglia an Italian region that is usually overlooked by traditional tourists. Controlled during the long periods by many – Greeks, Italians, Hannibal, Ostrogoths, Byzantines, Spanish and French. Each bringing a piece of their culture to the region. It had so many rules for a few reasons. For one it was and is a very fertile land. If you travel by car across the region you will notice that almost all and every piece of land is used. To grow crops, olive trees or grapes. And if you decide to take a road across the countryside through one of those farms you will be surprised by the views and the sound of "cicadas".
The second region which is based more on the economic and geographical reason. Puglia was right on the vain of one of the most important trade routes for at least a thousand years.
Now all in all everyone understands that each ruler was for one and only one thing, exploitation and economical gain. However, with this, each new ruler bequeathed a cultural, architectonic and gastronomic patrimony whose fascinating eclecticism remains for all to see till now.
In this post, I will share the 4 cities we have visited that are generally overlooked by the traditional traveler going to Italy. Each one of them is an exceptional with a fantastic history.
Taranto
I can't say the city is a beautiful one. It even felt dangerous for the very first time we crossed it, but as we slowly got to know the city more, it really showed its charm. The old town and the new part of the city are connected by the bridge which leaves a feeling that the old town with the beautiful Aragonese castle is built on the island.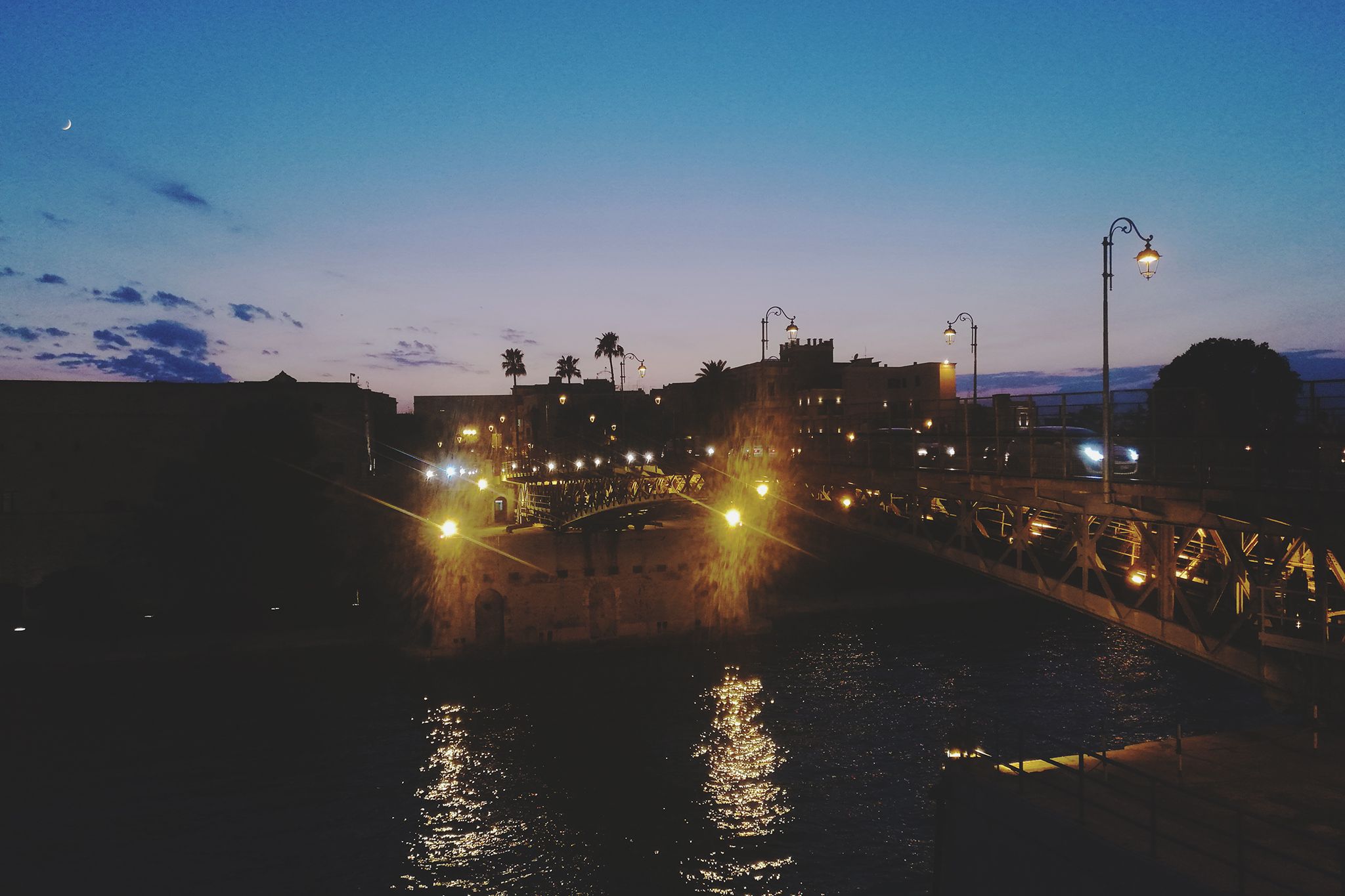 The first settlement was done sometime 800 BC by the Greek Spartans and throughout the time has changed the owner. Now it is a naval base, a huge commercial port city which is well known as one of the most polluted cities in Western Europe. However, it has its own beauty. The old town at night has its magic even though it looks like a dead place the narrow streets full of various street art bring a spooky beauty to it.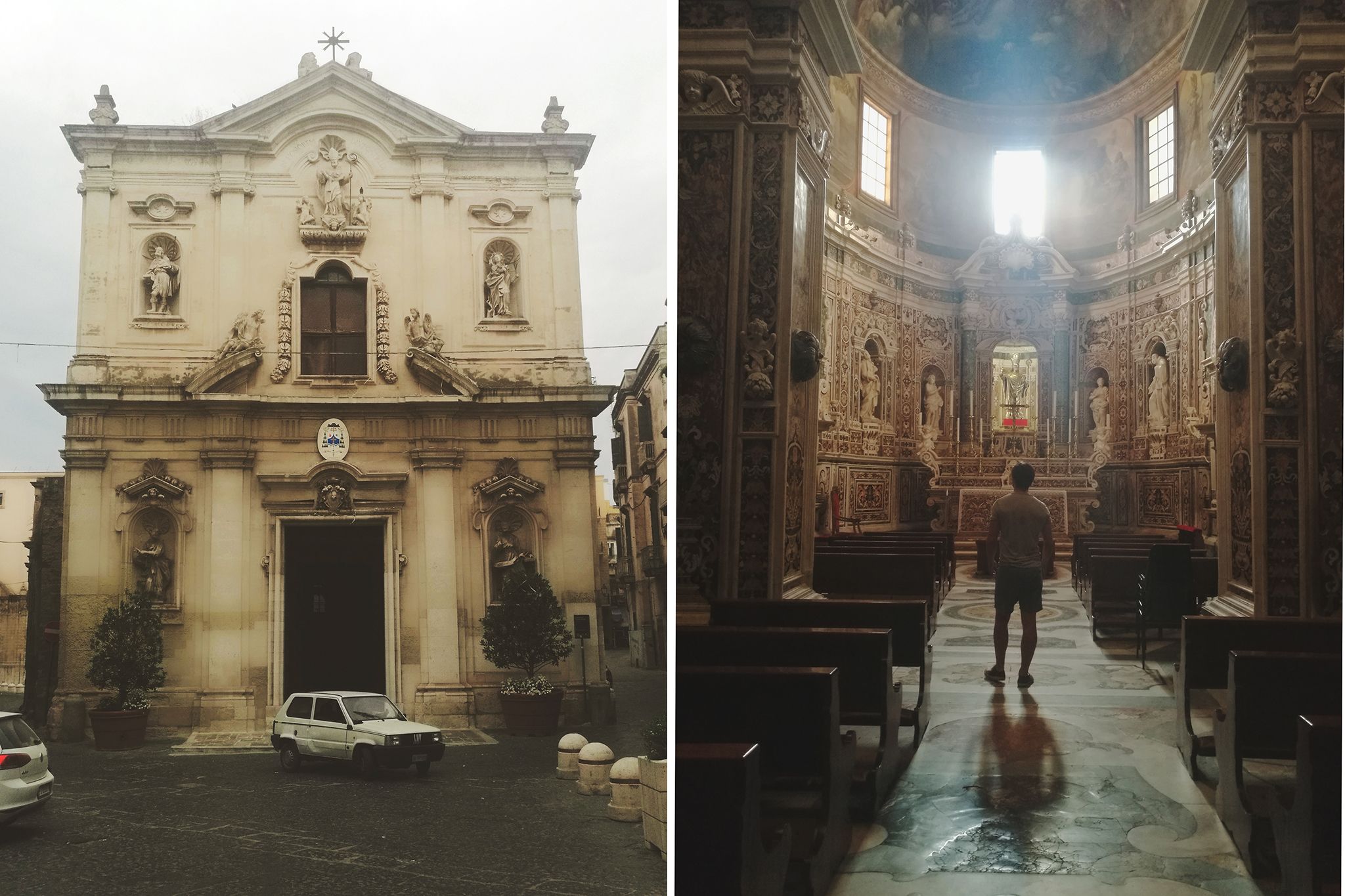 And once crossed the bridge to the new part of the city, commercial streets, bars, restaurants, and a wide pedestrian promenade are always full of people. There we found local pizzerias with extremely cheap and tasty food, a small fruit shop run by the same family members for around 70 years, and not to mention all local people were super friendly and kind.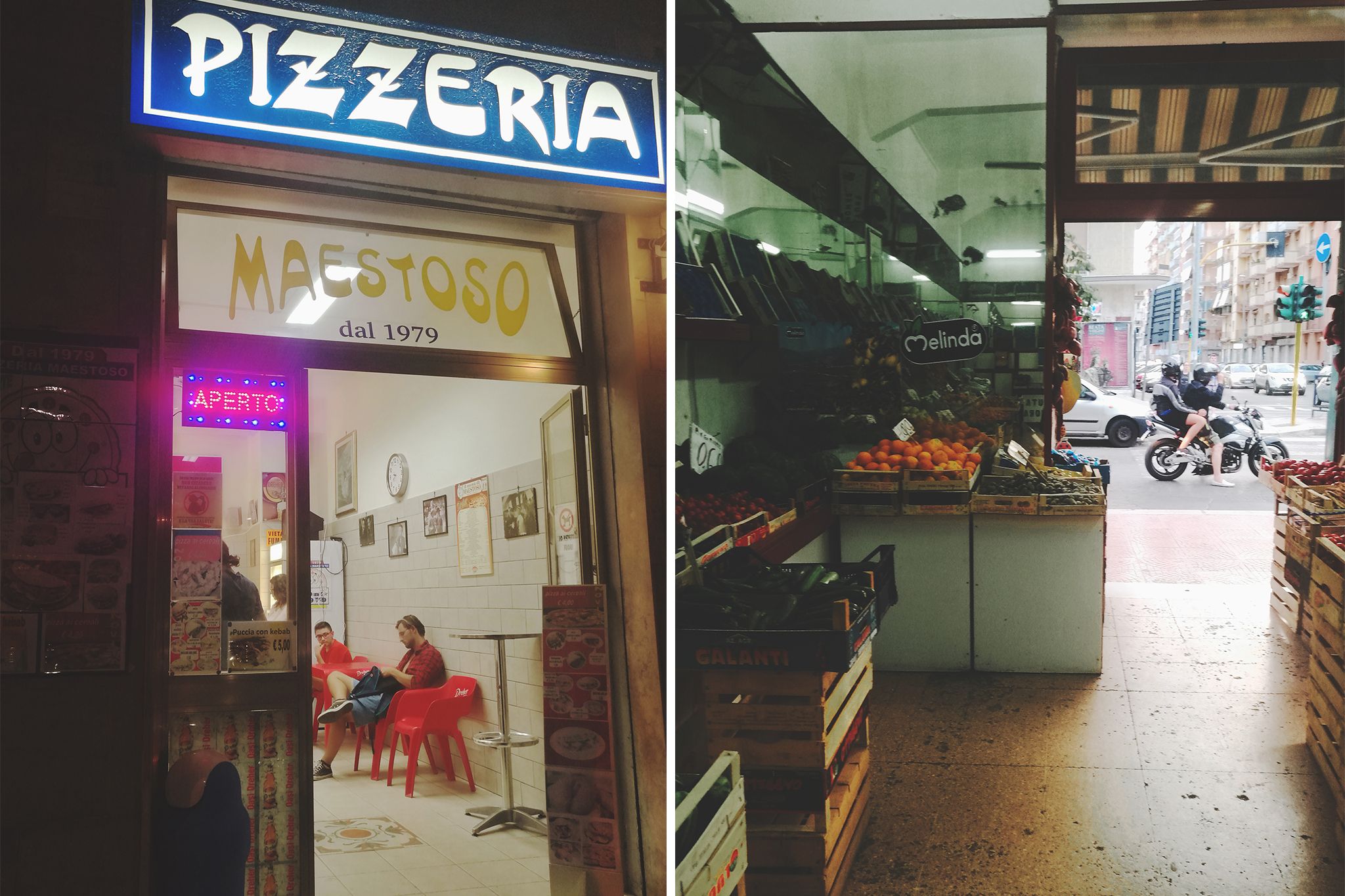 Funny fact, you can park your car for free in the old town area, however, in the new city part, it was really hard to find free and safe parking. Safe in a sense that it won't be scratched by passing cars.
Also, it is one of the few places in Italy from where you can take a catamaran to go on to see dolphins.
Matera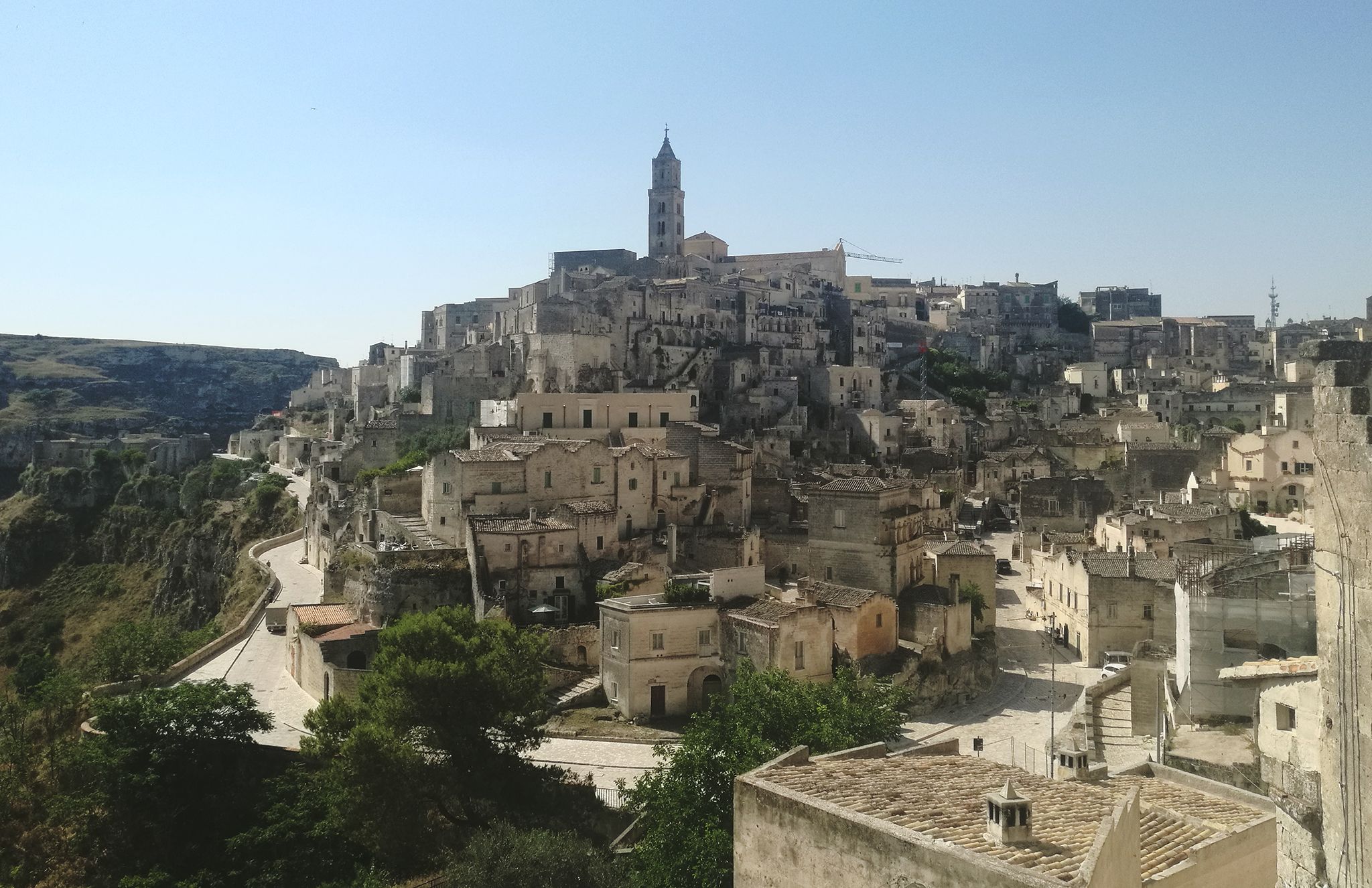 A city that until recently still had people living in the caves. Eventually, people got kicked out of their caves because of the rampant number of diseases that plagued the region because of unsanitary living.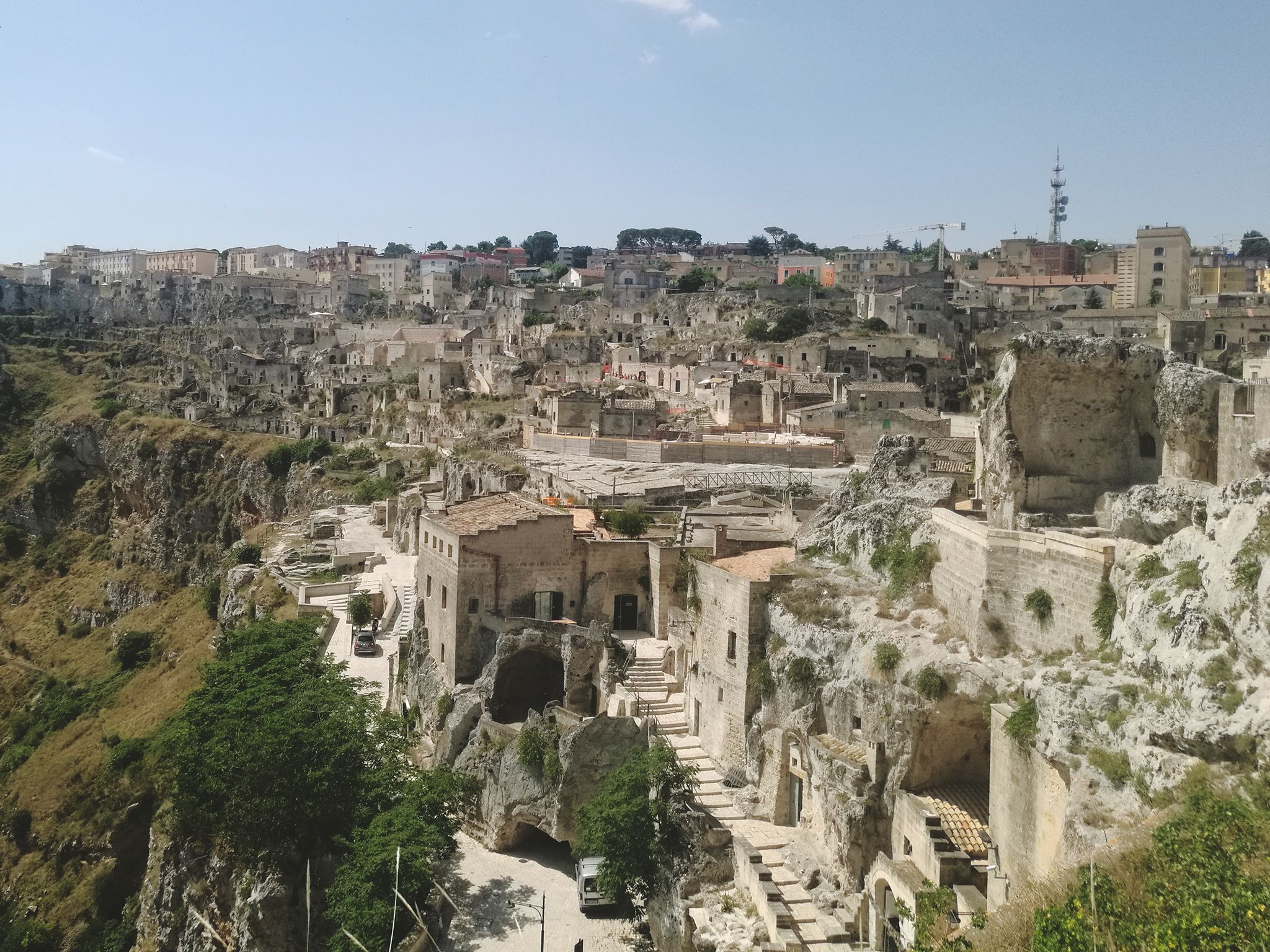 This place is the second longest inhabited place in the word after Petra. A truly magnificent place and if you go in a morning you can have it all to yourself. Every street and every corner is full of history.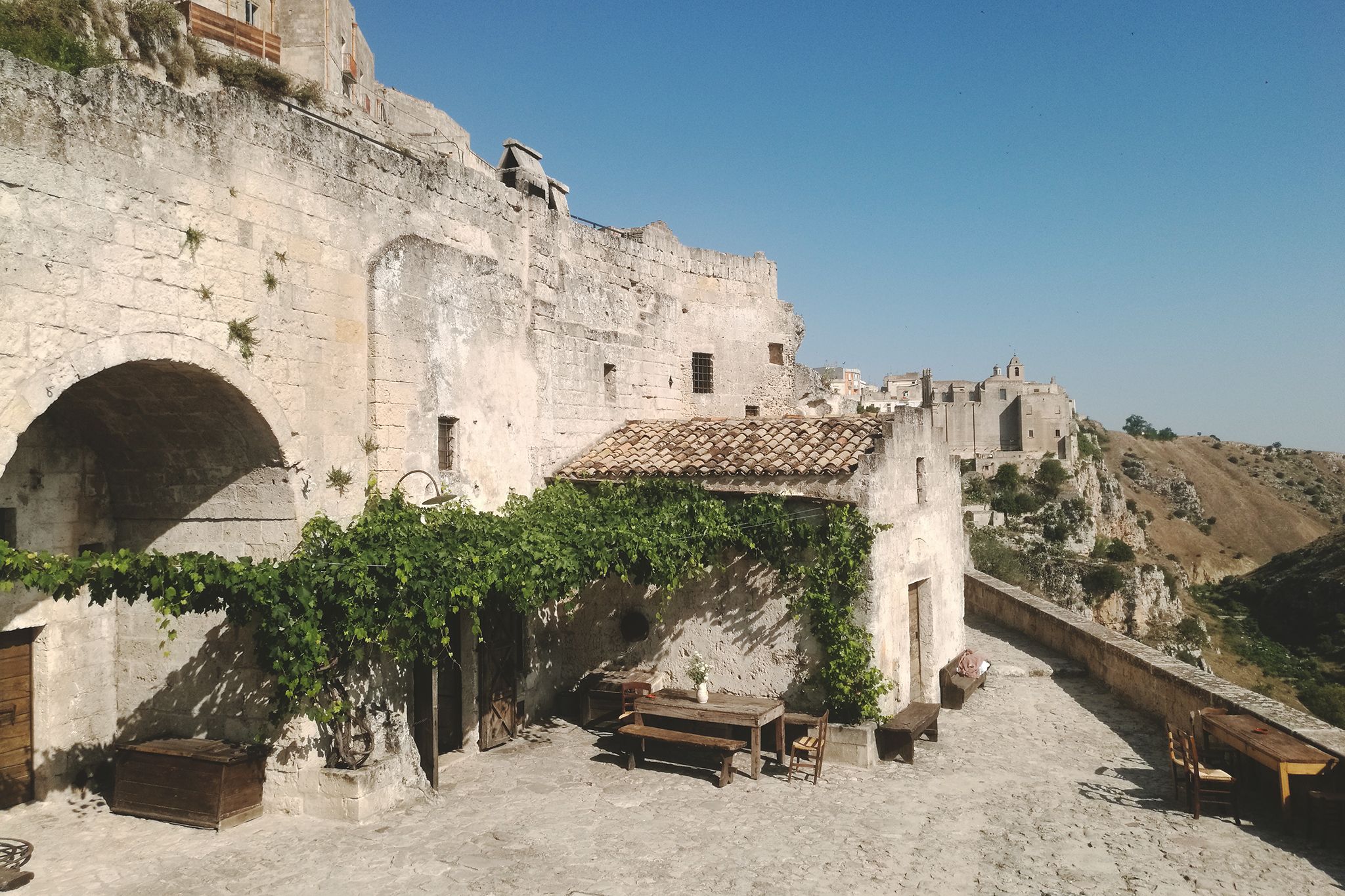 One thing to be aware off… It is not a friendly place for the people with an injury nor to the lazy ones. The city streets are built across on hills and as many hills, there are there will be more stairs to follow.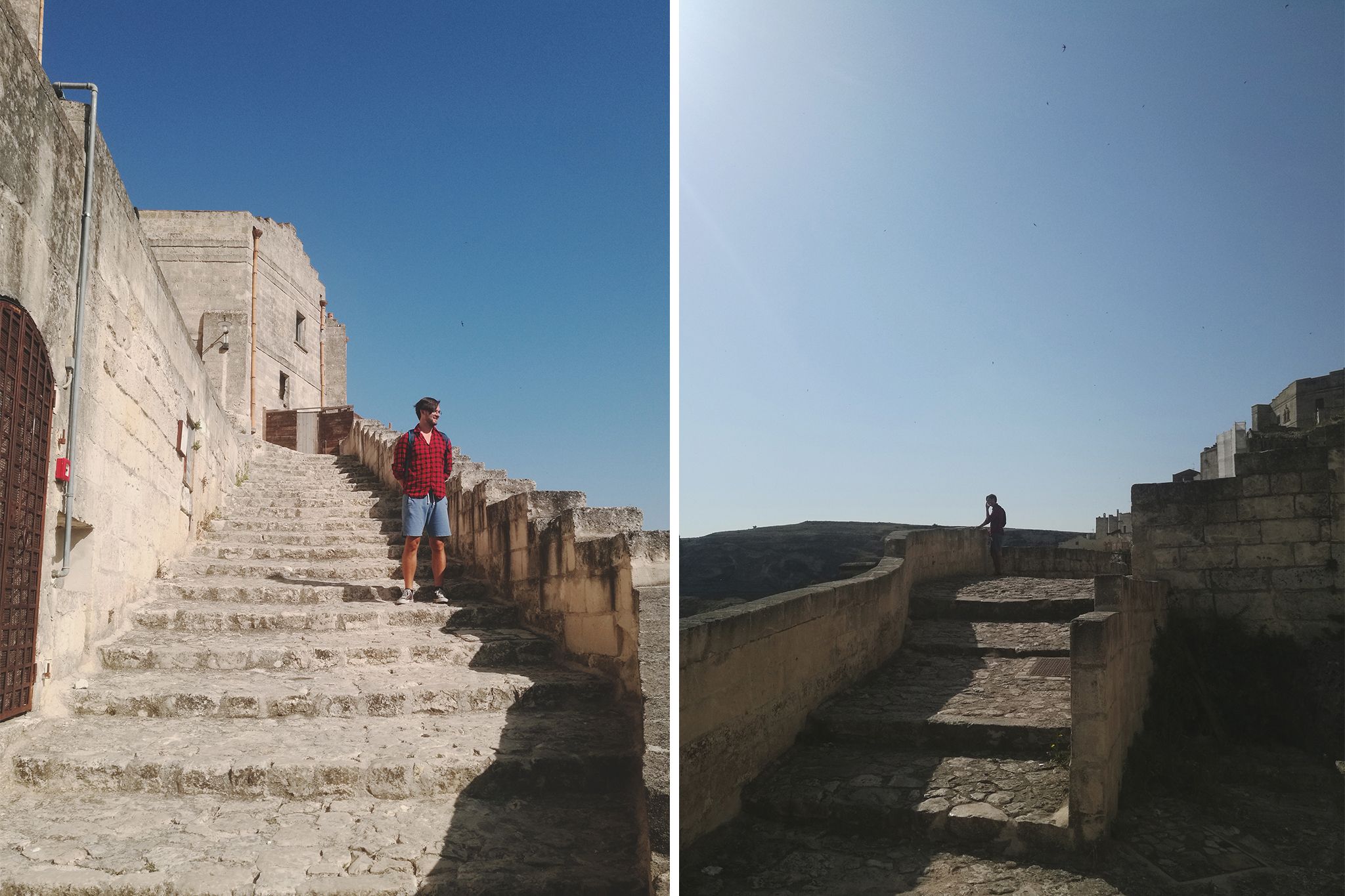 Our advice is to take time at least half a day to just walk and explore the city on foot. Have a coffee break in one of the local beautiful cafe places, visit the artisan stores, and enjoy the heat from the sun :).
For those who love historical art, there are ancient frescas around the city on the walls that are disappearing slowly. And if you are coming by car I suggest visiting the valley on the other side of the small river from which you can see a very beautiful view of the city.
Polignano A Mare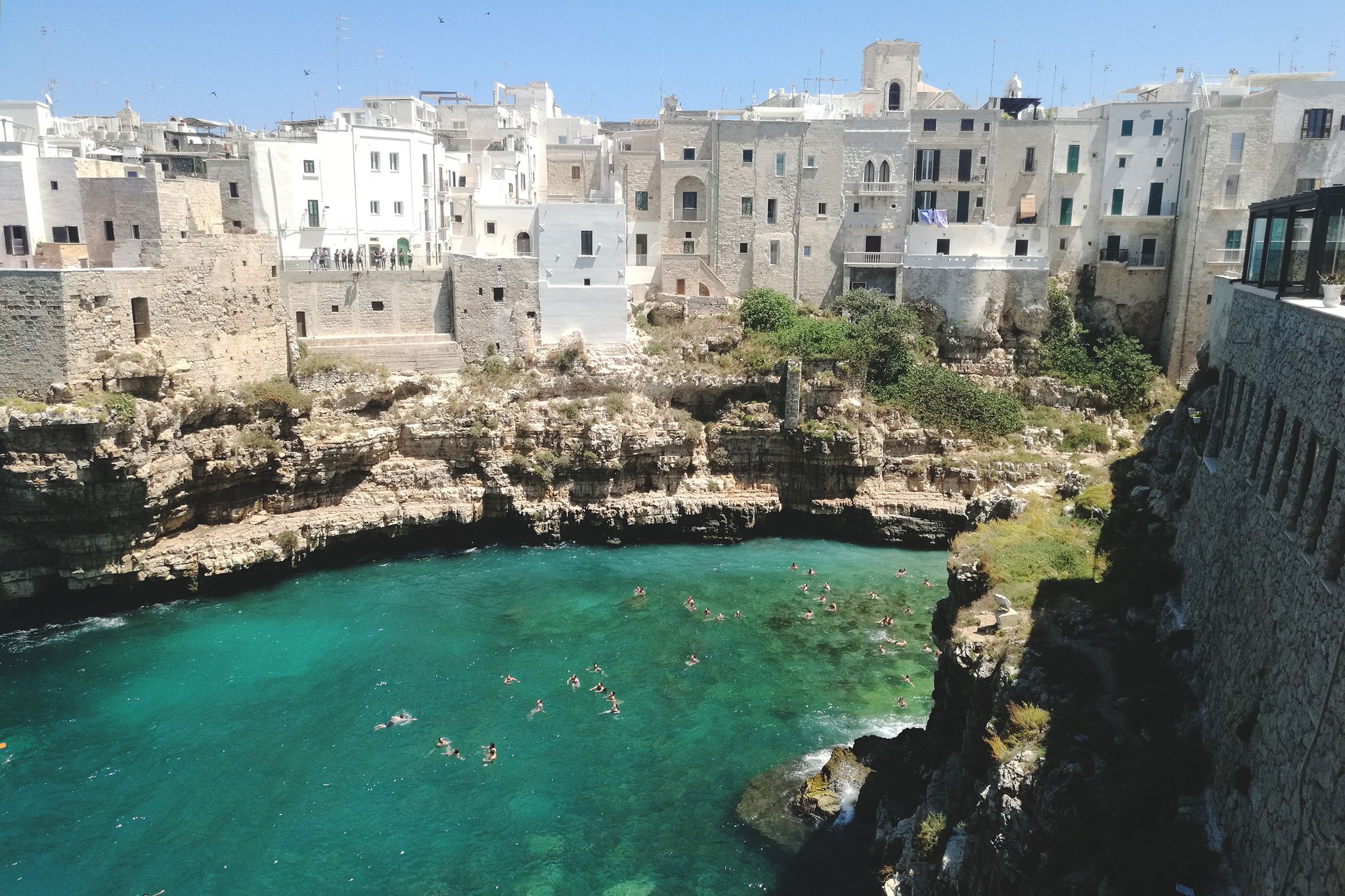 A magnificent white city on the cliffs of the Adriatic sea. With a mystical beach carved between the cliffs with clear sky blue waters. The streets of the city old town even tho has quite a few tourists reminded me of stories from Romeo and Juliet.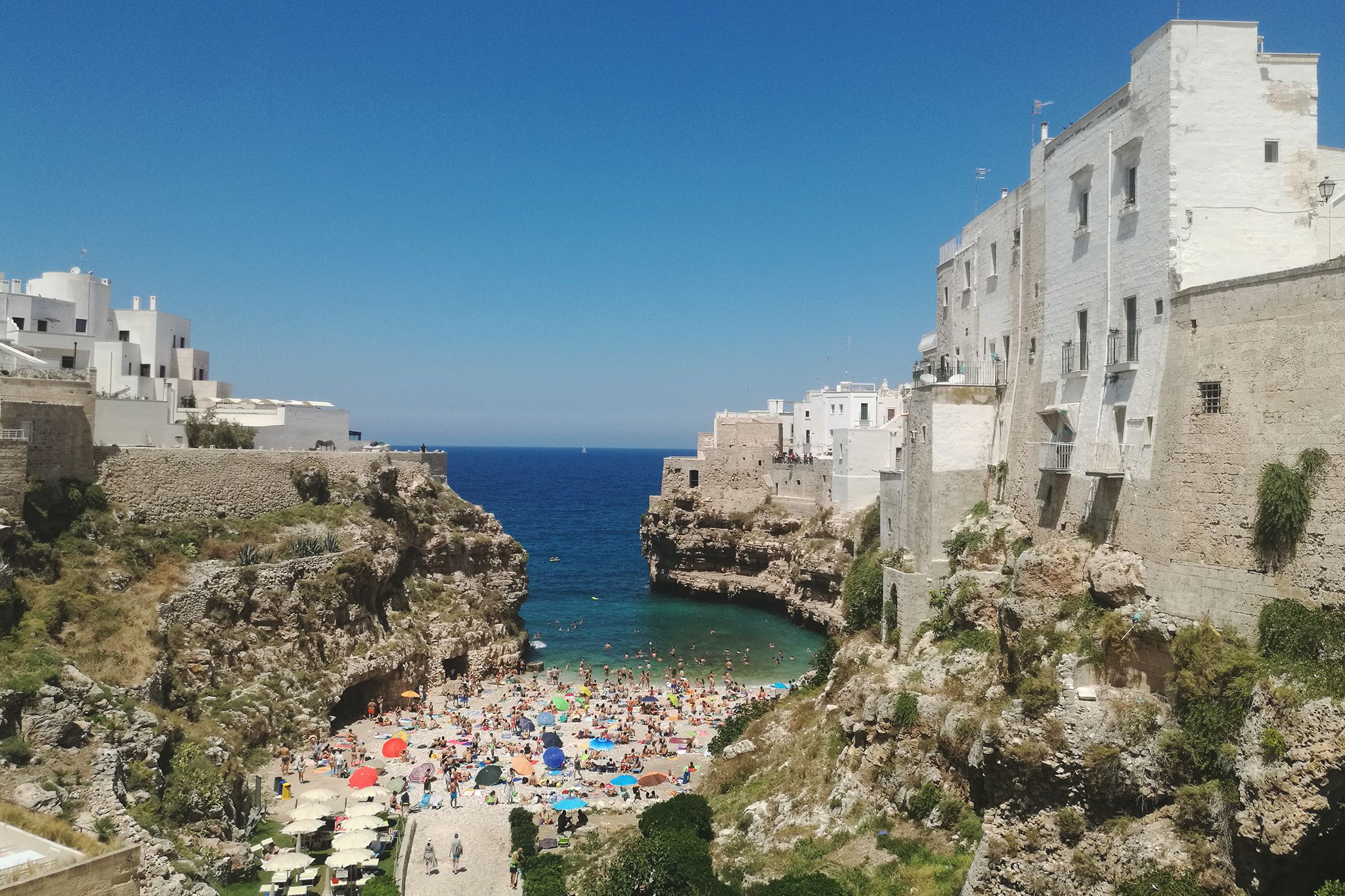 Certain streets tagged with quotes from famous people and every color near snow-white houses made the city look more magical story-like.
And the food is just as great.
Takes time to look for but with the help of an app and reviews of people, we found a truly fantastic place to eat seafood :).
The beach is probably in the center of the town and definitely worth to stay a little longer to enjoy the swim. But keep in mind that it is full of stones and you might struggle even to get into the water, however it looks really funny to watch… That's why lots of people are using swimming footwear to avoid looking like a zombie.
One advice, do not go by car into the old town. It is a nightmare to get out. The streets are very narrow that you can leave the paint on the houses of the city.
Alberobello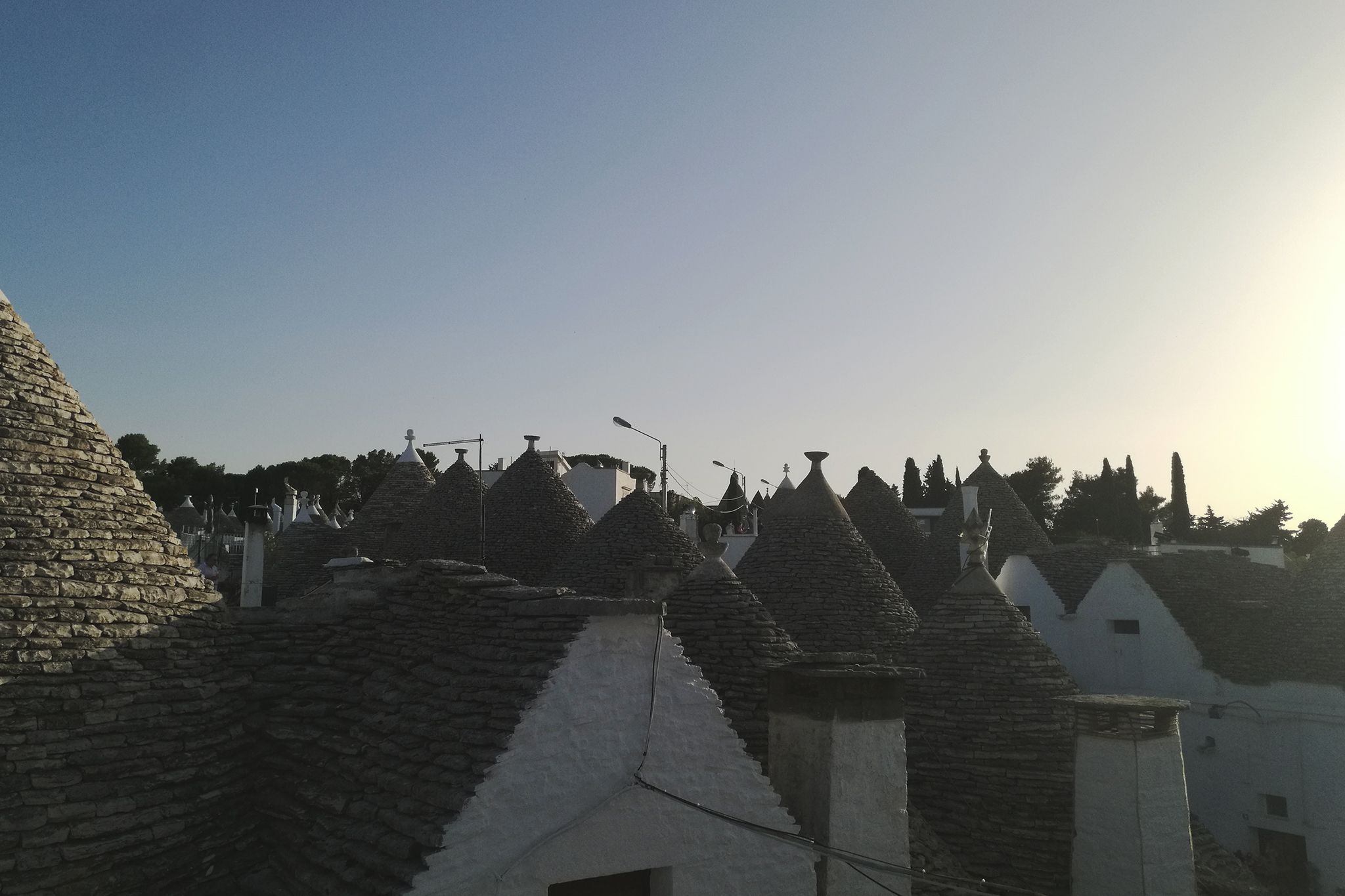 The city famous for its ingenious way of avoiding taxes. In the 1500's, the Acquaviva family, the local rulers within the feudal system, wanted to avoid paying property taxes to the King. They ordered local peasants to build their houses and dwellings without mortar so that, in the event of a royal inspection, the structures could quickly and easily be taken down, and the tax bill would remain low. Using local limestone and some ingenious building techniques, the local population created the Trulli, many of which remain standing today.
Is Alberobello worth a visit?
Well, I won't lie. It is a very touristic city. However, should it be avoided? Of course no. It is a historical site with a hidden beauty. If lucky and with a bit of planning the masses can be avoided and the site can be all to yourself. But if you cannot time it right it is still a city to see and explore. So definitely a must see. You can even find Trulli for accommodation.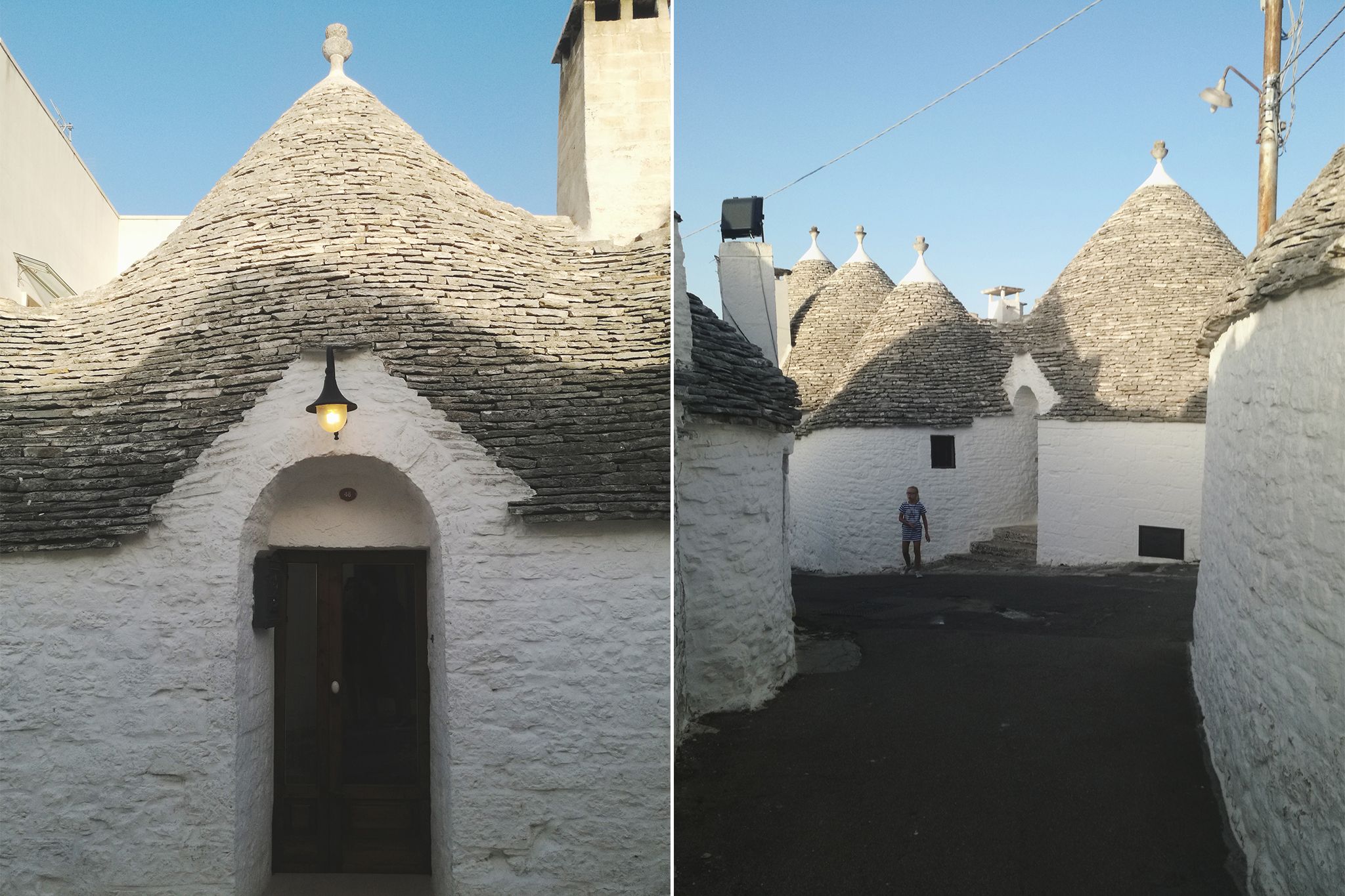 This is only a small part of historical places in Puglia that are worth a visit there are many more like Lecce, Bari – worth a stop just for handmade pasta, Brindisi, Monopoli, Lucera, Vieste and many more places with historical settings and beauty!
Authors
Simonas R.
Arune M.
P.s. Pictures are all originals. If you would like to copy or use them you have to get a permission from the authors.
P.s.s. The previous post in the Italian story – The Italian Beauty The Italian Shame